Chris Christie Is A Late-Night TV Expert
On Wednesday, Chris Christie appeared on The Daily Show with Trevor Noah — and though it's still Noah's first week on the late-night circuit, it's definitely not Christie's. As governor of New Jersey and now as a candidate for president, Christie has made many late-night appearances, including one with Noah's legendary predecessor, Jon Stewart. However, it's his frequent visits to Jimmy Fallon's shows that make for Chris Christie's best late night television appearances.
Christie could use a win in the media right about now. According to the most recent NBC/Wall Street Journal poll, Christie didn't even crack the top half of the field of Republican candidates. For someone with a name as recognizable and a personality as bold as Christie's, that's damaging news. He doesn't seem to be outshining the runaway leaders of Donald Trump and Ben Carson, nor does he seem to be gaining among the race's well-known politicos like Marco Rubio and Jeb Bush. In other words, The Daily Show might be just what Christie has needed to get back on the map.
Christie was the first candidate — and the first politician, at that — to appear on The Daily Show since Noah took it over. It's no surprise that Christie jumped at the opportunity to appear on the show; his many previous late-night appearances prepared him well.
When He Ate Ice Cream With Jimmy Fallon
In April, Christie showed up on The Tonight Show Starring Jimmy Fallon, and he revealed that his favorite dessert is ice cream. Conveniently, Fallon had a pint of his Ben & Jerry's Tonight Dough ready and waiting. While there, Christie even joked about how often he appears on the show, saying, "I feel like I'm on this show every night."
When He Lip Synced "Born In The U.S.A."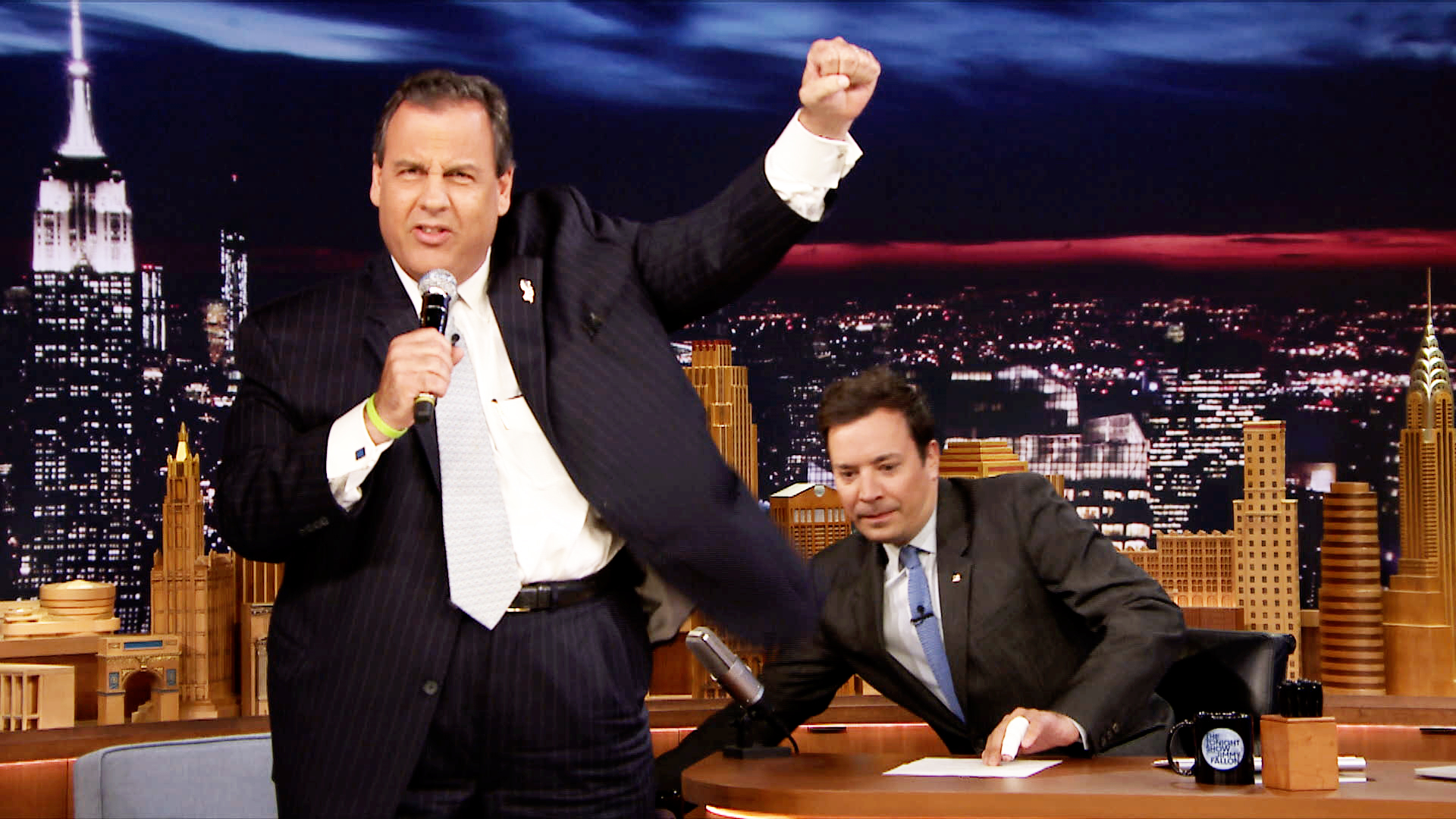 On a separate trip to the Tonight Show — this time in August — Christie managed to squeeze in the lip sync battle he wasn't supposed to have, jamming to Bruce Springsteen's anthem for just a matter of seconds. This time, Christie and Fallon talked about the campaign, the Fourth of July, and the time that Christie met Fallon's wife.
When He Discussed Man-Hugs With Jon Stewart
Back in 2012, Christie went on The Daily Show to discuss some serious issues that he had dealt with as governor of New Jersey, including Hurricane Sandy, health care reform, and being a Republican leader in a liberal state. While there, he couldn't help but graze the topic the man-hug, debating with Stewart the appropriate time to end a hug between men. Serious stuff, folks.
When He Performed The Evolution Of Dad Dancing
Christie celebrated Fathers' Day in 2014 by dancing with Jimmy Fallon on the Tonight Show. The duo performed The Evolution of Dad Dancing, complete with the "Lawn Mower," the "Honk The Horn," and the "Republican Convention." Fallon also threw in the "This Bridge Is Closed," à la Bridgegate.
Christie needs a lot more support from voters if he's going to get the Republican nomination. Even if he doesn't get it, though, he'll hopefully still make the rounds on late-night TV.
Images: The Tonight Show Starring Jimmy Fallon/YouTube (2), The Tonight Show Starring Jimmy Fallon/NBC (1)