The Most Exciting Lucky Charms News EVER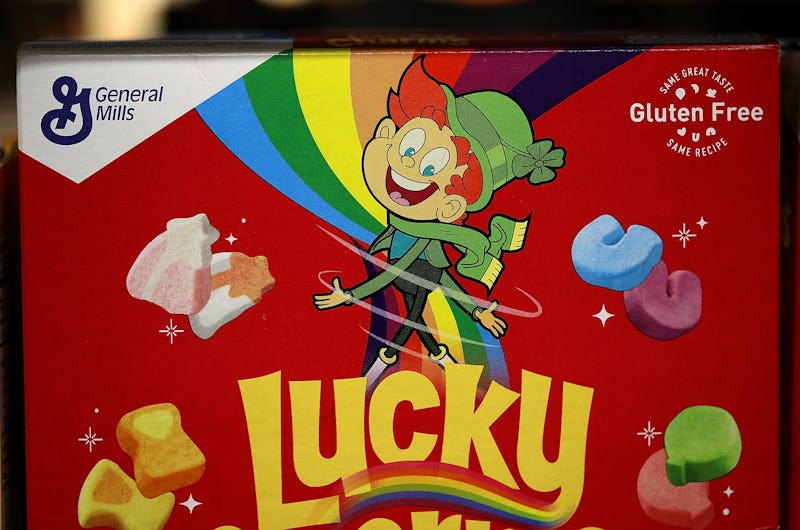 Justin Sullivan/Getty Images News/Getty Images
The holy grail of sugary cereals may have finally been unearthed. Sure to please any sugar fiend hungry for some sweet goodness in the morning. Lucky Charms is making a marshmallow-only cereal. Before you start making a list of grocery stores to raid, however, you might want to take a selfie first. That's because the limited edition run of the morning meal spans only 10 boxes and the only way to obtain one is by winning the #Lucky10Sweepstakes.
The rules are simple: Take a selfie pantomiming that you're holding the box of the beloved cereal between now and Oct. 18, and post it to your social media of choice with the aforementioned hashtag (General Mills lists Facebook, Twitter, and Instagram as all viable options). Contestants must be over 18, live in the United States, and can enter up to three times. Entries are limited to one per social media site, so those three tweets of your "see no evil, hear no evil, speak no evil" poses set to a box of cereal only counts as one entry. To celebrate giving the people what they want and better explain the contest with a bit of nostalgia, General Mills enlisted the help of "Just a Friend" rapper Biz Markie to sing about it.
Why the big social media push for a cereal that dates back decades before the advent of Facebook? Lucky Charms Associate Marketing Manager Amanda Hill explains on General Mills' website that it's fans of the brand's doing:
We wanted to tap into where that love is and it's across Facebook, Twitter, and Instagram. Lucky Charms is one of the most Instagrammed cereals and these platforms are the right place to ignite and connect to the passion we hear about. We wanted to have a little fun and connect with our fans. It needed to be easy and accessible for everyone to have a chance to win and celebrate what makes us, us — the marshmallows.
This isn't the first time Lucky Charms has unveiled something special for their fans. A quick search of Amazon reveals a limited edition St. Paddy's Day cereal with green clovers as well as Chocolate Lucky Charms. It seems that none have been as highly requested as a marshmallow-only version. Since the announcement of the #Lucky10Sweepstakes, the mention of "marshmallow-only Lucky Charms" has shot up to over 2,000 tweets per day. With such solid social media numbers, hopefully General Mills decides to make a few million more boxes once the contest wraps and finally give the people what they want.
Image: Justin Sullivan/Getty Images