Owen Labrie Was Sentenced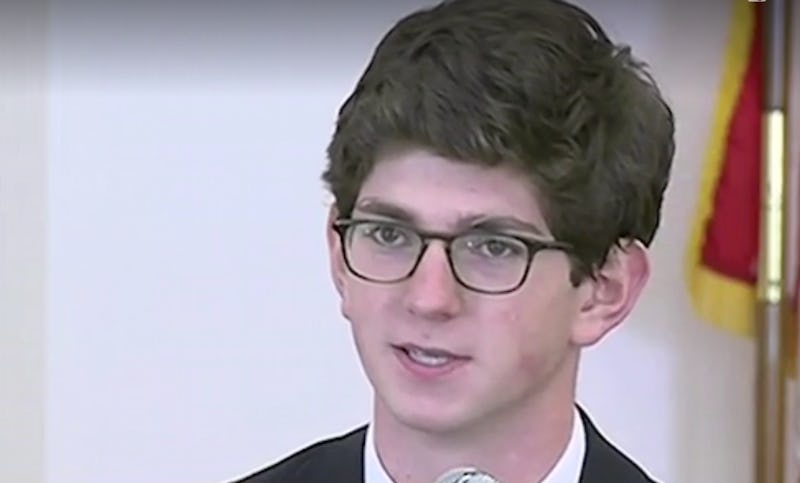 On Thursday, the former St. Paul's School student found guilty of having sex with an underage girl while they were both students according to The New York Times appeared in court for his sentencing. In August, Owen Labrie, now 20, was found not guilty of felony sexual assault, but was convicted of three counts of misdemeanor statutory sexual assault, one count of endangering a child, and one class B felony for using a computer to seduce a minor into having sex. Labrie's charges relate to the girl's age — she was 15 and he was 18 — when she reportedly accepted his invitation for a "senior salute," which allegedly involved senior boys hooking up with younger girls before graduation. Labrie claimed during his original testimony that he and the girl did kiss and engage in sexual foreplay acts that were consensual, but stopped short of penetration. So, what was Owen Labrie's sentence?
The judge sentenced Labrie to one year in jail and five years of probation. Labrie, who did not address the court Thursday, will also have to register as a sex offender for the rest of his life, though he can petition to be removed from the registry 15 years after he completes his sentence. He remains out on the initial $15,000 bail while he appeals his case.
According to NBC News, Superior Court Judge Lawrence Smukler told Labrie during his sentencing: "You are a very good liar." The judge felt neither side portrayed Labrie accurately, saying Thursday: "I believe that you are not the angel as portrayed by your counsel. But neither are you the devil as portrayed by the prosecution."
The victim did not attend the sentencing hearing, but gave her statement via a video. She described unwanted attention from boys on campus she's received since returning to the prep school and said she has panic attacks and "vivid flashbacks." In the video she said: "To this day, I still feel numb."
Labrie's attorney, J.W. Carney, argued that the 20-year-old should not have to register as a sex offender, saying that Labrie's "life has been one of trauma" since the incident. Carney told the court: "The punishment that Owen Labrie has suffered up to date is enormous for him."
Carney submitted multiple written testimonials to the judge before the sentencing, including one from Labrie's mother, Denise Holland, who told the court that Labrie was suicidal when the criminal case first began. According to ABC News, Holland wrote: "He expressed to more than one person that these detectives said they were going to take away 'everything he had worked his whole life for,' and that he 'just wanted to die.'"
Images: New York Times Video (1)