How To Wear Gorgeous Silk All Summer Long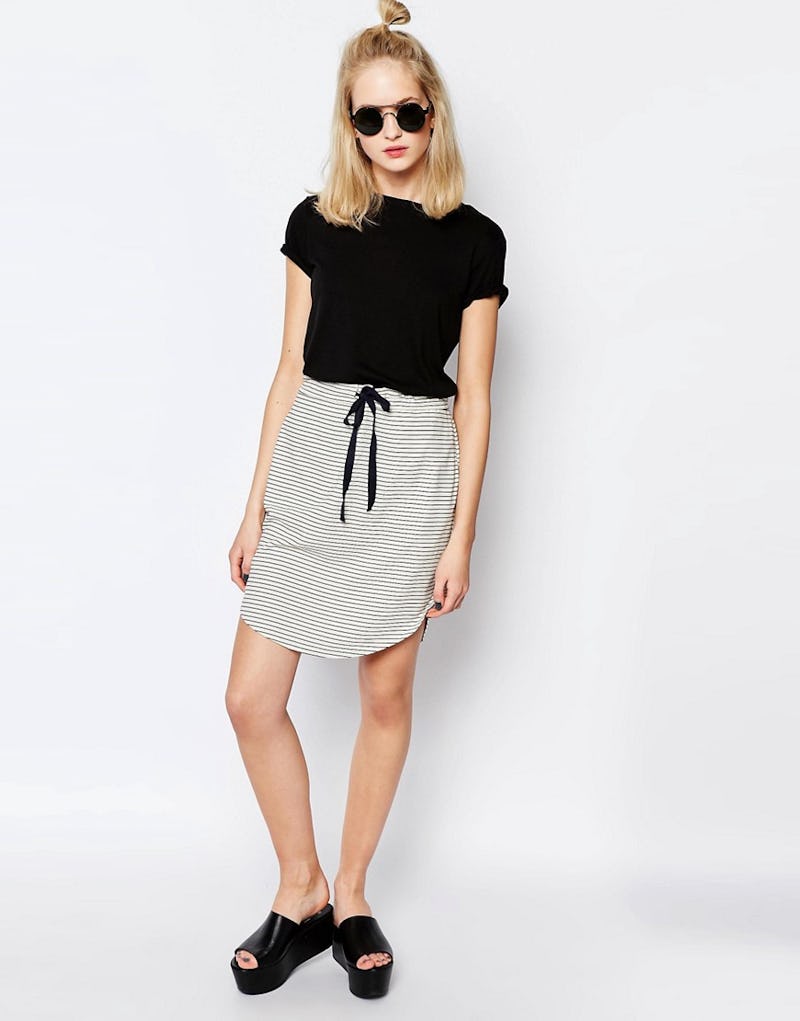 The summer heat is no joke. And while we love dining al fresco, sitting poolside, and going on weekend trips, you sometimes can't beat the heat. Thankfully, wearing silk in the summer is a thing, so you don't have to feel super stuffy while stranded on a subway car with broken air conditioning. Yup, this has happened to me, on my way to a job interview. It wasn't cute.
For about 75 percent of the year, I'm frigid. I'm constantly trying to find a way to warm up, meaning I've got a blanket, scarf, sweater, and flannel on my chair at work. In the winter, I've got a black parka that reaches my ankles. I wear shearling-lined boots, and I don't think I take my hat off, ever. So, like any other cold-blooded person, I love the summer heat. As soon as I get the opportunity to bare some skin, I take it immediately. Spring and summer is when I flourish.
But if you've ever lived in New York City in the summer, it's not all cute festival looks. Those three blocks to the subway feel like you're walking through the Sahara. Think you're safe in the subway with an air conditioner? Nope, not when it's filled side to side with people who have been sweating, too. L.A., you may have the traffic, but New York city has the subway B.O. Remind me again why I live here?
Thanks to breathable fabrics, like linen, cotton, and most especially silk, New York City is almost bearable. Almost. But what's the best way to wear silk, since it practically looks like you're about to hit the hay every time you put it on? Easy. Make sure it's feminine, polished, and paired with more structured pieces.
Theory Silk Blouse, $108, Net-a-Porter
With a lariat necklace, this beauty looks amazing in pencil skirts.
Haute Hippie Sleeveless Silk Keyhole Blouse, $78, Nieman Marcus
You'll need this little breeze, trust me.
Vince Cap Sleeve Silk Popover Blouse, $159, Vince
This is how you wear black in the summer.
Missguided Plus Size Silk Contrast Oversized T-Shirt Dress, $10, Missguided
Love how these are styled with furry shoes.
Veronica Beard Sleeveless Silk Pintuck Blouse, $138, Nieman Marcus
Consider me obsessed with this color.
6. The Minimalist
Silk Georgette Crepe, $119, E ileen Fisher
I love how this is styled.
Joie Julietta D Silk Pants, $97, Nieman Marcus
If you must wear pants, silk are the way to go.
8. The Maxi Dress
Apricot Floral Print Silk Maxi Dress, $42, Vip Me
One word: Love.
Silk Island Button-Front Skirt, $98, Madewell
Love this with a sleeveless turtleneck.
Bardot Moroccan Tile Skirt, $111, Revolve
What's chicer than this?
11. The Standout Dress
J.Crew Sleeveless Silk Dress, $119, J Crew
Easy and breezy.
Rory Beca Double Strap Silk Dress, $112, Shopbop
I'm feeling colder just looking at this.
Samsoe & Samsoe Tuersen Mini Skirt in Stripe, $51, Asos
With platform sandals? Killer.
Joie Acrux B Tank, $90, Revolve
This top will literally go with anything.
Amanda Uprichard Kiara Top, $111, Shopbop
Love the color of this one.
Equipment Slim Signature Silk Shirtdress, $154, Nordstrom
So effortlessly chic.
David Lerner Silk Shorts With Lace Scallop, $120, Shopbop
These just look super comfy.
Are you ready for the sticky temps yet? Luckily, you've got a few days before it gets unbearable. Get your linen and silk on ASAP!
Images: Courtesy of Brands