'Mockingjay' Has Made An Insane Amount of Money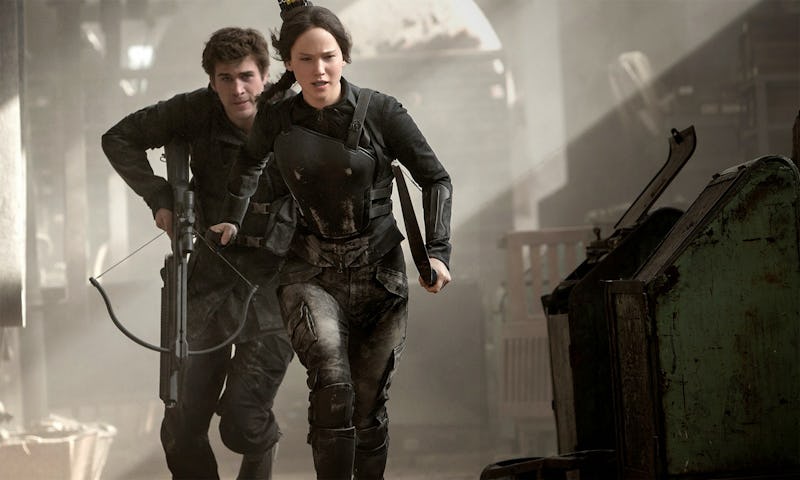 Between travel expenses, Thanksgiving food, and Black Friday purchases, most people spend a lot of money over the Thanksgiving weekend, so it's not surprising that the weekend after, nobody's going to the movies. For that reason, many studios choose not to release any new movies the Friday following the holiday, expecting ticket sales to be down anyway. Despite that, though, The Hunger Games: Mockingjay Part 1 still pulled in super strong numbers. Is anyone shocked that Katniss and the revolution refuse to be stopped by a slow box office?
So what does that mean, exactly? Basically that Mockingjay took the top spot once again this week, even though it's been in theaters for nearly a month now. According to The Hollywood Reporter, the movie made $26.1 million — totaling $257.7 million in America, which is a ton but still not more than Catching Fire made last year. Coming in second was Penguins of Madagascar, which brought in $11.1 million, and in third place was Horrible Bosses 2, which made $8.6 million. Both movies are bringing in less than anticipated, though. Bummer.
Good news for Jennifer Lawrence, though. Worldwide, Mockingjay has now made $560.5 million, which — to us regular people, anyway — is pretty much incomprehensible.
And with that much money, Katniss could probably buy and sell the Capitol and Mockingjay Part 2 would never have happened. Unfortunately, Mockingjay's success also means that our ears will continue to be assaulted with the radio remix of "The Hanging Tree." If you haven't heard it, please save yourself while you still can.
Meanwhile, indie movies are doing pretty well, when you don't consider the big box office hits. Wild, starring Reese Witherspoon, has made $677,238 between the 21 theaters it was released at on Wednesday, and Foxcatcher — starring Steve Carell, Channing Tatum, and Mark Ruffalo — has now made a total of $2.8 million in the US. Not too shabby!
Images: Lionsgate, Giphy (1)