'RHOA' Conflicts Came to a Head at Kandi's Dinner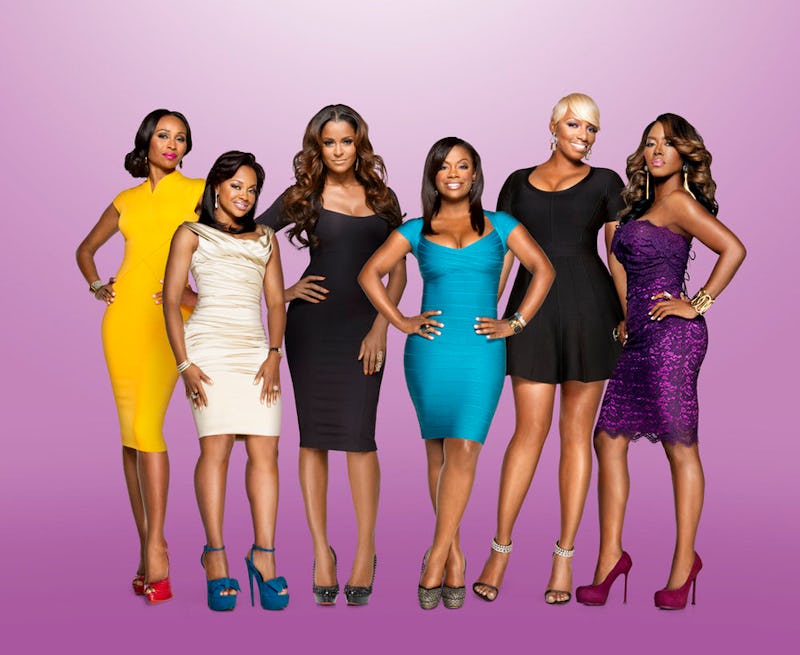 Poor Kandi. That's all I took away from this week's huge fight on The Real Housewives of Atlanta . Her cautious optimism was shot down every single time she entered a scene. She tried to do something nice for her mother by buying her a new house, only to find that Mama Joyce had destroyed it in the name of renovating it. She's trying to have a baby with Todd, but collectively they've both been so busy that it hasn't worked out yet. And it was sad to hear her and her aunts talk about Todd's mom, Sharon, after the sad news earlier this week. But when you plan a dinner party for the Real Housewives, you kind of get what you pay for. They don't ever tend to end well.
Kandi organized this disastrous dinner in hopes of reconciling Kenya with the rest of the ladies after spending the day with Kenya and seeing how emotional she got when told that the other RHOA still don't believe Apollo was lying. Kandi's convinced, and she must be tired of going between each little group of ladies and talking crap about the others. I'm sure the producers wanted this to happen, but I don't think they all would have agreed if anyone other than Kandi had proposed it.
The overwhelming feeling at that dinner table was discomfort. Phaedra looked like she wanted to get up and run out of the room when Kenya walked in. Not angry, just incredibly uncomfortable, almost like she was going to throw up. Cynthia babbled on stiffly, Nene barely made it on time, and their waiter was shockingly incompetent. It was impossible to watch without cringing.
But some people went in with other agendas that had nothing to do with apologizing to Kenya. Porsha barely said a word, but you better believe she was the one sitting at the table instead of Claudia Jordan. Cynthia went into the dinner already furious at Nene, leading to a big confrontation between the two of then.
Nene refused to take it lying down, instantly getting defensive about being a "bad friend," yelling a monologue at Cynthia about how much she supported her for so many years. This week's episode cut off before we could see the true conclusion to their fight (the teaser makes it seem like they may reach a temporary truce by the end of the dinner from hell), but for right now, it feels like the end of a friendship era.
Image: Alex Martinez/Bravo; Giphy (2)