This Impossibly Tiny Micro-Book Is Fully The Best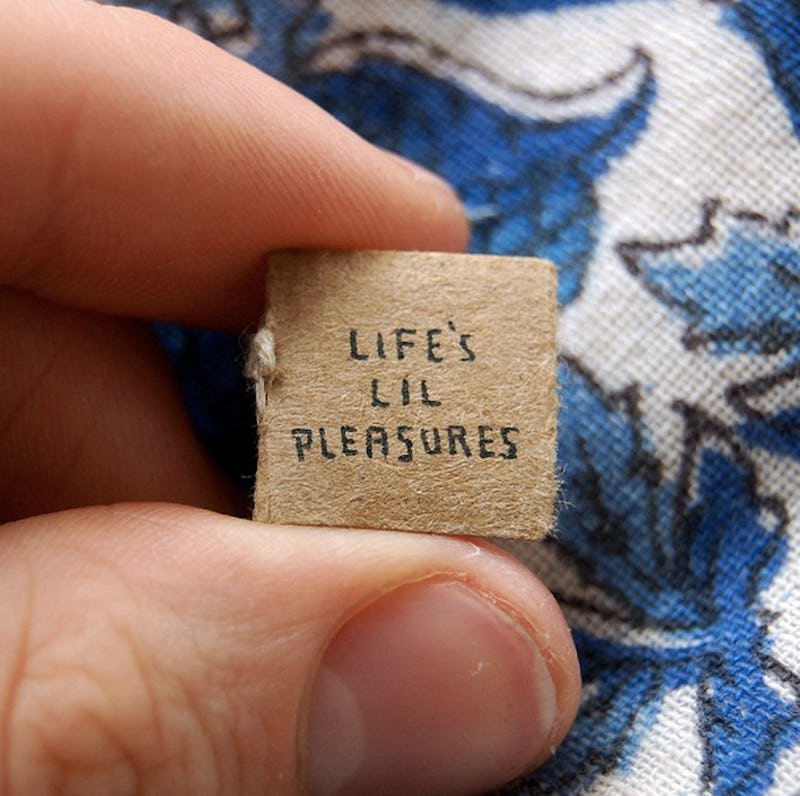 With our minds engaged in codependent relationships with our technological devices, it's difficult to find space or time to unplug and practice mindfulness. But artist Evan Lorenzen has managed to capture the appreciation of the little things in "Life's Lil Pleasures," an impossibly small illustrated book that packs a lot of punch for a thing not much larger than your thumbnail. A master of miniscule illustrations, Lorenzen's tiny treasures will lend you that peace of mind you needed to slow down and smell the proverbial flowers.
This isn't Lorenzen's first foray into miniature art work: His micro-books are an ongoing series of individual works standing no more than than inch tall and executed with painstaking detail. "The first book I made was mainly just goofing around with a new fine-point pen, but it turned out to be a really fun process," he tells the Huffington Post. "I knew I could go smaller, so I made the next blank book." His "Little Book Of Big Ideas" was subsequently hatched, becoming one the earliest installments in this teensy format.
The Denver-based artist works in larger mediums as well, but his mini series are clever and visually engaging with titles like "The Most Pocketable Field Guide," a wee reference book of illustrated plants and their scientific classifications.
He also gets a kick out of people interacting with such tiny masterworks. "Once they do get a good grip on it, the book seems to become extremely precious and fragile because it can easily get destroyed with something as simple as a sneeze," Lorenzen tells Mashable. "For me, it's most rewarding to see people sucked into these miniature worlds while also having to fumble with the idea of being delicate."
Pop over to Tumblr to see a few others in his series.
Images: artandsuchevan/Instagram