+Size Women Now Have More Choices On Polyvore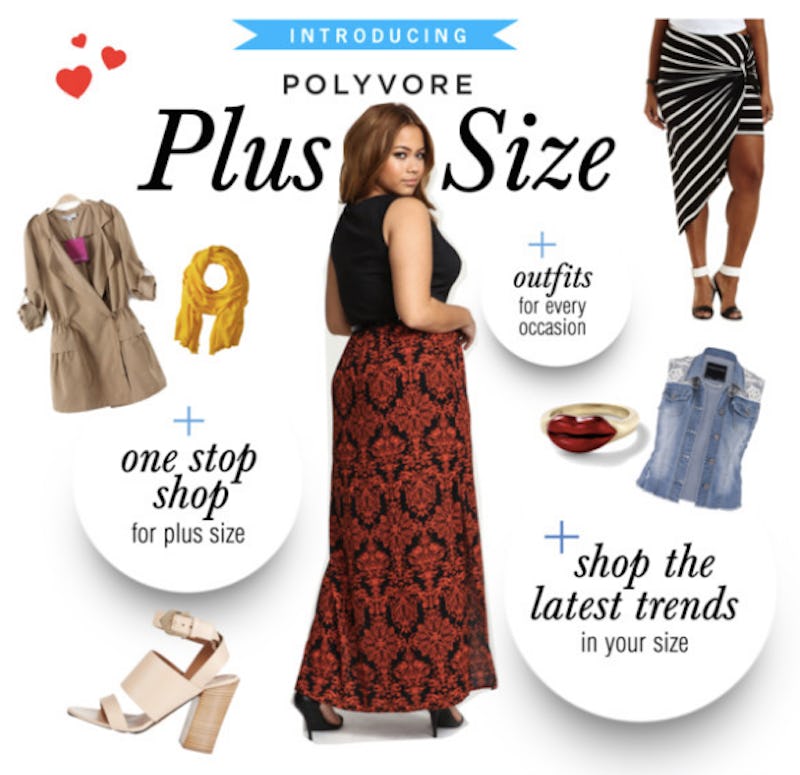 I'm pretty sure we all love to conjure up dream outfits and collect our style inspiration on the website Polyvore. Now, everyone can do some online window shopping with Polyvore's new plus-size sections. The site functions almost as a fashion search engine that allows users to search for and filter specific clothes and accessories to create and share shop-able outfits using product images. Personally, I've loved and been a user on Polyvore for years. Seriously, I've been using the site to lay out outfits and curate inspiration boards since I was curating my Top 8 on Myspace — and before we all used the term "curated" all the time.
Plus-size babes are now being given their own filter in the search function in order to see clothes that come in their sizes. Polyvore will also be adding more plus-size targeted content on their homepage that's set to include outfit inspo and advice from plus bloggers The Curvy Fashionista, The Plus-Size Princess, and Nadia Aboulhosn.
It's a smart move that not only makes sense for the site from a business perspective, but is likely causing fashion-obsessed plus-size babes to rejoice. It's also an encouraging sign that the fashion industry as a whole — not just clothing designers and retailers — is realizing the purchasing power of plus-size women and the importance of creating mainstream acceptance and accommodation of anyone over a Size 12 or L.
As a plus-size woman who is (obviously) in love with clothes, this makes online shopping for plus-sizes even more appealing than it already is. Even with the added selection of retailers available online, the abundance of selection that straight-size women still have puts that of plus women to shame. Especially on sites that sell a mix of straight and plus-sizes, the disappointment of finding a cute outfit only to realize it's not made in your size can feel like a harsh reminder that clothing is way more difficult for you to find. And I hope the filter function can help more people find the exact clothes they're looking for without being reminded about everything that they can't have.
So I decided to test the function out and look for a type of jacket I'd been trying to hunt down. I saw Jessica Williams wearing army pants and flip flops, so I wanted to wear army pants and flip flops, too. Wait, I mean a denim parka. An initial search for a plus-size denim parka yielded no results once I applied the filter. However, searching without the filter lead me to a really cute style on SimplyBe's website that came in sizes all the way up to a 24. While there are probably still a few kinks being ironed out in the back end, I'm excited to use the feature and see how it evolves as more visitors utilize the function. If anything, this is a testament to how tricky online shopping while plus has the potential to be and I'm interested to see how the Polyvore team navigates it.
Regardless, I'm mostly just thrilled that this move marks a step forward for size acceptance and body positivity in the realm of fashion. It's not just the people who manufacture clothing who need to step up their game when it comes to making an actual effort to include plus women in the conversation. It can feel like we're always talking and offering up feedback online about how to make shopping better and more inclusive for us — this makes me feel like more people are starting to listen.
Images: Polyvore; Giphy