What Happens When You Stop Using Shampoo?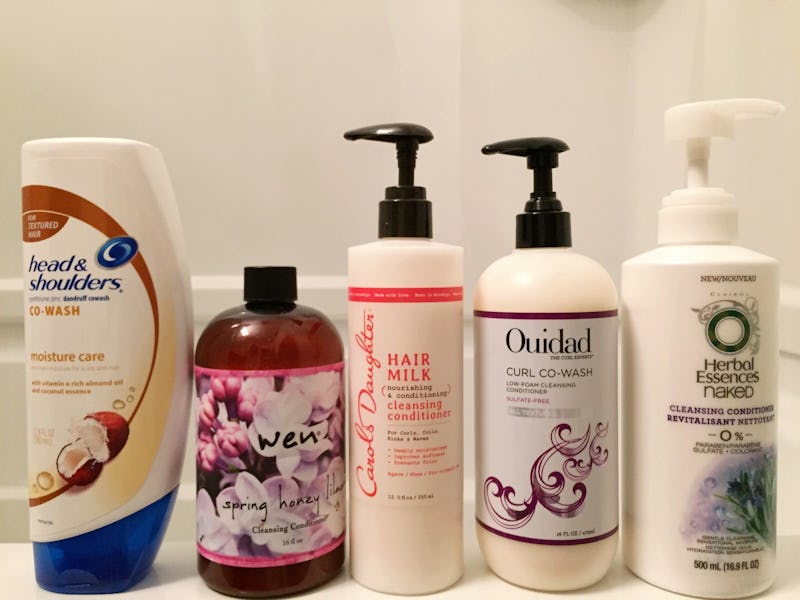 When I told my boyfriend I was starting a co-wash routine, he asked if it meant I was washing other people's hair and vice versa. Not quite. Co-washing, short for conditioner washing, means ditching shampoo and using a cleansing conditioner for double duty. It's ideal for people with curly or textured hair but can work for just about anyone.
Because I pride myself on washing my naturally curly hair just twice a week, shampoo is my holy grail. It zaps oil and revives my hair to its natural, bouncy state. But when I heard about co-washing, I realized my hair science was off—not surprising when you consider my grades in biology and chemistry. Curls crave moisture, so washing from root to tip with a cleansing conditioner is kind of like chugging water after a long run.
I reluctantly stashed my shampoo under the sink and stocked my shower with five co-washes. Here's what happened next:
Perhaps I set the bar high by starting with the most expensive option, but I was determined to kick off the challenge on a good note. I rinsed my hair and checked the bottle for instructions, which called for 16 to 24 pumps of product for medium-length hair. That wasn't a typo: 16 to 24 pumps—of conditioner, no less. Though it felt sacrilege to massage anything other than shampoo into my roots, I complied and let the product work its magic while I finished my usual shower business.
Wen Spring Honey Lilac Cleansing Conditioner, $33, Amazon
That's when I realized there was more to the instructions. For best results, you're actually supposed to cleanse a second time with half the allotted amount of product. Oh, and apply half of a pump as leave-in conditioner. I settled for the latter and called it a day.
When I took a brush to my thick hair, I was relieved to find silky-smooth locks, the kind you only really get with a trip to the salon. After drying it straight and styling with a curling wand, I was even more pleased with the light, airy feeling from root to tip. Bonus points: I smelled like a bushel of lilacs all day.
I'm a huge fan of everything by Ouidad, the self-proclaimed "curl experts," so my hopes for this product were sky high. But it didn't take long for this pricey co-wash to totally fall flat. I'll start with the good stuff: It smelled awesome and it actually got foamy, something I was craving sans shampoo. Per the instructions, I attempted to divide my hair into four sections (I say attempted because that's fairly difficult when you're in the shower with wet hair) and slathered each with five pumps of product.
Curl Immersion Co-Wash Cleansing Conditioner, $29,
Soon after rinsing, I could tell my hair was becoming a greasy, stringy mess, my biggest fear with co-washing. Because my hair wasn't as manageable as usual, my blow-dry took an extra 10 minutes (not cool). Just when I thought things couldn't get any worse, my scalp itched like crazy the next day, which led to a plague of dandruff. Three strikes, you're out, Ouidad.
After feeling betrayed by the previous co-wash, I was looking forward to a product with the words "hair milk" in the name. When I started working it into my tresses, I caught a whiff of the fake floral scent, which smelled more like burnt plastic to me.
Carol's Daughter Hair Milk Cleansing Conditioner, $8, Amazon
With no specific instructions on how much to use, I settled for 10 pumps and let the conditioner sit for five minutes before I washed it out. Things seemed to be looking up until I styled my hair—curly this time—and realized the product made an already-bad situation worse. Although the wash took care of the flakes, it did nothing to sooth my itchy, dry scalp. If it weren't for the awful scent that lingered in my hair long after it dried, I would probably try this product again. But ain't nobody got time to smell like burnt plastic.
Let's be honest—Head & Shoulders has never had a brag-worthy reputation. It's one of those brands everyone has used at some point but no one likes to gush about. Well, I'm going to gush about this one. Without instructions on how much to use or a pump for accurate measurements, I squeezed a ping pong ball-sized dollop into my hand and got to work. The product itself is light but rich and smelled like coconut.
Head & Shoulders Moisture Care Co-Wash (2 Pack), $12, Amazon
Massaging the conditioner into my roots was a cinch—a feat for most co-washes—and rinsing was equally easy. As I'd hoped, it did wonders for my itchy scalp and washed away any last lingering flakes. Because I'm admittedly a brand snob, I wasn't stoked about using this product, but I can proudly say I'm a Head & Shoulders convert. And for just under $5, it's one of those drugstore gems I'm going to rave about to curly-haired friends.
When I uncapped this conditioner, I was expecting one of Herbal Essences' jam-packed fruity scents that makes you smell like a fifth grader for days. Instead, I was surprised to pick up notes of mint and essential oils. The oversized pump was the next thing I noticed—it's perfect for this kind of product because you need so much of it.
Herbal Essences Naked Cleansing Conditioner, $8, Amazon
After not washing my hair for two days, I was excited to cleanse the heck out of it with this conditioner. Because it felt a little thick and greasy on my roots at first, I diluted it with warm water and continued scrubbing. I let it sit for five minutes before rinsing it out. This one definitely left my hair feeling clean, but not as moisturized as I would have liked. A little Moroccan Oil did the trick before I styled my hair with a blowdryer. The silver lining of this product was its lasting power. My hair smelled amazing the next day and stayed straight for three whole days after.
My Verdict
Despite a mixed bag of products, I'm going to continue co-washing long after this review goes live. There's just one tweak I plan to make to my routine: I'll allow myself to use shampoo sparingly, maybe once per month—kind of like hitting the reset button. The standout products were Wen's Spring Honey Lilac cleansing conditioner and Head & Shoulders' Moisture Care co-wash. At two totally different price points, I'd recommend newbies test the waters with Head & Shoulders and experienced co-washers splurge on Wen's luxury product at least once. Co-washing is a lot easier than it sounds, but it's all about finding the right products that work overtime for you.
Images: Morgan Olsen