A Turkey Help Hotline Exists. Call It.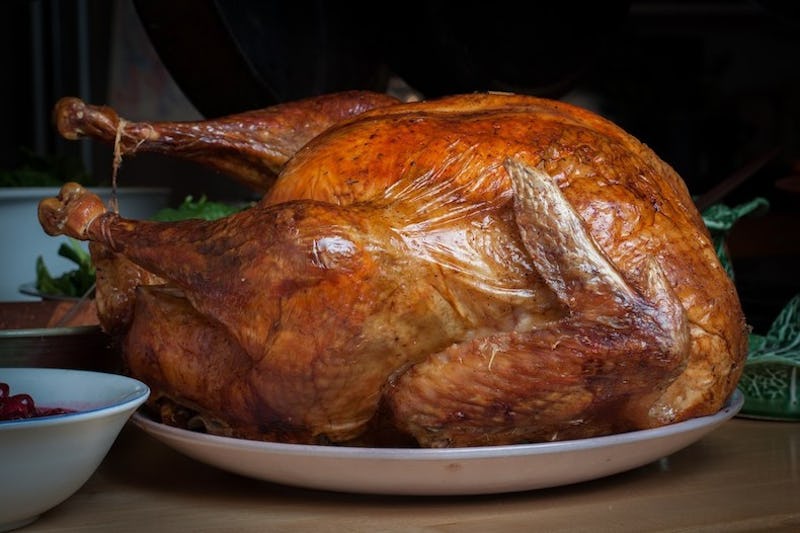 For years, I've been hearing rumors. Rumors of a help-line that you can call with all your Thanksgiving turkey-cooking questions. Rumors of helpful women who can tell you just how hot your oven needs to be to cook your turkey at altitude. Rumors of 1-800-BUTTERBALL, the Butterball Turkey Talk-Line.
The rumors are true. The Butterball Turkey Talk-Line is real! I've seen it referenced on TV (notably on The West Wing, Season 3: Episode 8). I've heard about brothers of cousins of friends who've called in. In the spirit of Thanksgiving and Mythbusters, I called the Butterball Turkey Talk-Line to ask them some questions about their history, and about brining a turkey.
As it turns out, one does not just call the Butterball Turkey Talk-Line two days before Thanksgiving and expect to be able to immediately speak with a Turkey Expert. I did, eventually, talk to a lovely woman who provided me with a bounty of Butterball history and turkey-related info for your reading pleasure. She didn't want to talk about the fact that the Turkey Talk-Line has never had a man answer the phones before this year, but I think we should celebrate the fact that Butterball has officially left the 1950's as of 2013.
Some fun, Talk-Line-related facts:
1. The Talk-Line has existed since 1981, when six women answered 11,000 turkey-cooking questions.
2. Today, over 50 turkey experts answer questions in both English and Spanish for thousands of callers in the US and Canada.
3. This year is the first year that features a male Turkey Talk-Line expert, RJ Jamarillo of San Diego, CA.
4. The talk-line has gone high-tech: live videos of all the tricky aspects of Thanksgiving turkey prep and cooking and carving are available on their website.
5. Contrary to popular belief, deep-frying your turkey isn't just the Thanksgiving activity of mad men and pyromaniacs. Butterball can tell you how to do that, too.
6. On Thanksgiving Day (that's Thursday, in case you forgot) the Butterball Turkey Talk-Line will receive over 12,000 phone calls!
Happy Thanksgiving from all of us (and Butterball)!