The Superstore Spinoff Was Reportedly Axed After The Finale
"It will just have to live on in our hearts and on my hard drive."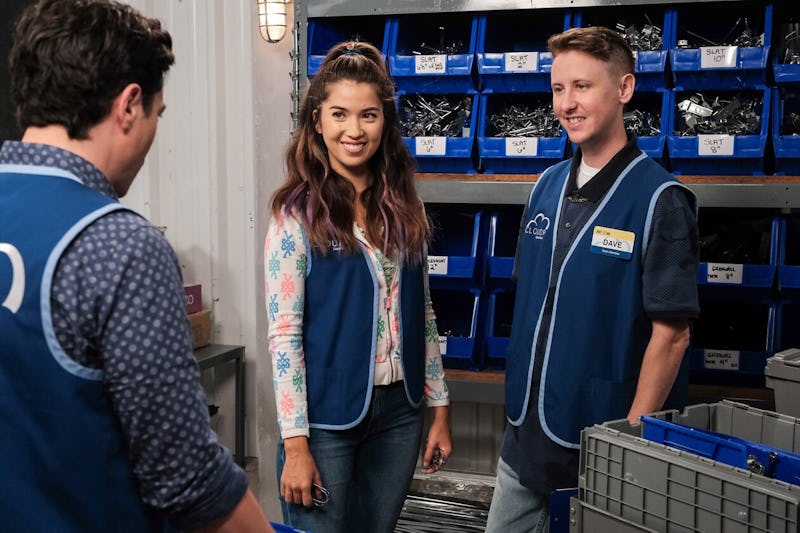 EDDY CHEN/NBC
Spoilers ahead for the series finale of Superstore. Well, Cloud 9 is officially closed — and with it the end of Superstore's six-season run. The beloved sitcom ended on a grounded yet positive note for the store associates: Glenn got his family's hardware store up and running, Amy and Jonah are finally back together, and there's even promise in the new fulfillment center — at least for the group of employees who have managed to stick together there, including Dina, Sandra, and Justine. Despite the happy ending, Superstore leaving the air was sad all the same — but there was a glimmer of hope in the new spinoff, Bo & Cheyenne, which was announced to be in development in December. Unfortunately for Superstore stans, though, the project is no longer moving forward, according to Variety, who reports that a close source confirmed the news.
Cleveland.com first shared the news on March 26. Bridget Kyle, who was developing the project with her partner Vicky Luu, said that "unfortunately, yesterday NBC notified us that they're not going forward with the Superstore spinoff," she said. "So, it will just have to live on in our hearts and on my hard drive." So it seems that Kyle got the news the same day Superstore aired its emotional series finale (during which, Kyle told the site, she "only cried twice." Same.)
What would the show have looked like? As Kyle said, we'll just have to imagine — but here is what we learned before the project came to a halt.
Bo & Cheyenne's Plot
According to Deadline, which broke the news about the Bo and Cheyenne spinoff in December, the proposed project was expected to watch the couple "balance their big dreams with the harsh realities of being a blue-collar family in America."
Though Bo and Cheyenne have always been a fun-loving (if immature) couple, developments in the last few months suggested that the potential new series could have seen Cheyenne assume a more responsible role in the family. Before Cloud 9 closed, she was promoted to floor supervisor and took on a more active approach to work. The finale showed her working with Glenn and Mateo at the new Sturgis & Sons Hardware, which makes it clearer than ever that she was growing up.
Before the project was canceled, Luu wrote on Instagram that she was "grateful" to have Kyle by her side "as we continue the silliest and sexiest journey of our lives." Silly and sexy sounds about right for Cheyenne and her rapper-hopeful husband, Bo.
The Bo & Cheyenne Cast
Beyond the titular Bo and Cheyenne (Johnny Pemberton and Nichola Sakura, respectively), the supporting cast for Bo & Cheyenne was not revealed — but the possibilities were fun to think about. Last we saw Cheyenne, she was working at Sturgis & Sons, so there were plenty of opportunities for other Superstore characters to appear. Mateo popping in from time to time to provide guidance to the young, messy couple would be a pleasant surprise. Glenn could offer some of his characteristically well-intentioned (if misguided) life advice. And since Cheyenne had turned to Amy for help navigating life and work in the past, the possibility of her and Jonah making a cameo wouldn't have been out of the question, either.
During a press junket for the Superstore finale, Sakura said she'd love to work with her Superstore castmates again, though she couldn't confirm any plans. "I wish that I was in charge of any of these decisions," she told Bustle. "God, everyone on our show is so funny … I think it would be a slam dunk if that show happens and if we could get any of the cast to come and play on it."
Though Superstore's ending and Bo & Cheyenne's cancellation are a double-blow to Cloud 9 fans, we can still hold out hope that the cast will work together in the future somehow. In the meantime, why not start a rewatch? With more than 100 episodes, Superstore's criticism of corporate retail has never felt more timely.
This article was originally published on