The Meaning Of April's Black Moon Solar Eclipse, Explained
Opportunities are coming, if you can see them.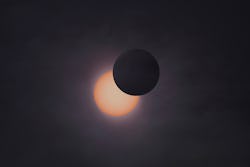 Giulio Ercolani/Stocktrek Images/Stocktrek Images/Getty Images
April has been a memorable month in the cosmos, as it's brought some once-in-a-lifetime astrological events and the first planetary retrograde in almost three months. The extraterrestrial excitement will carry on strong through very end of the month, since the April 2022 new moon on April 30 is a solar eclipse. It's also the second new moon to occur during the calendar month, which earns it the title of a rare "Black Moon." As the first eclipse of the year, the April new moon ushers us into the tumultuous terrain of eclipse season, so all zodiac signs will want to know to expect.
Eclipses are known for bringing rapid shifts and unexpected twists of fate into our lives, and they're believed to help realign us with our destiny — even if our lives get turned upside down up in the process. During April's solar eclipse, the sun and moon are aligning in the dedicated and sensual sign of Taurus, which puts an emphasis on our self-worth, material possessions, and physical environments. This lunation could totally change the things we value and want to work toward, and could also deliver sudden new opportunities in the realms of money and resources. Eclipses can be chaotic cosmic periods, but the stable and sure-footed Taurus energy can help us stay steady amidst the shake-ups.
There's lots of powerful planetary action happening alongside this new moon eclipse, and it serves as the climactic closing act to a month of unique cosmic happenings. Read on for everything you need to know about the April 2022 black moon eclipse.
The April Black Moon 2022 Meaning
Because of the timing of the lunar cycle this year, there have been several new moons so far in 2022 that have straddled the line between one month and another. When we have two full moons in a single calendar month, the second is called a "Blue Moon," and when this occurs with a new moon, it's called a Black Moon. While this is a relatively rare and interesting phenomenon (as there's usually only one new and full moon per month), it doesn't change the astrological meaning of the lunation. It simply gives us an extra chance to connect with the powerful new moon energy before we have to flip our calendars.
What Does It Mean That This New Moon Is Also An Eclipse?
April 2022 new moon's Black Moon status doesn't impact the astrology of the lunation, but the fact it's a solar eclipse is a big deal. Eclipses in astrology are dramatic harbingers of change, and these wildcard cosmic events have a way of shaking up our lives and realigning us with our fate. In the case of solar eclipses — which occur during new moons — there's a high potential for new things to come into fruition in our lives at a rapid pace, and doors of opportunity to swing open without warning.
Eclipses are always part of a larger story, and the eclipses of 2022 all take place on the Taurus/Scorpio axis of the zodiac. With these two zodiacal energies being activated by the eclipses, we're on a year-and-a-half long journey of change when it comes to the things we value, control, and derive power from. The April 2022 new moon eclipse is in earthy and material-minded Taurus, so pay attention to themes that arise in your life now. Whatever unfolds now will likely continue its metamorphosis under the lunar eclipse in Taurus in November. You may also notice that some feelings or situations from the end of 2021 are resurfacing or picking up speed in your life under this lunation, as the last eclipse to take place in Taurus was on Nov. 19 of last year, and that one kicked off the eclipse cycle we're currently experiences.
What Other Astrology Is Happening During The April 2022 Solar Eclipse?
Eclipses always take us on a wild ride, but the unpredictable nature of this lunation is being amplified thanks to the new moon's alignment with rebellious planet Uranus. Known as the planet of unexpected changes, Uranus' influence on this eclipse guarantees that plenty surprise shake-ups are in store for all zodiac signs, and whatever transpires in our lives is sure to be exciting. Additionally, motivational planet Mars is forming a helpful connection to this eclipse, which gives us the strength and resolve we need to weather the changes. We may have to step beyond the limits of our comfort zone, but these eclipse challenges will ultimately help us grow.
Alongside the new moon eclipse will be a triple conjunction aspect between love planet Venus, abundance planet Jupiter, and mystical planet Neptune — which are collectively part of the Pisces stellium that's been dominating the energy of the past month. This ethereal blend of planetary vibes makes this emotional lunation even more feelings-filled, and it brings potential for beautiful new beginnings in love or creativity, too. Eclipses may catalyze sudden changes, but these shifts don't have to be a negative thing, and this dreamy trio of planets is here to prove it. The Jupiter-Neptune conjunction in Pisces is still very much active during this eclipse, so keep these spiritually-enriching vibes in mind as you navigate the lunar energy.
While the energy of eclipse season is considered too chaotic for manifestations or moon rituals, we can be sure that the April 2022 new black moon eclipse will keep us busy with lots of new beginnings, sudden revelations, and unexpected opportunities. Leaning into the down-to-earth Taurus energy of this black moon can help you stay grounded, no matter what wildcards get thrown your way.