Spring's Mercury Retrograde Will Affect These Zodiac Signs The Least
Sit back, relax, and reflect.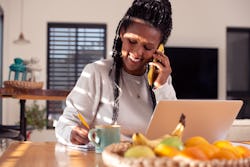 RuslanDashinsky/E+/Getty Images
Prepare for spicy drama and celestial mishaps with this upcoming Mercury retrograde. The planet of communication is entering one of its mischievous backspins from May 10 through June 3. Technically, Mercury only gives the illusion that it's spinning backward, but you can still expect communication mix-ups, DMs from your exes, and flight delays. The first half of its retrograde, the troublemaking planet will be spending time in gossipy Gemini just before making its way to big spender Taurus. Although it's earned a reputation for causing disruptions, Mercury retrograde isn't all bad. It also serves as a reminder to slow down and think back on what you've learned. The zodiac signs least affected by the Mercury retrograde spring 2022 can rest easy knowing the chaos is sparing them this time.
When direct, Mercury is oversees communication, travel, and technology, ensuring that operations are under control. During its retrograde period, Mercury rocks the boat, inducing brain fog, disrupting travel plans, and causing misunderstandings. Since Mercury retrograde is happening in its native sign, Gemini, you can expect tech malfunctions and miscommunication to run amok. Once Mercury moves into hopeless romantic Taurus, you might find yourself more prone to overspending, hidden fees, and misunderstandings with your partner. But for some zodiac signs, these shifts will impact them internally, offering a great time to reflect on lessons and relationship patterns.
Will you be safe from Mercury's mayhem? Read on to find out if you're one of the select few zodiac signs least affected by the Mercury retrograde spring 2022.