Inside The True Events That Inspired Amazon's Nazi-Hunting Revenge Show 'Hunters'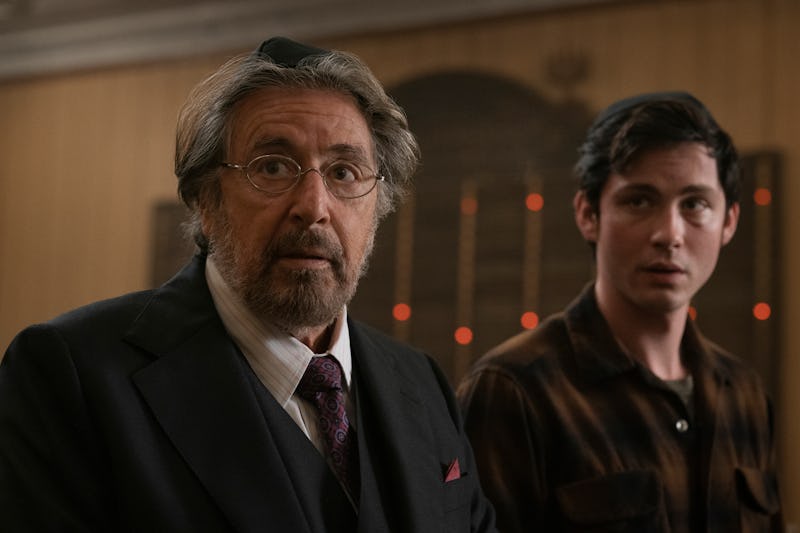 Christopher Saunders/Amazon Studios
Amazon's new drama series, Hunters, is a gritty, violent, and over-the-top tale about a group of Nazi-hunting vigilantes in 1977 New York. Hunters is also billed as being based on true events, and it is...kind of. While not to the extent that the show portrays, there were really Nazis living in the U.S. after World War II (an estimated 10,000, according to the Associated Press). There were also people who were hunting them — just by much tamer means than the motley crew in Hunters.
In the show, a young Jonah (Logan Lerman) joins a group of Nazi hunters led by Al Pacino's Meyer Offerman following the death of his grandmother, who'd helped to establish the team. But whereas Jonah and co. take justice into their own hands to exact brutal, bloody revenge, real-life Nazi hunters worked with the authorities to persecute Nazi war criminals legally. One of the most notable of these figures is Simon Wiesenthal, a Holocaust survivor who dedicated his life to tracking down Nazis. To do so, he set up the Jewish Historical Documentation Center in 1947 and the Documentation Center of the Association of Jewish Victims of the Nazi Regime in 1961. Wiesenthal also aided in the search for Adolf Eichmann — the administrator of the "Final Solution," who was eventually located in Buenos Aires and executed — as well as Hermine Braunsteiner Ryan, a former concentration camp guard who had been living in New York City. The U.S. extradited Ryan to Germany in 1981, and she was sentenced to life in prison.
In 1977 — the same year Hunters is set — a Jewish human rights organization called The Simon Wiesenthal Center was established in Wiesenthal's name. This likely served as some very loose inspiration for the show; Hunters creator David Weil confirmed to Forbes that Judd Hirsch will play a version of Wiesenthal in the series. (Wiesenthal died in 2005).
Weil has also said that Hunters serves as a "love letter" to his grandmother, who was a Holocaust survivor, but told Forbes that the primary inspiration for the show comes from a top-secret government program called "Operation Paperclip." While competing with the U.S.S.R. during the Cold War era, the U.S. government recruited Nazi doctors and scientists. This included Wernher von Braun, a former SS officer who developed rockets for NASA that led to the U.S. moon landing in 1969 (von Braun will also be portrayed in Hunters).
Weil told The Telegraph that his aim with Hunters is to expose the injustice of Operation Paperclip. That's where true history meets revenge fantasy: Nazis may have been allowed to walk free in real life, but the Hunters team only has vengeance in mind.