Charlie Rose Says His Accusers Are "Exploiting" Me Too In A New Court Motion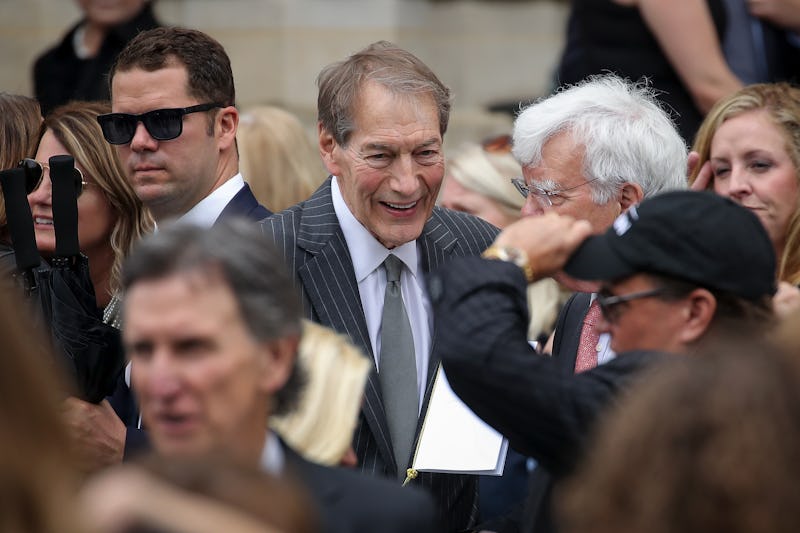 Drew Angerer/Getty Images News/Getty Images
Since the fruition of the #MeToo movement, many powerful men have lost their jobs over sexual abuse and harassment allegations. Former CBS anchor Charlie Rose was one of them. But he didn't disappear into the ether of disgraced men. On Friday, he filed a motion to dismiss a sexual harassment lawsuit against him, arguing that the women who brought the suit are "exploiting the #MeToo Movement" with their claims against Rose.
According to CNN, the motion has to do with a lawsuit filed in May by Katherine Brooks Harris and Sydney McNeal. In their claims, they accuse Rose of "blatant and repeated sexual harassment." They said that Rose, "repeatedly sexually touched" them, and noted that this harassment included "caressing and touching their arms, shoulders, waist and back, pulling them close to his body, and kissing them on the cheek." Bustle has reached out to the firm representing Rose for comment.
Now, the motion — filed by Rose's lawyers on behalf of him and Charlie Rose Inc. — says that none of the three women "alleges a cognizable claim of gender discrimination harassment or retaliation."
Deadline obtained a copy of the memo to dismiss, which alleges the three "plaintiffs seek to bolster their threadbare and conclusory claims by exploiting the #MeToo Movement and bootstrapping the accusations of sexual harassment made by third parties against Rose in articles published by The Washington Post."
The memo goes on:
Plaintiffs are not alleged to have had any knowledge of a single one of those accusations set forth in the articles. These hearsay accusations do not and cannot supply the missing link to the legally deficient claims.
The suit came after The Post published an explosive piece in which 27 women accused the then-anchor of misconduct, with the three plaintiffs in the lawsuit going on the record. That was after a November 2017 article, also from The Post, in which eight women accused Rose of sexual harassment in the forms of nudity, groping, and offensive calls. Rose was fired, and then apologized for what he said was "inappropriate behavior," Vanity Fair reported at the time.
Rose worked with both CBS and PBS in the past. Vanity Fair noted that Rose isn't the only person at CBS who's been fired because of sexual misconduct. Over the summer, CBS' board of directors announced CBS would investigate CEO Les Moonves would be investigated because of sexual misconduct allegations. In a statement shared with Vanity Fair, Moonves said:
I recognize that there were times decades ago when I may have made some women uncomfortable by making advances... Those were mistakes, and I regret them immensely. But I always understood and respected—and abided by the principle—that 'no' means 'no,' and I have never misused my position to harm or hinder anyone's career.
All in all, Rose's lawyers claims that women are "exploiting" the #MeToo movement are bold ones. Many celebrities and activists have spoken out about #MeToo and the light the movement has shed on misconduct against women.
As Mira Sorvina — who accused former media mogul Harvey Weinstein of sexual harassment in a New Yorker story at the dawn of the movement — put it at the 2018 Oscars: "I want people to know that this movement isn't stopping. We're going to move forward until we have an equitable and safe space for women."