Did The Golden Shower Story Start On 4chan?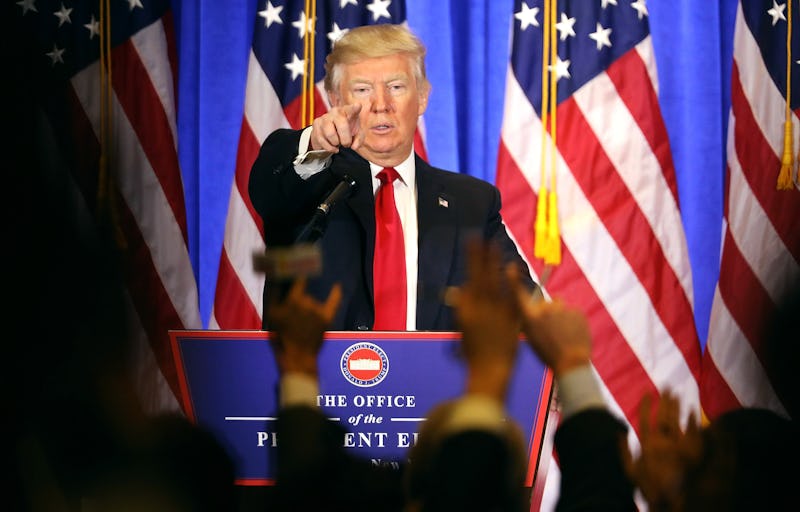 Spencer Platt/Getty Images News/Getty Images
Donald Trump did what he does best on Tuesday: Completely stealing everyone's thunder with a scandalous and unbelievable news story. However, according to the online forum 4Chan, that story may have been just that. An unverified 4Chan thread claims that the Trump "golden shower" story was completely made up by an anonymous user more than two months ago, The Daily Beast reports. Bustle reached out to Rick Wilson, identified by The Daily Beast as a Republican operative who opposed Trump, for comment on his involvement in the ongoing story. The request was not immediately returned.
Following Tuesday's already infamous "golden shower" reports, a Donald Trump-devoted Reddit thread unearthed an old 4Chan post that claimed to be the center of all the controversy, The Daily Beast reports. A 4Chan user commented on Nov. 1 that they gave Wilson some apparently false information (Wilson worked on third-party candidate Evan McMullin's campaign this cycle) regarding Trump's dealings and allegedly illegal activities in Russia. Trump seems to agree that this whole ordeal is fake; he tweeted: "FAKE NEWS — A TOTAL POLITICAL WITCH HUNT!" after the story was released. Trump has not spoken about 4chan.
According to the anonymous user, who cannot be verified, the mainstream media "added a Russian spy angle" to the fake intel they gave Wilson, resulting months later in the "golden shower" stories that broke on Tuesday
Yet there's plenty, if not more, evidence to refute these claims. The timing of the post, which is archived here, is interesting, since it was dated before much of the reporting on this intelligence memo began, but that doesn't mean it was before the memo existed. Mother Jones actually began reporting on the document on Oct. 30, days before the anonymous 4Chan user made their post and over a year after the document was supposedly created. While the user may have been reacting to that reporting as evidence that their evil scheme had worked, it's much more likely that they took credit for the story safe in the knowledge that no one could conclusively call their bluff.
Furthermore, the 4Chan user's story doesn't line up with any of the facts presented by the U.S. intelligence agencies, or directly explain how the information got from 4Chan to those agencies. Wilson penned a post for Medium on Wednesday morning in which he vehemently denied sourcing either the memo to BuzzFeed (which the site published after the initial reports broke Tuesday) or the information to intelligence agencies. Wilson urged any journalists who used him as an anonymous source for Trump-related pieces to name him and publicly release the information he gave.
No one has since come forward to claim Wilson as their source, indicating that Wilson's claims, and not the 4Chan user's, are true.
The key issue here in deciding what to believe is whether you have any trust left in the U.S. intelligence community, and whether it's bigger than any modicum of trust you might have in 4Chan. By simple logic, it seems easier to make up the fact that you made something up, rather than make something up and have the highest ranking intelligence officials in the country believe it.
If the 4Chan user's claim is true, this is the biggest media conspiracy in American history and the multi-billion dollar U.S. intelligence industry is nothing more than a naive goat that succumbs to the troll under the bridge. Since neither seems likely, and both together seems flat out impossible, one side of Occam's Razor is much more compelling than the other.