'HTGAWM' Just Revealed A Disturbing Clue About Laurel's Baby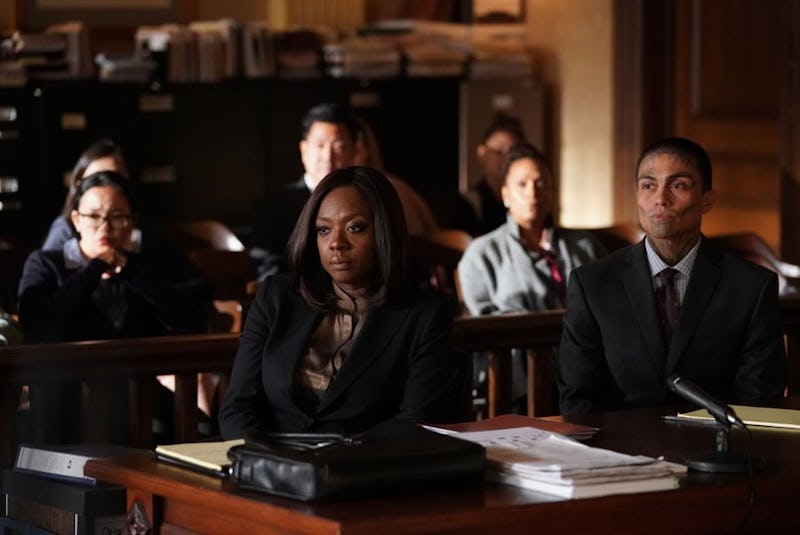 Mitch Haaseth/ABC
Now in its fourth season of drama, How To Get Away With Murder has kept Annalise Keating on the edge… well, pretty much the whole time she's been on the show. But now that Annalise has lost her job, her interns, her colleagues, her professorship, her husband, and, well, you get the idea, she's even closer to the breaking point than we've seen her before. Spoilers for the Oct. 5 episode. Did Annalise take Laurel's baby on How To Get Away With Murder?
Let's back up — Wes and Laurel had a fling last season (you could tell me it was more than that, but I'm going to vehemently disagree because it was like 15 minutes), and Wes died. More importantly, Laurel's dad had his henchman murder Wes for reasons that we're not completely sure of yet. But now Laurel is pregnant with Wes' baby, and as of current television time, she's about five-and-a-half months along. She told her father that she had an abortion, but that was only to bide herself some time — she knows her dad had Wes killed, and she's going to take down her whole family if it's the last thing she ever does. But there is definitely a problem she has to deal with first.
Annalise is slipping deeper and deeper into insanity, and, in a flash forward two months later, Laurel is in a hospital bed screaming, "Where is my baby?" Now, she didn't have an abortion in real life, and she must have been drugged, because Annalise's therapist, aka Jimmy Smits IRL, leaves Laurel's bedside to call Annalise and tell her that Laurel "is awake" and that Annalise better get down to the hospital. Annalise, of course, is not answering her phone, because she's probably finding five more interns' lives to ruin.
The bottom line is this — Laurel's baby is missing, and Annalise may know where it is. Annalise was pregnant, but the baby — a boy — died years ago after a car accident pushed her into premature labor. Then, Annalise focused her sights on Wes, taking him on as a project because she felt responsible for the death of Wes' mother. Then, Wes died. Perhaps Annalise arranged for Laurel's baby to be snatched from her womb in order to complete the cycle of motherhood that she feels has been taken away from her. Laurel has a baby. Laurel doesn't need a baby. But Annalise does! Annalise literally has nothing in her life right now, and a baby could change that. Well, it wouldn't really change that, since Annalise is still an addict with relationship issues, but she could feel like it would change her life.
The next question is — what does Jimmy Smits have to do with this, and why is he at the hospital with Laurel? In one of their earlier sessions, Annalise admits to Jimmy Smits that her first therapist was a real gem — he started sharing things with her to make her feel comfortable, and eventually, they got married. Because her first therapist was also her first husband, Sam. Woops. (He's dead because the Keating Five killed him.)
Maybe Annalise, two months after her initial onboarding into therapy, becomes romantically involved with this therapist, too. Annalise likes to imprint on people — she makes people feel special, like they can't live without her, and then she ruins their lives. She did it with Bonnie. She did it with Frank (who is still working for her). She did it with Nate. She did it with the Keating Five. Annalise needs something to care for, but what she really needs is a licensed therapist who won't let her walk all over him or her and maybe an in-patient program for her drinking issues.
Did Annalise take Laurel's baby on How To Get Away With Murder? It's too early in the season to know for sure, but Annalise has some serious delusions that are too dangerous to ignore.