George Clooney's Harvey Weinstein Comments Call For Everyone To Take Action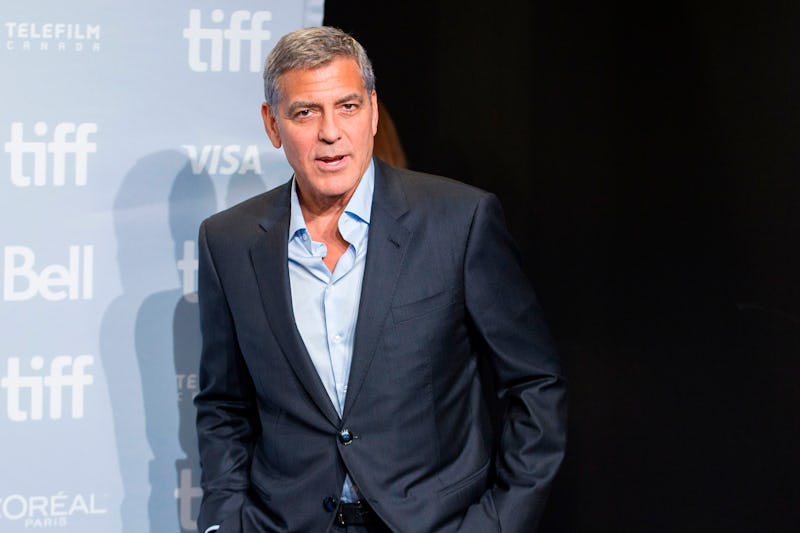 GEOFF ROBINS/AFP/Getty Images
The biggest news in Hollywood currently are the sexual assault allegations against producer Harvey Weinstein. While actors like Meryl Streep and Jennifer Lawrence have come out and said something about the allegations, many of their male A-List counterparts have been silent. However, George Clooney spoke about Weinstein to The Daily Beast and his message is a strong one for other actors in the industry who have been tight-lipped about the issue. (When The New York Times first released their report on Weinstein, he responded with a statement to the publication apologizing for past behavior, but did not confirm any of the allegations specifically; his lawyer released a statement claiming that the NYT story is "saturated with false and defamatory statements.")
Clooney wasn't afraid to speak his mind on the allegations as he told the publication, "There's nothing to say except that its indefensible." He also talked about his history with Weinstein and how he never knew that the allegations were so serious. But one of the most interesting parts of his interview has to be when he talks about the idea of "complicity" among those in Hollywood — and the world in general — when it comes to allegations of sexual assault. Clooney said,
"This is harassment on a very high level. And there's an argument that everyone is complicit in it. I suppose the argument would be that it's not just about Hollywood, but about all of us — that every time you see someone using their power and influence to take advantage of someone without power and influence and you don't speak up, you're complicit. And there's no question about that."
Clooney is correct. By remaining silent, like many in Hollywood still have been (particularly men in the industry and especially ones who have collaborated with Weinstein in some fashion), they're also complicit in the atmosphere that allows the type of behavior that is being alleged to occur. And that sense of complicity goes for those in Hollywood and outside of the tinsel town bubble, as well.
Like Clooney said, the women who Weinstein allegedly targeted didn't have as much power and influence as him. Actors like Asia Argento and Mira Sorvino claimed to Ronan Farrow at The New Yorker that they felt as though they couldn't speak out because they risked losing status in the industry. Hollywood mainstays like Clooney are high-profile enough that they have the opportunity to speak out without the risk of damage to their careers. They have the ability to stand up for the accusers when those women might not be able to, because of their power, influence, and privilege.
Clooney not only is speaking out on the issue, but also recognizing that complicity within the industry is what enables men to exert their privilege over others. It's such an important message for an A-List former Weinstein collaborator, like Clooney, to talk about.
Other male A-Listers haven't been as candid as Clooney was. The Guardian reached out to a slew of high-profile male personalities in the industry and none of them responded. (The article was published before actors like Clooney spoke out to The Daily Beast and Lin-Manuel Miranda and Ben Affleck commented on the allegations on social media.)
Actors like Mark Ruffalo and Seth Rogen have also spoken out about the allegations. So far though, they've been the exceptions. Other Hollywood heavyweights should definitely heed Clooney's message about complicity. If they don't speak out, their complicity will only contribute to an already harsh atmosphere within the industry (and the world at large) that allows men to exert their power over women and walk away unscathed (at least, unscathed until the claims are called to light and can't be avoided any longer).
In response to the allegations made by The New York Times, Weinstein's lawyer Charles J. Harder issued the following statement on Oct. 5,
The New York Times published today a story that is saturated with false and defamatory statements about Harvey Weinstein. It relies on mostly hearsay accounts and a faulty report, apparently stolen from an employee personnel file, which has been debunked by nine different eyewitnesses. We sent the Times the facts and evidence, but they ignored it and rushed to publish. We are preparing the lawsuit now. All proceeds will be donated to women's organizations.
If you or someone you know has been sexually assaulted, call the National Sexual Assault Telephone Hotline at 800-656-HOPE (4673) or visit online.rainn.org.