How To Get A Dozen Krispy Kremes For Less Than A Dollar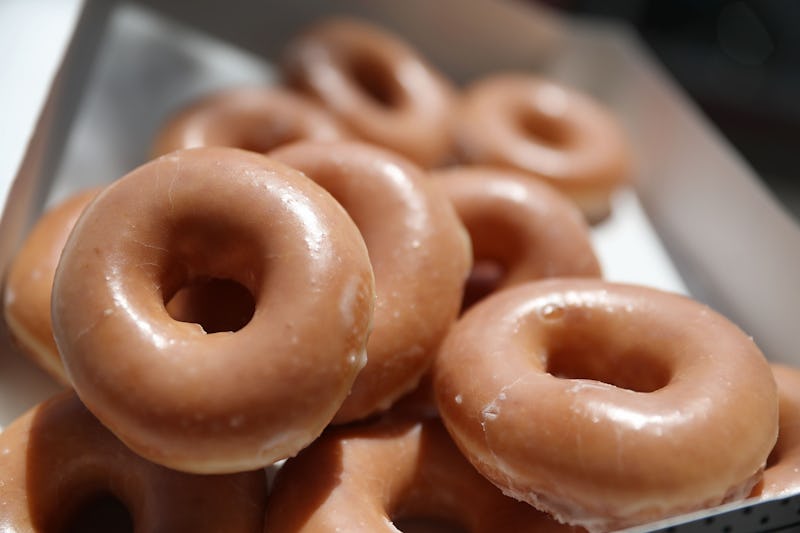 Joe Raedle/Getty Images News/Getty Images
In the early 2000s, Krispy Kreme coming to town was a B. F. D. Lines wrapped around the building, everyone enthusiastically donned festive paper hats, and free glazed doughnuts flowed. The concept of a doughnut shop with such a mechanical, regimented process was totally novel back then — but Krispy Kreme's pastry expertise is nothing new. The shop's been dishing up a perfect formula of hot, pillowy doughnuts for close to a century, and to celebrate its upcoming 80th birthday, Krispy Kreme is sending customers out with a pretty sweet party favor — free doughnuts. But unlike the skimpy gift bags standard at most birthday parties, Krispy's doing it up big this year with a free dozen for everyone. Wanna celebrate? Here's how to get a dozen Krispy Kremes doughnuts for less than a dollar.
Krispy Kreme revolutionized the mass production of doughnuts before waiting in line for a doughnut was even a thing. The chain quickly made a name for itself by always having hot, melt-in-your-mouth doughnuts on hand to make the wait time sweeter, and a bright neon sign broadcasting the message to cars and passersby. Now, to celebrate its 80th birthday, Krispy Kreme is giving away a dozen hot and fresh doughnuts for just $0.80 to all customers. But as with most freebie specials, there is a catch.
In order to cash in on the $0.80 dozen, you'll have to buy another dozen at full price. The deal applies to all their doughnuts though, so go crazy. The jelly-filleds make for a nice treat, but the strawberry iced doughnut is really where it's at. And if you haven't had a bite of the cake batter doughnut yet, get on it! It's only available for a limited time. And have you seen these 4th of July Kremes? Adorable.
It's worth noting that the birthday special only applies to signature glazed doughnuts. Though, truth be told, the best part of a trip to The Kreme, as as it was so affectionately called in some circles (no? Just mine?) wasn't even the specialty doughnuts, but the free glazed classics they handed out when lines got long. Fans loved the free samples, and the glazed doughnut is still Krispy Kreme's best-seller, so it makes perfect sense that they'd celebrate such a monumental occasion by highlighting old reliable.
Swing by any Krispy Kreme across the U.S. and Canada on Friday, Jul. 14 to cash in on the special, and don't forget to pick up a festive hat while you're at it!