How To Help The Homeless During Hurricane Florence In Any Way You Can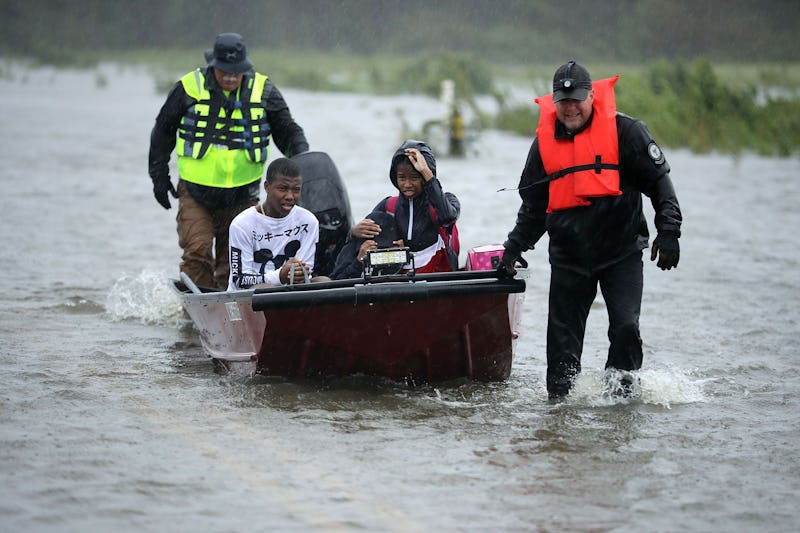 Chip Somodevilla/Getty Images News/Getty Images
Rising water, whipping winds, and power outages threaten anyone in the path of a hurricane, but there's one group of people who are especially vulnerable: the homeless. Without a home or the resources to evacuate, homeless people end up in great danger in the face of a hurricane. If you're wondering how to help the homeless during Hurricane Florence, you've got several options, whether you're directly in the storm's path or a world away.
Emergency shelters opened for homeless people near the coastline of the Carolinas in the days before the hurricane, and many of the towns helped bring people to safety if they didn't have their own means of transportation, according to CNN. Hurricane Florence posed a particularly serious danger, because its path was pointed directly at some of North Carolina's poorest areas, the Asheville Citizen Times reported. Gov. Roy Cooper's warning to evacuate was widely spread — but not everyone was capable of leaving.
"I think people should listen when he says to leave because this is going to be a bad storm," said Tony Clower, a homeless resident of the eastern North Carolina town of Kinston, speaking with the Asheville Citizen Times. "Some people are getting out of town, but that's not an option for me. I have no money, no job, no connections."
The best thing that homeless shelters can do in advance of a serious storm like Hurricane Florence is open their doors to anyone that shows up, according to the National Alliance to End Homelessness. The Asheville Citizen Times reported that Kinston's Friends of the Homeless Emergency Shelter is doing exactly that, and the Charlotte Observer reported the same about several shelters in Charlotte. The Durham Rescue Mission is doing the same in Durham, according to ABC 11, although that city in central North Carolina seems to have missed the worst of the storm.
If you want to help the organizations helping the homeless, the best thing to do — as usual — is donate. They're chronically underfunded, and now is a time when donations are more in need than ever. If you're in the area, then you could also find a spot as a volunteer.
The Salvation Army in North and South Carolina is a great place to send your donations, and the Observer reported that they're seeking money rather than material donations. According to their website, they don't charge an administrative fee for donations given during a disaster. The Red Cross, which also helps run shelters for evacuees and the homeless, is also collecting Hurricane Florence disaster relief donations.
For a more local group to donate to or volunteer with, the Men's Shelter of Charlotte — which is currently hosting an extra 100 men — is a great option, and they're also seeking non-perishable food and other supplies for the shelter. The Urban Ministry Center in Charlotte is also seeking monetary and in-kind donations to help keep their shelters running. Homeless people in shelters also have to eat, and one way you can help facilitate that is by donating to Loaves and Fishes, and organization that stocks food panties in Mecklenberg County, where Charlotte is located.
So far, Hurricane Florence has already proven to be a very dangerous storm. But by sending a few dollars to an organization helping the homeless in Florence's path, you'll at least be helping provide some relief.