How To Prepare For Hurricane Florence As The Storm Revs Up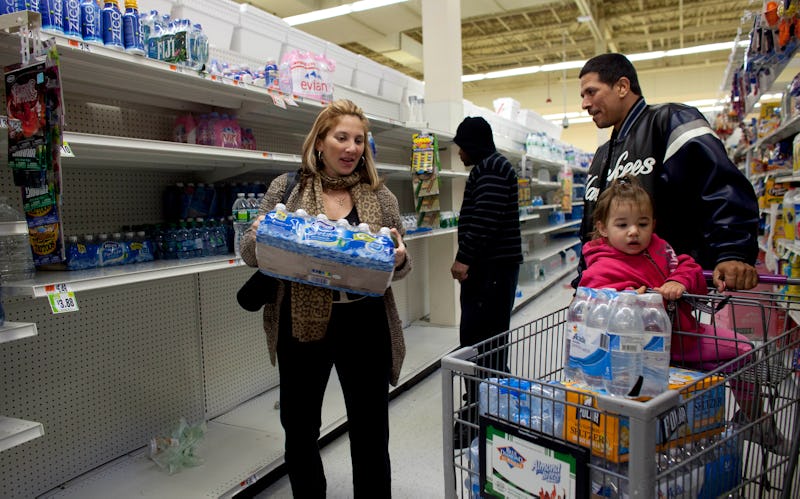 Allison Joyce/Getty Images News/Getty Images
A major hurricane is set to make landfall in the eastern United States at the end of this week. As talk of the storm's potentially devastating consequences abounds, you may want to know more about how exactly to prepare for Hurricane Florence ahead of its anticipated arrival on Thursday or Friday. There are certainly many steps you can take to help guarantee your health and safety during and after the storm.
First, the type of preparation you should take depends on where you live. The storm is expected to strike the East Coast late Thursday or early Friday, with the coastal areas of North Carolina, Virginia, and South Carolina expected to be most affected by the storm. Indeed, if you are located in one of these areas, check with local officials to determine whether or not you need to evacuate. As CNN reported, over 1 million people have already been ordered to evacuate across these three states — and it's essential to leave if you are in an evacuation area.
For those evacuating (if time allows) and those who are staying home, you should stock up on essential supplies ahead of the storm's arrival. This supply kit checklist, which was widely shared on Twitter during Hurricane Irma, offers helpful insight into what you should put into a hurricane supply kit. It includes recommendations for food and water purchases, reminders to put your important documents in a waterproof container, and notes on the importance of having battery-powered charging options for your devices. The supply kit can be used regardless of whether you evacuate or stay home during the hurricane, though its contents may differ depending on your needs and timeline.
You can also take some steps to protect your home and possessions ahead of the storm. For one, you should consider boarding up your windows to prevent damage or injury from broken glass. You can find tips on how to successfully conceal windows via Coastal Living.
If you are evacuating and if time allows, you should unplug electronic appliances before you leave, as well as move important items to high surfaces to prevent damage in case of flooding, as Direct Energy recommends. The company also suggests turning off your water and gas and removing any loose items (like potted plants) from outside your home.
If you are weathering the storm at home, Ready.gov suggests turning up your freezer and refrigerator to the highest possible setting to minimize food loss in case the power goes out. Moreover, you should pre-identify an area in your home that offers the most protection during the storm — and plan to stay there when the storm arrives. As WKMG in Orlando reported, the safest place in your home is usually an interior room on the lowest level that is away from windows and skylights. This could be a bathroom, closet, or storm shelter.
Finally, regardless of whether you are evacuating, make sure you are paying attention to local officials' announcements and following local news to keep abreast of the latest developments as the storm progresses. For those who are staying at home, make sure you are ready to evacuate if necessary, which includes knowing an evacuation route and making sure your vehicle (if applicable) has a full tank of gas.
Hurricane Florence is a powerful storm that could have potentially devastating effects on the East Coast. Thus, if you live in an area that stands to be affected by Florence, it is imperative that you take steps to prepare for the storm's arrival in order to ensure your health and safety.