Will Elizabeth Warren Attend Trump's Inauguration?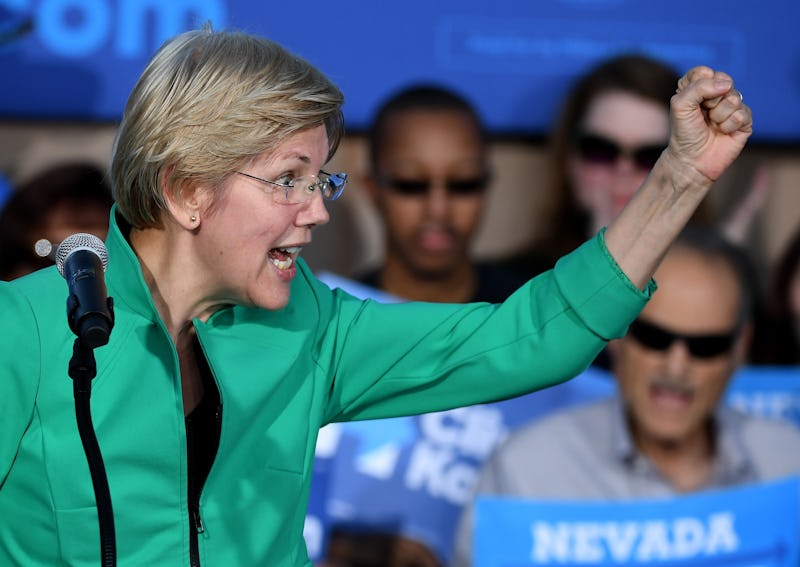 Ethan Miller/Getty Images News/Getty Images
With more than two dozen Democratic lawmakers stating they won't attend president-elect Donald Trump's Jan. 20 inauguration, the question of whether Sen. Elizabeth Warren is attending the inauguration or boycotting the event is a hot topic. Not since President Richard Nixon was elected for a second term in 1973 has attendance of a presidential inauguration caused so much controversy. More than 80 congressmen boycotted Nixon's inaugural ceremonies after a Christmas Day bombing of Vietnam.
Update January 20, 2017 12:41 EST: Warren attended the inauguration on Friday, as she'd promised she would be in a conference call Tuesday about the potential for Trump to dismantle the Consumer Financial Protection Bureau. And although some news outlets, such as Politico, previously reported that Warren had not returned comment on whether or not she would attend the inauguration, she was definitely present, if not looking very happy.
Warren has widely opposed the appointments and policies of Trump's administration that have been criticized on the grounds of racism, sexism, bigotry, and hate. Boston Globe columnist Joan Vennochi wrote on Jan. 9 that, "In another era Elizabeth Warren might be heralded — even by foes — as the 'liberal lioness of the Senate.' In these tough political times, she's called a 'hyperpartisan bully.' That's exactly what Democrats need."
Twitter responded to her attendance to the inauguration, noting her somber face and bright pink scarf — a potential nod to Planned Parenthood.
Warren faced opposition from Bernie Sanders supporters when she endorsed former Sec. Hillary Clinton's presidential nomination, and since Clinton's loss in November Warren has led the charge against Trump.
According to the New York Daily News, 26 Democrats have already confirmed they will boycott the inauguration festivities. Many have cited Trump's Martin Luther King Day weekend attack on civil rights icon Rep. John Lewis as the reason, though. Rep. Nydia Velazquez's camp reportedly told the paper that she had already made her decision before the attack on Lewis.
"Given the tone of the campaign, Rep. Velazquez didn't think it appropriate to attend the inauguration and made that decision weeks ago," the representative's office told the Daily News in a statement. "She will spend her time elsewhere on events like the Women's March."
The New York Times reported earlier this month that two Dems had already decided not attend the inauguration as early as Jan. 4 due to comments the president-elect made during his campaign.
"I could not look at my wife, my daughters or my grandson in the eye if I sat there and attended as if everything that [President-elect] Donald Trump had said about women, Latinos, African-Americans, Muslims ... is OK or erased from my memory," Rep. Luis Gutierrez said in a statement to the Times.
Other representatives reportedly skipping Trump's inauguration include Reps. Lucille Roybal-Allard (D-Calif.), Luis Gutierrez (D-Ill.), Katherine Clark (D-Mass.), Raul Grijalva (D-Ariz.), John Conyers (D-Mich.), Marcia Fudge (D-Ohio), and Mark Pocan (D-Wis.), though as of Jan. 16, no senators have confirmed that they would not attend the event. If Warren, who has repeatedly opposed Trump's policies on Twitter, did decide to boycott, she would reportedly be the first confirmed senator to do so.
This appears unlikely, though — and interestingly, according to the Boston Globe, Warren has not expressly stated whether or not she considers Trump's presidency to be legitimate.