JAY-Z Just Made A Major Statement On 'SNL'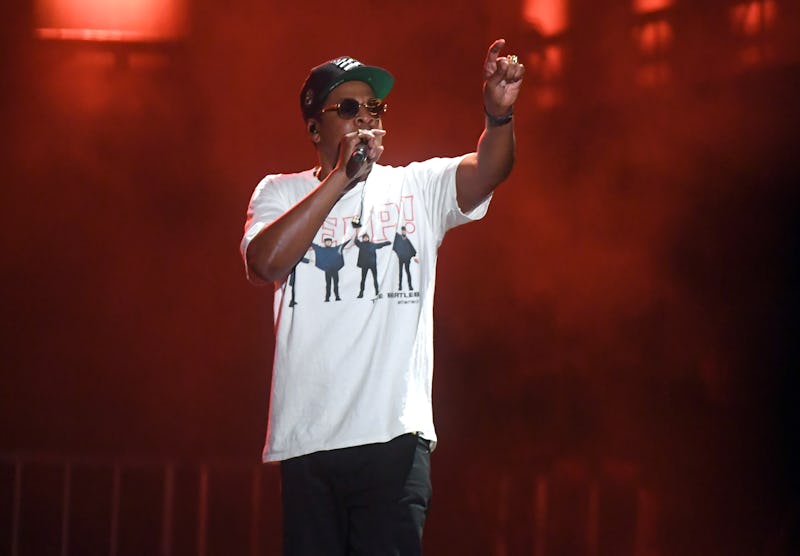 ANGELA WEISS/AFP/Getty Images
On the Season 43 premiere of NBC's Saturday Night Live, JAY-Z made a major political statement in his first performance as the episode's musical guest. JAY-Z wore a Colin Kaepernick jersey on Saturday Night Live while singing on Saturday, Sept. 30. When the rapper took the stage, he was sporting a football jersey that read, "Colin K" and included a large number seven displayed on the back (which was Kaepernick's number during his time on the field). JAY-Z was clearly showing his support for the former San Francisco 49ers quarterback and his protest against racial inequality during the national anthem, which has recently become the subject of President Donald Trump's tweets and criticism.
Since the president's tweets earlier this month, many NFL owners and players (among others such as celebrities, NFL fans, and regular people) have spoken out in support of Kaepernick's protest, which involves kneeling or locking arms as "The Star-Spangled Banner" national anthem plays before a game, rather than standing at attention. And, now, JAY-Z has joined the voices who are in support of Kaepernick. According to Sports Illustrated on Twitter, the rapper was wearing a custom Kaepernick jersey as he performed his song "Bam" from his album 4:44. Although he didn't say anything about the jersey, nor did he take a knee on stage, JAY-Z made a powerful statement of support for the protest just by wearing this jersey during his first SNL performance of the night.
Kaepernick began his protest during the national anthem last year and it immediately sparked some controversy. In speaking about why he was protesting, he had this to say: "I am not going to stand up to show pride in a flag for a country that oppresses black people and people of color," Kaepernick told NFL Media in 2016. "To me, this is bigger than football and it would be selfish on my part to look the other way. There are bodies in the street and people getting paid leave and getting away with murder."
Fast forward to 2017: On Friday, Sept. 22, Trump told a crowd at a rally in Huntsville, Alabama, that he wanted to see NFL owners fire players who "disrespect our flag," according to The Atlantic. Trump continued to criticize the protest and the NFL in a series of tweets on Twitter throughout the past week, saying that the action of kneeling during the national anthem is disrespecting the country — a stance that many people disagreed with.
On Saturday, Sept. 30, Trump tweeted what could easily be construed as a warning to NFL players about standing during "The Star-Spangled Banner" during Sunday's football games. "Very important that NFL players STAND tomorrow, and always, for the playing of our National Anthem," the president wrote on Twitter. "Respect our Flag and our Country!"
But, Trump's tweets aside (always, always), you can add JAY-Z to the long list of names that are supporting Kaepernick's protest, which has only grown since Trump discouraged it. VH1 reported that everyone from John Legend to Kareem Abdul-Jabbar to Barack Obama have spoken out in support of Kaepernick and the protest — and the dissenting numbers are climbing every day.
And, JAY-Z's statement wasn't the only Kaepernick reference of the SNL premiere, either. During the closing sketch, Kenan Thompson played a singer who kept singing about taking a knee (but only if the grass wasn't wet, so he wouldn't ruin his Good Jeans — which were the joke of the sketch). Between JAY-Z's jersey and Thompson's song lyrics, it's easy to see where SNL stands on the matter of kneeling. Now, we'll just have to see if Trump has anything to tweet about that.