Joe Biden Reading From His New Memoir Will Wreck You, Especially When He Reads This One Part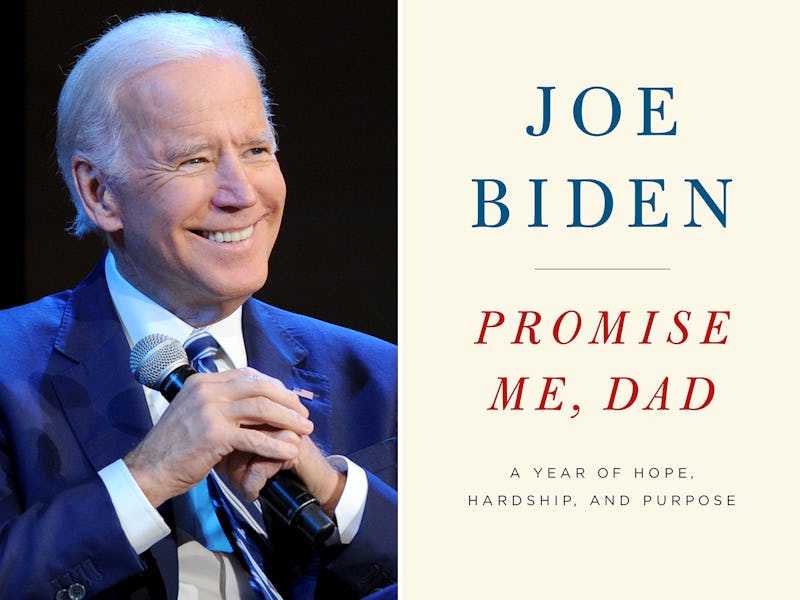 Craig Barritt/Getty Images Entertainment/Getty Images
When it comes to grief, Vice President Joe Biden is a bit of an unwilling expert. In 1972, just over a month after being elected as Delaware's U.S. Senator and a week before Christmas, Biden's wife, Neilia, and 13-month-old daughter, Naomi, were killed in a car accident. His two sons, Beau and Hunter, survived, but were injured. Then, over 40 years later, his son Beau, the former Attorney General of Delaware and a man who many believed could eventually be President of the United States, died of glioblastoma, an aggressive form of brain cancer, at the age of 46. Once again, Joe Biden was forced to bury his child — this time under the intense focus of the entire world.
In his new memoir, Promise Me, Dad, Biden explores the two years preceding Beau courageously battled brain cancer, painting a portrait of a man who was steadfast, brave, honest, intelligent, and kind, and ultimately, taken too soon. Biden's grief is palpable and wrenching; the second time around is no easier for him, though he at least knows what to expect.
In the years leading up to Beau's death, Biden kept the illness a secret from nearly everyone, and coped with his pain, confusion, and frustration privately while dealing with the world crises he had been tasked with handling by his friend and boss, President Barack Obama. The memoir swings back and forth between these two narratives: Biden's private heartbreak as a father and his public obligations as Vice President.
In the audiobook version of Promise Me, Dad — released on Tuesday on Audible — Joe Biden narrates his painful tale in full. It's not an easy listen; the subject matter is tough, but the man speaking the words is tougher. Bustle is proud to present an excerpt from the Promise Me, Dad audiobook, narrated by the author. This clip begins in April 2014, just after Beau began to exhibit signs of aphasia, or language impairment, and decided to pursue an experimental, aggressive round of treatment that doctors hoped would save his life. In just this short clip, it's profoundly clear that Biden has a specific message he wants to share about his son: that he was a man of integrity whose top priority, even in death, was his family.
Are you crying? Me, too. Promise Me, Dad is available everywhere now, and is available on Audible for free with a 30-day trial.