Kirsten Gillibrand Just Fiercely Called Out Republicans For "Bullying" Christine Ford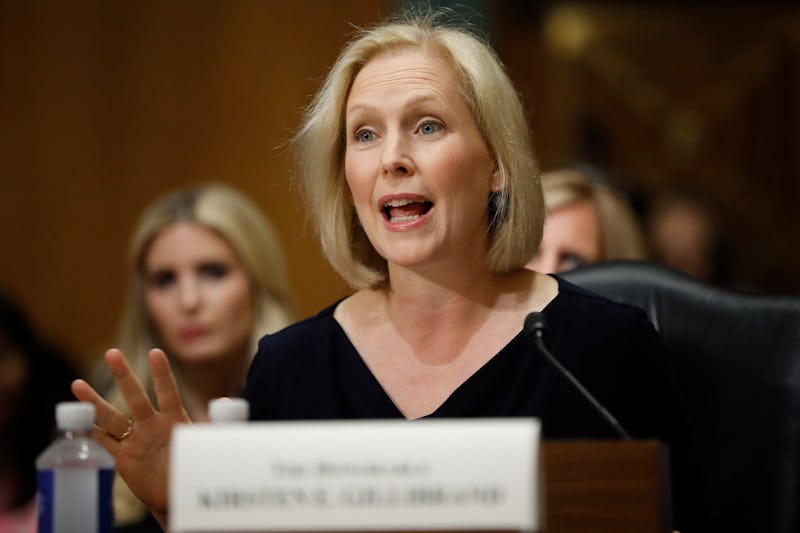 Aaron P. Bernstein/Getty Images News/Getty Images
At a press conference held on Thursday afternoon, Sen. Kirsten Gillibrand said the Brett Kavanaugh allegation hearing was being rushed by the Senate Judiciary Committee, and that it wasn't being afforded even the same basic due process that Anita Hill's allegation was in 1991. Gillibrand went on to note that the SJC also is refusing any witness testimonials during the hearing, including those from Christine Ford's husband, therapist, and Kavanaugh's high school classmate, Mark Judge. As she grew increasingly emphatic, Gillibrand asked the American people to consider one question: "What are they afraid of?"
Throughout the past week, Kavanaugh has maintained his innocence. In a statement to the White House on Monday, he said,
I have never done anything like what the accuser describes — to her or to anyone. Because this never happened, I had no idea who was making this accusation until she identified herself yesterday. I am willing to talk to the Senate Judiciary Committee in any way the committee deems appropriate to refute this false allegation, from 36 years ago, and defend my integrity.
As for Ford, she has requested via her lawyers that the FBI conduct an investigation into her claims prior to any Senate hearing — but she has not been afforded this process.
Gillibrand started out by noting the unfairness in denying Ford an investigation. She said,
Even the Anita Hill hearings had an FBI investigation of her allegations in advance of the hearings. Even in Anita Hill's case, she had 22 witnesses, some of them corroborating witnesses. Those things are not being afforded Dr. Blasey Ford. ... This is not something that's debatable or negotiable, or we only do it sometimes. No, no, no. A background check is required for all judicial nominees, especially for the Supreme Court. But they cannot complete that background investigation if they don't investigate these claims.
Gillibrand went on to point out that Ford is not asking for "extraordinary measures," but simply for "basic fairness" in her request for the FBI to conduct an investigation. She then offered up a stern warning to the American people at large, and more specifically, to American women:
I do hope every woman in America is paying close attention to what is happening in this body, in the U.S. Senate today. This is not 1991, and how dare them not even afford the basic courtesies that were afforded then. They're giving her an option: show up Monday or don't show up at all. I consider that to be bullying. I consider that to be disregarding. I consider that to be something set up for failure. They would like a 'he said, she said' scenario. Because you know what happens in those scenarios? The men are typically believed.
Gillibrand concluded her speech by asking the American people to consider a simple question: What is everyone afraid of, regarding a delay in the hearing for an FBI investigation?
She argued,
Ask the question: What are they afraid of? What is the White House afraid of? What is this president afraid of? What is the U.S. Senate afraid of? What are the Republican members of the Judiciary afraid of? Those are the questions we need to be asking.
Ford's lawyers have confirmed on Thursday that she is open to testifying before the Senate Judiciary Committee, but not on Monday as the Senate Judicial Committee requested. According to The New York Times, Ford's lawyers wrote, "She wishes to testify, provided that we can agree on terms that are fair and which ensure her safety."