Kourtney's Being Shady About Her New Relationship On 'KUWTK'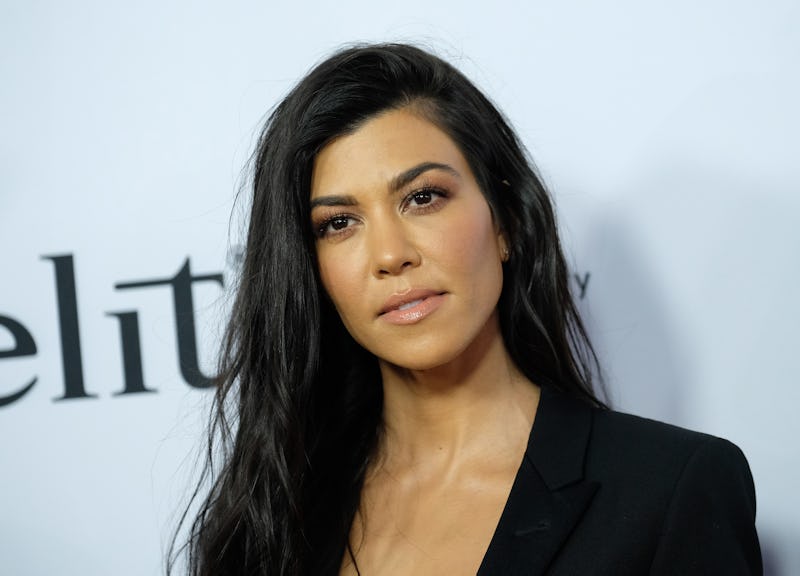 CHRIS DELMAS/AFP/Getty Images
Kourtney Kardashian and Scott Disick were together for so long that it's crazy to think about them dating other people, but they've both moved on from their relationship. And on Sunday night's Keeping Up With The Kardashians, Kourtney started dating again, even if she was super shady about what she was doing. Then again, considering the fact that Kourtney's always been a very private person, is it really that surprising?
Over the last few months, rumors have been all over the place about Kourtney dating model Younes Bendjima. So far, she has yet to officially confirm their relationship herself, but they've been spotted out and about together recently and paparazzi have even caught them holding hands. By all appearances, they're a couple, but even so, it sounds like Kourtney's been keeping this relationship all to herself since the very beginning.
In fact, in the ep, Kourtney barely spoke about the fact that she was going on a date at all, and she definitely didn't mention who the date was with. She vaguely brought it up during a family dinner, letting Khloé know what time she was planning to drop her kids off so they could stay the night with Aunt Koko.
In the ITM interviews, Khloé and Kim talked about how Kourtney had yet to even talk to them about her new relationship — but then again, they did mention that this isn't anything new for her, because she's never been the kind of person to speak openly about who she's dating. And it seems a little awkward to have your sister babysit during your date without filling her in on who you're seeing or how long you've been seeing them. But then again, it's also just a testimony to what an awesome sis Khloé is to do it anyway without asking questions.
And sure enough, that afternoon, Kourtney showed up, dropped off Mason, Reign, and Penelope with the promise to FaceTime later on, and disappeared into the night on her date with her mystery man, who must have been Younes, even though he wasn't mentioned. And the next morning, she showed up late for her workout with Khloé and Kim, still wearing her makeup from the night before.
Khloé mentioned that it was the first time she'd babysat for her sister while she went out for a date, which means whatever's going on with Younes has to be a big deal... or at least something Kourtney feels is worth pursuing. Even though Khloé has been spending a lot of time in Cleveland this year with her boyfriend, Tristan Thompson, she still made it sound like this was a pretty infrequent thing for Kourtney.
With all the drama Kourtney's had to deal with since splitting with Scott, she deserves the chance to find the right person for her, even if fans are still mourning the end of that once beautiful relationship. After all, Scott seems to be happy with Sofia Richie, right? Shouldn't Kourtney feel free to do the same if she's ready?
Even if it doesn't work out with Younes, it's good to see her getting back out there. And if she doesn't want to talk about her relationship, good for her for keeping everything private as she sees fit... even if the rest of us are absolutely dying for details. And if we can't get details, plenty of fans would settle for a few couple-y Instagram photos. Just an idea.
Maybe we'll get to hear more about him this season of Keeping Up With The Kardashians... but knowing Kourt, maybe don't get your hopes up too high just yet.