Lyft Is Testing A New Feature That Is A Taco Lover's Dream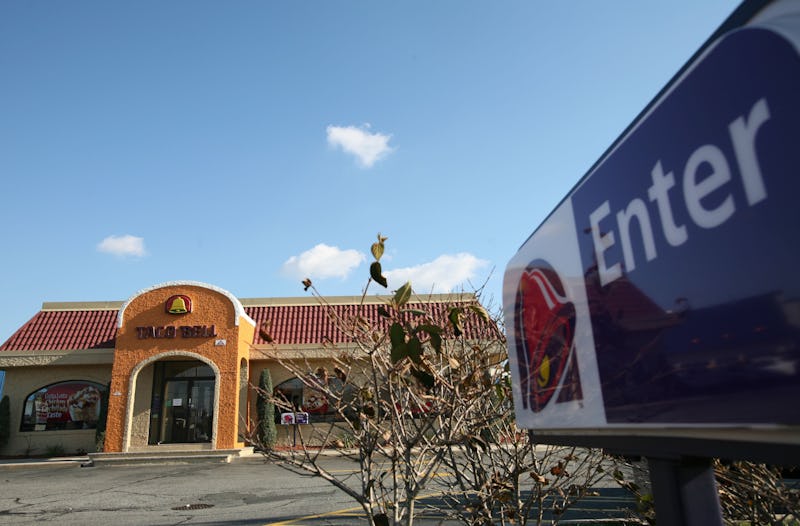 Sylwia Kapuscinski/Getty Images News/Getty Images
Your Lyft ride home from the party just got 100 times tastier. This Thursday, Lyft will begin testing a new feature called "Taco Mode," which will allow riders snag a ride to the closest Taco Bell drive-thru on their way to their destination between the hours of 9 p.m. and 2 a.m.
Yes, really.
The testing for the new feature will take place between July 27 to July 29, and August 3 to August 5, and will only be available to customers throughout Orange County, California. (Seth Cohen, I really hope you appreciate this as much as I would.) During those dates, an option will be offered in the app for a ride to a Taco Bell. It will also include a custom in-car menu, and the opportunity for free Doritos Locos. Deemed "Taco Mode," this taco-themed rollout is a test run for a larger potential partnership.
"We realized that for every person who has asked their Lyft driver to make a pit-stop at Taco Bell — and we've seen many — there are likely those who weren't sure if this was possible," said Taco Bell CMO Marisa Thalberg in a statement. "With the advent of this fantastic partnership with Lyft, we will erase any lingering uncertainty and celebrate the ability to 'ride-thru' in Taco Mode."
Last year, QSR Magazine reported that 14.8 percent of Taco Bell's sales happen between 10 p.m. and 4 a.m., according to Foursquare data. For many of us, that statistic is hardly surprising.
So how does this "ride-thru" work? Upon opening the Lyft app, riders will be presented with the option of "Taco Mode." Suddenly, car icons transform into little driving tacos. You'll place your order via an iPad in the car once it arrives, and will be gifted a free Doritos Loco taco when you snag that after-the-after-party snack. Your li'l detour will be factored into the final price of your ride, and the cost simply depends on the total mileage.
So, uh, O.C. riders? Please don't ruin it for the rest of us. Be kind, be courteous, and do not spill lettuce bits all over the backseat.