Marc Jacobs Is Bringing Back His Iconic 1993 Grunge Collection That Originally Got Him Fired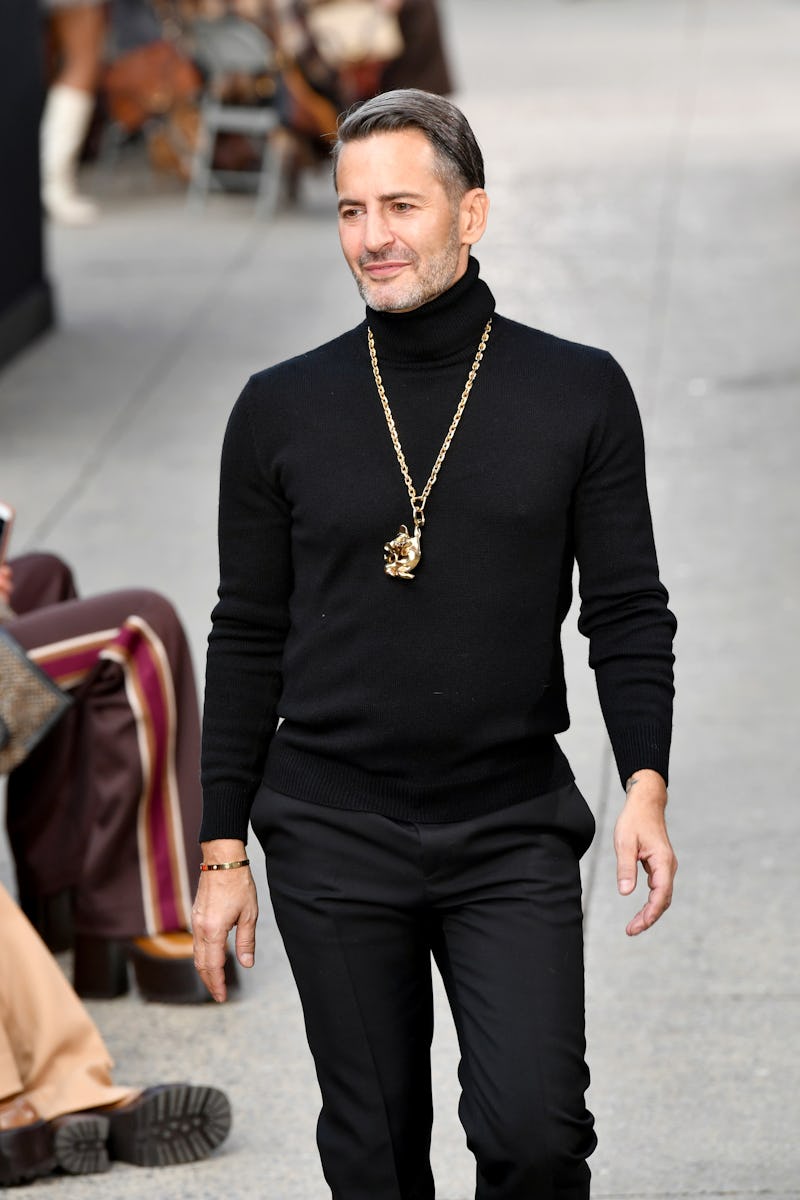 Slaven Vlasic/Getty Images Entertainment/Getty Images
The '90s were defined by their fashion, where two dollar thrift store flannel shirts and baggy Levi jackets paired with worn down motorcycle boots were as synonymous with the decade as its politics or history. And now Marc Jacobs is reissuing his 1993 grunge collection that originally got him fired at Perry Ellis, where the Redux Grunge Collection 1993/2018 Marc Jacobs is celebrating 25 years since that landmark moment.
Nirvana and twenty-somethings were already shuffling through the bins of Goodwill in Seattle for their grunge outfits, so it wasn't anything new. But the 29-year-old Marc Jacobs was the first one to bring the anti-establishment aesthetic to the runway, trying to simultaneously elevate the music-inspired look into high fashion, while also shaking up the glitzy perception of luxury labels. Bored of the excess that the '80s brought with their sequins and power suits, he wanted to try something new. And got booted out because of it.
"Grunge is ghastly," fashion critic Suzy Menkes declared after the show. "A typical outfit looks as if it were put together with the eyes closed in a very dark room," The New York Times printed.
His pieces weren't simple thrift store barnyard jackets and secondhand, slips, though. The genius behind the collection was that he took street wear and elevated it to a luxury level — thermals were reinvented in cashmere, flannel made from silk, and polyester-looking floral dresses made from chiffon. "We bought vintage flannel shirts for $2 on St. Marks Place and remade them out of silk. Taking something banal or vulgar and elevating it to designer status was not new," Jacobs shared with Elle. It was a show of contrasts that put fashion on its head, but the critics weren't ready for it...but the public was. Grunge exploded after that and became mainstream, and now Marc Jacobs is going to push it into its second wave.
"We were not the first to do it, but people get offended by it. They were adamant: No, you're not supposed to do that. But really, it's still happening," Jacobs pointed out. "Look at Balenciaga elevating what kids buy for $15 at the mall and making it for $2,000. It's the emperor's new clothes. Isn't that what fashion has always been?"
This November the designer is bringing back 26 looks from his Spring 1993 collection, letting us relive that iconic fashion-changing moment one more time. The looks will be reissued in their entirety, meaning they will come complete with the same shoes, accessories, beanies, fabrics, and embroideries that marched down the runway 25 years ago. The collection will be available starting Nov. 15 at marcjacobs.com, Marc Jacob boutiques, and select department stores. It is also available for preorder right now at marcjacobs.com
But as Vogue pointed out, there is some major nostalgia for the '90s right now. Versace released a Gianni Versace tribute collection for Spring 2018 that put them back into the forefront of fashion, while labels like Gucci and Prada are reaching back into their archives and using prints that they marched down the runway in the '90s. Everything that is old is new again, and Jacobs is taking it one step further by not only reinventing his old collection, but resurrecting it.
"In the big picture, a redux of grunge evokes going forward while being a little bit more instinctive and a little bit more liberal and not as rigid with the way we do things," Jacobs told WWD. By bringing back the one show where he took a risk and didn't compromise on his vision — no matter the consequences — lets him get back to his renegade roots. And now we can experience that history-making moment one more time.