Michelle Obama Will Be In A YouTube Special About Her Book — & It's Moderated By John Green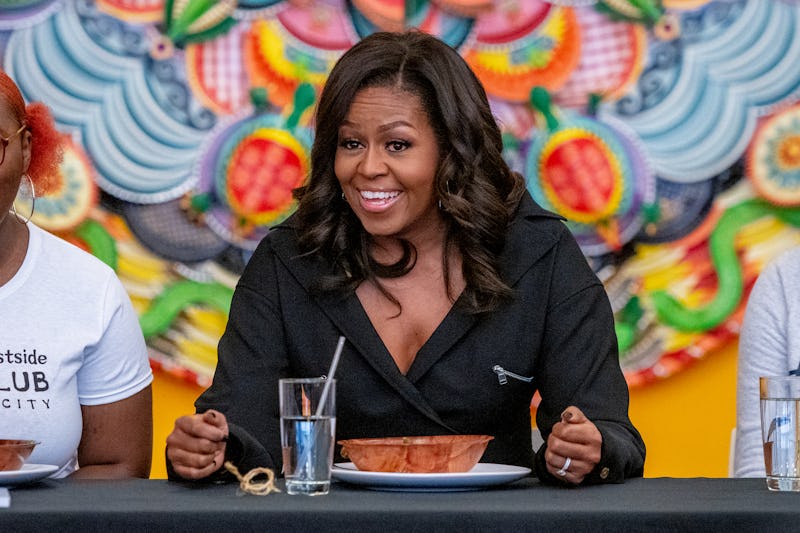 Roy Rochlin/Getty Images News/Getty Images
The internet can be an awful place, but every once in a while, it gives you a gift so great you can almost forget all the terrible Twitter takes and toxic trolls. Next month, that gift will be "BookTube," a new YouTube original special moderated by The Fault in Our Stars author John Green and headlined by none other than Michelle Obama.
Over the course of seven short-form episodes, the former First Lady will discuss her bestselling memoir Becoming with a panel of famous YouTube creators that includes Jouelzy, Ariel Bissett, Kat O'Keeffe, Jesse George, and Franchesca Ramsey. Celebrated young adult author and avid YouTuber John Green will moderate each of the special's "chapters," which are structured around questions the panel asks Michelle Obama and promise to be under 10 minutes each.
Released in Nov. 2018, Becoming quickly became a record-breaking book. On its first day in bookstores, Michelle Obama's memoir sold 725,000 copies. It debuted on the New York Times bestseller list before going on to claim the #1 spot internationally in the UK, Canada, Denmark, Finland, Germany, Norway, Portugal, and Singapore. Just 15 days after its release, Becoming became the bestselling book of 2018. To date, it has been translated in 44 languages around the world and has sold over 5.9 million copies in the United States and Canada alone.
If you read Becoming or have the acclaimed memoir on your TBR list, you're going to want to tune into "BookTube" when it debuts in March. Not only will it feature famous YouTubers alongside your favorite former First Lady, but the original special features the perfect moderator. Not only is Green, whose bestselling and award-winning books include Looking for Alaska, Paper Towns, and Turtles All the Way Down, a rockstar in the book world, but he is a seasoned vlogger and and YouTube creator. Crash Course, the educational channel he started with his brother, Hank Green, offers humanities and science courses to its over nine million subscribers. The brother's other channel, vlogbrothers, has over three million subscribers. According to the Greens, their vlog isn't about any one thing in particular, but often features personal stories, pop culture, books, writing, creating, and more. This week, you can tune in and listen to the Abundance of Katherine author recall an afternoon alone at the airport, in which he found himself in a nihilistic thought spiral in which he considers phones, luggage, death, and the parallels between real life and The Hunger Games.
Whether or not the new original special "BookTube" will wade into the complexities of life, death, and struggle is still unclear, but what is clear is the fact Green will make a fantastic moderator. If his interactions with Michelle Obama and the other YouTube creators are anything like the weirdly amazing, always intimate, always honest vlogs fans are used to, viewers are in for a serious treat.
Though the exact date this "BookTube" special will be available has not been released, YouTube plans on making it available — for free — in March, perfectly timed for Women's History Month.