Obama's 9/11 Tweet On The 17th Anniversary Is So Different From Trump's Message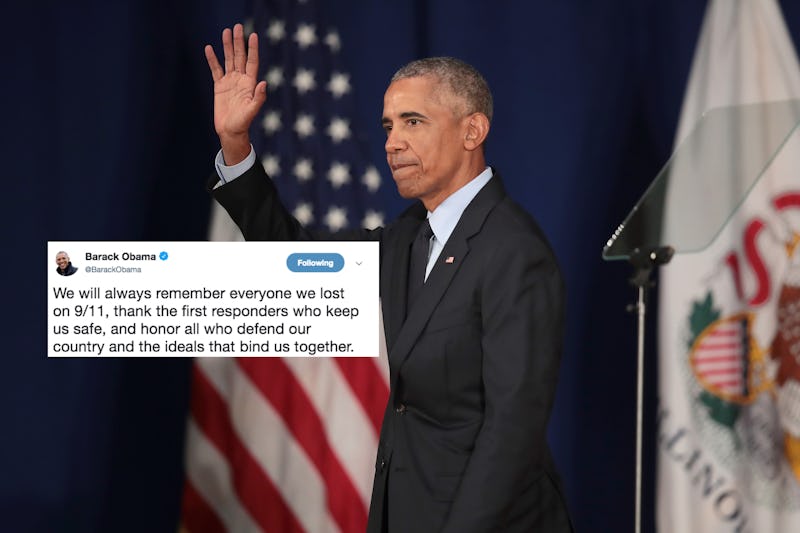 Scott Olson/Getty Images News/Getty Images
For each of the past 16 years, Sept. 11 has been a somber day in America. It's a day to remember the terrorist attacks that happened in 2001, to honor those who lost their lives, and to celebrate the heroes who worked tirelessly to rescue as many people as possible. Whoever's president typically commemorates the occasion somehow — but this year, former President Barack Obama's tweet on the 17th anniversary of 9/11 carries a drastically different message than the one current President Donald Trump released.
"We will always remember everyone we lost on 9/11, thank the first responders who keep us safe, and honor all who defend our country and the ideals that bind us together," Obama tweeted on Tuesday morning. "There's nothing our resilience and resolve can't overcome, and no act of terror can ever change who we are."
Trump, by contrast, tweeted eight times before noon on the 17th anniversary of the Sept. 11 attacks. The first tweet quoted a Fox News personality, repeating the claim that there was no collusion between Russia and the Trump campaign. The second did reference Sept. 11; he tweeted the hashtags #NeverForget and #September11th, along with a retweeted of a post from his social media director Dan Scavino. Scavino had released a photo of Trump signing a proclamation "designating 'Patriot Day 2018' to honor the memories of the nearly 3,000 lives lost on September 11, 2001, and of every hero who has given their life since that day to protect our safety & our freedom."
Trump's next two tweets then turned back to Fox News, mentioning former FBI official Peter Sztrok's alleged wrongdoings and claiming that Attorney General Jeff Sessions' Justice Department "would be behaving no differently than it is" if former Obama Attorney General Eric Holder was running it.
He moved back to the subject of Sept. 11 with the next tweet, where he honored a specific person who played a role on that day.
"Rudy Giuliani did a GREAT job as Mayor of NYC during the period of September 11th," Trump tweeted, complimenting his current lawyer. "His leadership, bravery and skill must never be forgotten. Rudy is a TRUE WARRIOR!"
Trump's next three tweets all stayed on the subject of the anniversary. First, he posted a photo of himself and the first lady at a ceremony honoring the day, along with a message about the two of them leaving the White House to go to "a Flight 93 September 11th Memorial Service in Shanksville, Pennsylvania." After that, he made a simple observation about the day: "17 years since September 11th!"
He then finished the morning by posting the video of himself and Melania at the Flight 93 memorial service, along with the same two hashtags he had used before: #NeverForget and #September11th.
Notably absent from Trump's stream of tweets, though, is any mention of the unity that Obama's message centered on, any expression of thankfulness to the first responders, or any appeal to the strength of America's collective spirit.