Old Navy's Black Friday Sale Includes The Winter Version Of Its $1 Flip Flop Deal Again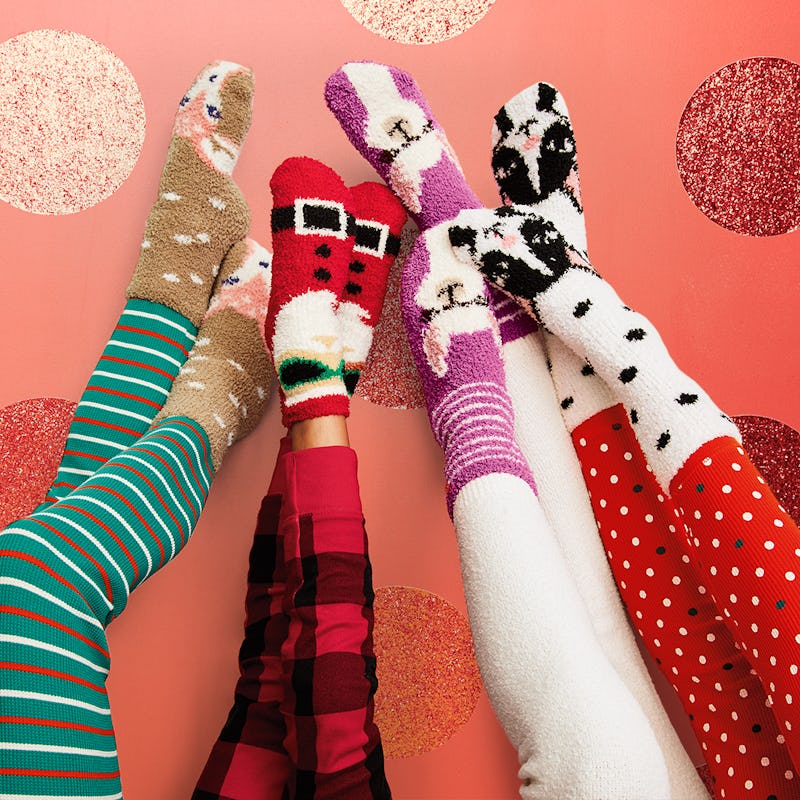 Courtesy of Old Navy
This year, Black Friday is set for Nov. 23 while Cyber Monday is Nov. 26. That's legit right around the corner and there are hundreds of brands and retailers revealing details about their sales for these major shopping days. The Old Navy 2018 Black Friday and Cyber Monday Sales (available sizes include 0 to 30, along with petite, regular, and tall options) have been announced and OMFG are they good.
There are several layers and levels of savings and discounts. You legit can go broke by saving a lot of money — you'll want to scoop up everything because the sales are spectacular.
Here's the critical intel and specifics about the fashion hub's holiday sales.
The buzzed about and infamous Old Navy Cozy Sock One Dolla Holla Sale is back. The 2017 sale was a runaway success so a reprise was in order. How could it not be? The warm and fuzzy socks are cute, cozy AF, come in 32 varieties and styles, and cost just a buck.
On Black Friday, the soft socks will be sold in stores for the doorbuster price of just $1 per pair for the day. The socks are one dollar for only one day. For every pair purchased, Old Navy will donate $1 to the Boys & Girl Club up to $1 million. The donation will further fund the career development program for the Club's youth, who will be offered their first jobs at Old Navy stores.
The one-day sock sale isn't the only savings on deck for the two biggest shopping days of the year. Here's a breakdown of all the sales.
1. Black Friday Pre-Party Sale
There's the Black Friday Pre-Party Sale, which runs from Thurs, Nov. 15 through Tuesday, Nov. 20. Customers will get 40 percent off their entire purchase — both in stores and online. So if you want engage in a little shopping pre-gaming, this is the way to do it.
Old Navy credit card holders will be granted early access. The perks of membership are amazing — shoppers will get 50 percent off purchases from Thursday, Nov. 15 through Sunday, Nov. 18 when using their Old Navy card for in-store and online purchases. So that's a whole advance weekend of holiday shopping.
2. Cozy Sock One Dolla Holla Sale
Ultimately, the aforementioned One Dolla Holla Sock Sale purchase is a passive way to do good and to be warm and fashionable while schlepping around the house.
Snowmen and llamas and sloths and unicorns and Santas and bears and dogs, oh my!
The cozy socks are a perfect stocking stuffer. They are normally $5 per pair. Therefore, the markdown to a buck is primo for your feet and your wallet.
3. Black Friday Now Sale
The Black Friday Now sale starts on Wednesday, Nov. 21 and runs through Friday, Nov. 23. Shoppers will enjoy a whopping 50% off their purchases. Even better, thousands of styles will be available for $5. The Black Friday Now Sale applies in stores and online.
4. Cyber Monday Pre-Sale
As for Cyber Monday, Old Navy has a bunch of promotions on deck. The Cyber Pre-Sale takes place on Saturday, Nov. 24 and Sunday, Nov. 25. The brand is offering 40 percent of everything — yes, everything.
Those shopping with Old Navy credit cards will get early Cyber Monday Sale access, enjoying 50 percent off purchases on Sunday, Nov. 25. On top of that, cardmembers get free shipping.
For the first time ever, all outerwear, sweaters, and jeans will be half off. Yes, 50 percent off all those essentials is nothing to sneeze at or snooze on.
5. Cyber Monday Sale
The actual Cyber Monday Sale on Nov. 26 is utterly banging. It's 50 percent off everything. There are no exclusions, conditions, or fine print. But wait — there's more.
The Cyber Monday Sale includes a Cozy Sock gift with purchase. Because Old Navy loves you, your friends, your family, your feet, and your budget.
Lastly, when planning your shopping hours and schedule, here are Old Navy's store hours. On Thanksgiving Eve, which is Wednesday, Nov. 21, stores are open from 9 a.m to 10 p.m.
On Thanksgiving, Nov. 22, Old Navy stores will open at 3 p.m. and remain open through the night. On Black Friday, Nov. 23, doors are open til 10 p.m.
Happy "socking" up on socks and "socking stuffers" and shopping Old Navy's copious and epic holiday sales.