Selena Gomez Had A Sleepover & Everyone Wore Matching $20 Target Pajamas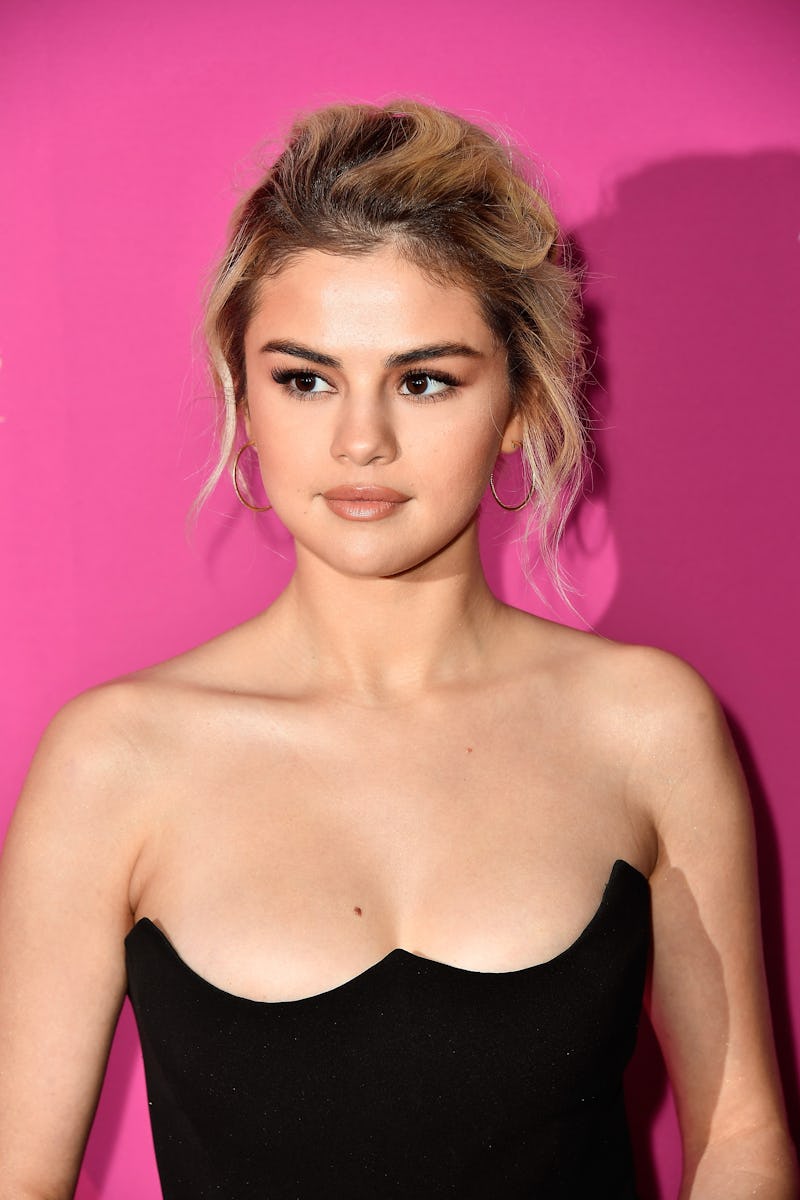 Frazer Harrison/Getty Images Entertainment/Getty Images
No matter your age, having a sleep over with your best friends is always a good time. When you were younger it was all about the sticker books, the Lisa Frank and Batman-inspired pajamas, the stolen nail polish from your mom's bathroom, and the contraband cookies that were sneaked out from the kitchen. Now that we're older and well into adulthood, the scenario changes up a bit. Now it's all about those bottles of wine, indulgent sheet masks you can take hilarious-yet-terrifying photos in, and true crime stories streaming off of Netflix. But one thing stays constant: The pajamas are king. Which is why when Selena Gomez's friend sleepover included Target pajamas, she became more relatable than ever.
The news of this impromptu friend hang broke over Instagram, when her friends posted photos onto their accounts and showed that they were all wearing the same $20 Target pajamas. The friends in attendance were Theresa Mingus, Paige Reed, and Rebeka Walters, and both Reed and Walters posted the same photo to their accounts, giving us a peek into their sleepover.
"It's a pajama jam," Reed wrote in her caption. In the photo, the four piled onto the bed, where Mingus was perched on the headboard, and Reed, Walters, and Gomez sat laughing on the mattress. Gomez accessorized her pink pajama set with a pair of Puma thigh high socks, which are coincidentally part of her new Puma collection which will be released this Friday.
After spotting the photo in their feeds, fans flocked to the picture to ask where the group found their matching pajamas. "Aww. TFTI!! Hope y'all are having fun! Love the jammys!" one person commented under Walter's picture. "Also..where did y'all get your pjs? I want!" another asked. "Those pjs are such a good color where'd you get them?! Also homegirls pose in the back is solid," one follower wrote underneath Reed's post.
Reed wrote back almost instantly, solving the mystery for everyone waiting. "Target!!! They are so comfy," she answered.
With artists and actors making millions per year, it's cool to see them wearing a $20 pajama set every now and then. Which is exactly what the girls have on — the sets in question are the "Women's Pajama Set Total Comfort" by Gilligan & O'Malley, which come in five different colors. Featuring a shrink-resistant design and made from a modal and spandex fabric for softness and stretch, you can either choose between a black set with white piping around the collar and hems, a peach set with black piping along the collar and hems, a medium heather gray hue with white piping, a heather grey hue that's slightly darker with white piping, or a "pom pom pink" color with no piping, which is what the group has on.
The set has 284 reviews thus far, and nearly five stars, so customers have been loving the purchase. For those with positive reviews, they all run along the lines of this five star review, which wrote, "I absolutely love these pajamas and I want them in every color. They are SUPER SUPER soft and so comfy!! They don't cling to your body, and the sizing is perfect. The shorts make your butt look cute too! Definitely recommend."
One thing that people didn't love, though, was the fact that the material didn't hold up well. " I was very impressed at first with the luxurious material, but after one wash the material turned knobby and started fraying. So disappointing. They are now more shabby than chic. :( If you purchase, maybe try washing on delicate cycle," one reviewer wrote.
If you want cheap jammies that you don't need to last forever, then head to Target and throw an adorable matching pajama party like Gomez's. It'll be a night to remember.