You'll Want To Avoid Inauguration Road Closures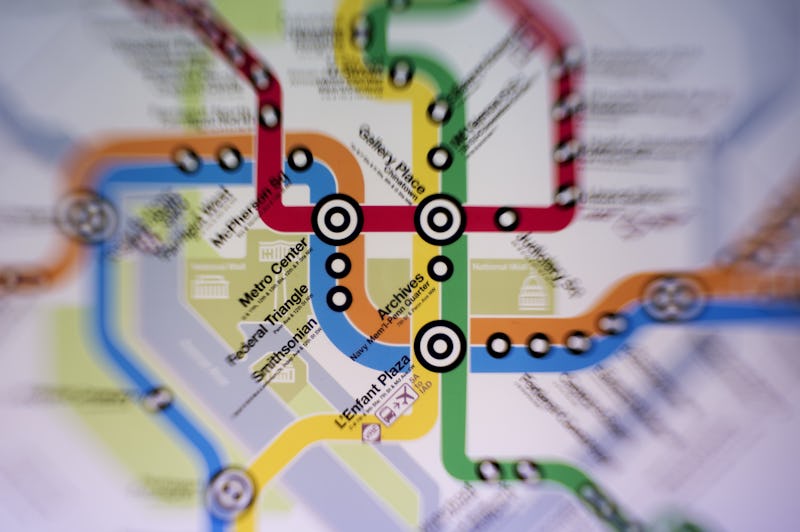 PAUL J. RICHARDS/AFP/Getty Images
Brace yourselves: On Friday, Donald Trump will be inaugurated as the 45th President of the United States. Needless to say, this one event will have enormous impacts, both short- and long-term. One of the more short-term issues caused by the inauguration is traffic. The inauguration route will cause road closures around the Washington D.C. area. It'll be a massive inconvenience, but you can avoid the worst of it if you know what is closing down, and when.
The travel restrictions will be implemented over the course of several days, and in fact, some have already begun. On Thursday, closures began along the parade route on Pennsylvania Avenue, around Union Station and at Memorial Bridge. Constitution Avenue closed east of the Roosevelt Bridge, and all parking restrictions downtown related to the inauguration were in effect as of early morning Thursday.
On Friday, road closures in the downtown area will begin at 3:00 a.m. EST, and the 3rd St. tunnel will close three hours later. Closures near the Convention Center will begin at 10:00 a.m. EST. The inauguration itself begins at 11:30 a.m. EST, and Trump will be sworn in at noon local time.
At 6:00 p.m. EST, the closures by the downtown tunnel and Roosevelt Bridge will begin to clear. Those near the Convention Center will begin to clear out a bit later in the evening at 11:00 p.m. EST.
But we're not finished yet: Trump will be attending the National Prayer Service on Saturday, and that's going to cause additional closures around the Washington Cathedral. Those will begin at 7:30 a.m. EST on Saturday, and should start clearing out at noon. All of the restrictions related to the inauguration are scheduled to clear out at 1:00 a.m. EST on Monday.
Certain areas of the city will be restricted to locals only — if you aren't a business-operator or a resident of the city, you won't be allowed to drive on those roads. Here's a map that denotes which areas will be affected by these restrictions; it also contains more detailed information on several freeway onramps and exits that will be closed for the inauguration.
In addition to all of this, there will be restrictions on what sort of objects you're allowed to have on capital grounds during the inauguration. Banned items include all of the obvious things, such as guns, ammunition and explosives, as well as some less obvious things, like balloons, coolers and selfie-sticks (seriously). Here's a complete list.
The official Inauguration 2017 Twitter account is a great source of information for how the city will change to accommodate Trump's swearing in. And if you'd like the most complete information available, you can check out the official Joint Transportation Plan, prepared collaboratively by eight different agencies. It's 20 pages long, though, so be warned.
If you're a D.C. resident, you don't want to be caught flat-footed by Trump's inauguration. Hopefully, you'll now be prepared.
Images: Google Maps