'Crazy Ex-Girlfriend' Season 3 Has A New Theme Song & Of Course It's Deep AF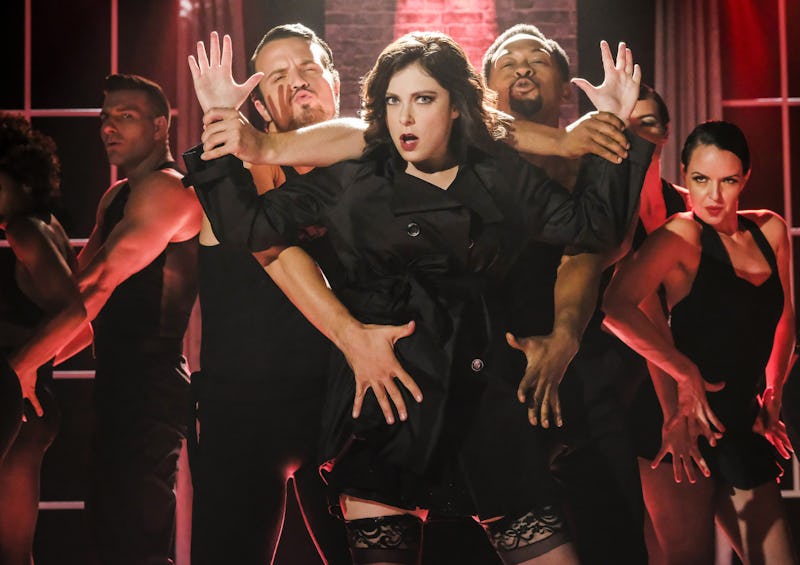 Scott Everett White/The CW
When in a relationship, is it a good or a bad thing to be considered "crazy"? If you're looking for an answer to that particular question, you're certainly not going to find it in Crazy Ex-Girlfriend's new Season 3 theme song, which E! News debuted exclusively on their website on Wednesday. Instead, this opening sequence, which features the creator and star of Crazy Ex- Girlfriend Rachel Bloom channeling Carrie Underwood and Eminem, makes the the point that it can all be a little confusing. Like Rebecca Bunch once said, it's a "lot more nuanced than that." But thing's for sure: when you're done listening to this new theme, you may think twice before you go throwing the word "crazy" around.
In the clip, Bloom talks about the many different ways people use the word "crazy" when it comes to love. "Crazy's when I come off the rails, this is what you do to me," she sings in a country twang, swinging a baseball bat like Underwood did in the video for her 2005 hit "Before He Cheats." But "crazy" can also be a good thing, like how you can feel so passionate about someone that you wish that feeling never goes away.
The theme song doesn't just look at the different ways women use the word "crazy" to talk about love, but also how men use the word to talk about the women they're dating. Both in a positive way — "I like it when a girl gets crazy in bed," Bloom sings, putting on her best rock star impression — and a negative one. She specifically sings about how you never want to date a "b*tch that's crazy in the head." Yep, that would be Bloom's nod to Eminem, who often rapped problematically about his ex using the word. It's a good reminder that calling anyone "crazy" is problematic — regardless of their behavior.
"You do/you don't want to be crazy," the four versions of Bloom sing at the end of the opening sequence. "To clarify, yes/no on the crazy. We hope this helps." Of course, this song doesn't, which is why it fittingly ends with a shot of Bloom's Rebecca watching this video, scrunching up her nose in utter confusion asking, "What?"
Fans of the show might be asking the same thing, and that's the point Bloom and showrunner Aline Brosh McKenna wanted to make. Pop music is all over the map when it comes to defining the word "crazy" and Crazy Ex-Girlfriend's new theme brings to light how these songs send mixed messages to young women.
"If you think about the ten songs that spring to mind with 'Crazy in Love,' they're all different, so we're just sort of boiling them down," McKenna told E! News. "The idea is, like, if you're a woman and you're trying to negotiate how quote-unquote crazy you can be, you're just bombarded with conflicted messages." As McKenna pointed out, Rebecca often looks to pop culture, specifically music, for answers. And, this season, she's going to come up empty.
Rebecca wants to get revenge on her ex-fiancé Josh Chan after he left her at the altar. As fans saw in the Season 3 premiere of Crazy Ex-Girlfriend, she's doing this by playing the character of the "crazy ex-girlfriend" in movies like Fatal Attraction and Basic Instinct. While she looks good doing it — seriously, that femme fatale white dress was just perfect — this really isn't her style.
That becomes clear when Rebecca decides the most evil thing she could possibly do to Josh is send him brownies made out of her own poop. Yes, that's just gross, not that evil, and it doesn't even make her feel better.
What the theme song teases, according to Bloom, is that Rebecca isn't quite sure who she is after this breakup and she's looking for answers in all the wrong places. "This revenge narrative can only last in the short-term. You can't really tell yourself that for too long," Bloom told E!. "So the idea of she's a character who relies on external things to define who she is, it was like, 'Oh, well, what if is this is the season where she's stumbling around for anything to grab on to and hits this.'"
This would be a version of Rebecca that is way more complex than anything you'll find in a "crazy" pop song.