The Video Of Christine Ford's Opening Statement Is Gut-Wrenching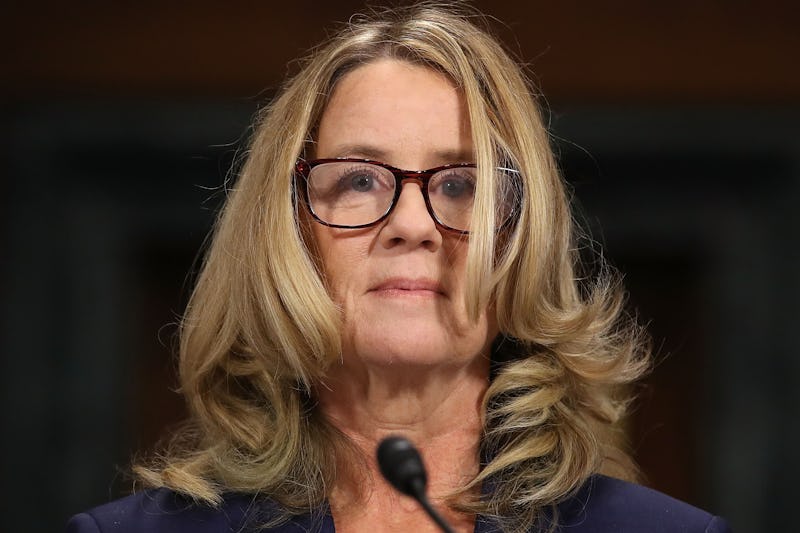 Win McNamee/Getty Images News/Getty Images
The Senate Judiciary Committee heard from one of Brett Kavanaugh's accusers directly in an open hearing on Thursday morning. Video of Christine Blasey Ford's opening statement shows her voice cracking as she described an alleged assault that she said took place when she and Kavanaugh were in high school. Kavanaugh has repeatedly denied her allegations.
"I am here today not because I want to be," Ford told the committee on Thursday. "I am terrified. I am here because I believe it is my civic duty to tell you what happened to me while Brett Kavanaugh and I were in high school."
Ford's opening statement closely followed the written remarks she submitted ahead of the hearing, but the emotion in her voice as she read it aloud was impossible to ignore. She detailed the same allegations she previously told The Washington Post regarding Kavanaugh, alleging that he attempted to assault her at a party in high school. She then described the threats she's received since coming forward, including having her personal details posted online and having to move her family out of their home.
"Apart from the assault itself, these last couple of weeks have been the hardest of my life," she said. "I have had to relive my trauma in front of the entire world."
She also refuted claims that coming forward with her allegation was a partisan play to block Kavanaugh's confirmation to the Supreme Court.
"I am an independent person, and I am no one's pawn," she told the committee.
Ford concluded her statement by telling the senators present that she simply wanted to tell them what she alleges Kavanaugh did to her as a teenager. She said she was committed to doing her "very best" to answer all of their questions.
"It is not my responsibility to determine whether Mr. Kavanaugh deserves to sit on the Supreme Court," she said. "My responsibility is to tell the truth."
After Ford's opening statement, each senator on the committee had five minutes to question her about the allegations, with many Republicans yielding their time to a female prosecutor hired to question Ford. Sen. Chuck Grassley (R-Iowa), the committee's chairman, released a statement on Wednesday that said the goal of hiring an outside prosecutor was to "de-politicize the process and get to the truth, instead of grandstanding and giving senators an opportunity to launch their presidential campaigns."
Kavanaugh will testify after Ford on Thursday. He wrote in his opening statement released before the hearing that he "never did anything remotely resembling" Ford's allegations.
"I am not questioning that Dr. Ford may have been sexually assaulted by some person in some place at some time. But I have never done that to her or to anyone," Kavanaugh said in his written remarks. "I am innocent of this charge."
Ford made it clear in her opening statement that she believes without a doubt that Kavanaugh attempted to assault her in the 1980s. She said that although some details of that day have escaped her, the details of that night were "seared into [her] memory and have haunted [her] episodically as an adult."
If you or someone you know has been sexually assaulted, call the National Sexual Assault Telephone Hotline at 800-656-HOPE (4673) or visit online.rainn.org.