Need Legal Support At The Women's March?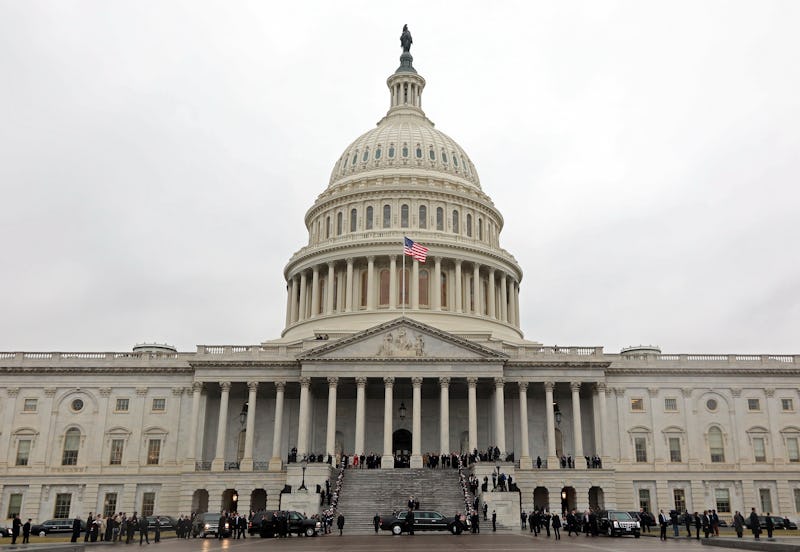 Michael Heiman/Getty Images News/Getty Images
Are you headed to the nation's capital for the Women's March on Washington? It's going down on Jan. 21, 2017, just one day after the inauguration of President Donald Trump. It figures to be a high-profile and well-attended affair, thanks to months of organizing, and the opportunity to strike a strong feminist contrast against the decidedly under-attended Trump inauguration. But what should you do if things go wrong, and law enforcement gets involved? Here's how to call the Women's March on Washington legal hotline, just in case you need it.
First things first, calling is simple: just dial the number provided on the march's official website! It's (202) 670-6866. According to the FAQ, you can call this number if you're arrested at the protest. However, it's worth noting that the march is not intended to be a lawbreaking show of civil disobedience ― to the contrary, it's been planned in accordance with local law enforcement, and the organizers are imploring people to comply.
Please note that we are working with local and federal law enforcement and do not intend to engage in any civil disobedience. We expect all marchers to abide by all laws and any instruction of law enforcement. Finally, we are planning a peaceful demonstration and are training marshals in de-escalation tactics and ask that all marchers remain peaceful.
If you find yourself needing legal support or information, however, that's the number to call. Once again, it's (202) 670-6866. Just in case you run into trouble at the march but can't get cellular reception, you might want to save it in your phone ahead of time.
One big question, which the march's FAQ specifically cites, is whether the event will be safe for undocumented protesters. It's no shock why there's concern about this, even more so now that Trump is in office ― he ran and won with one of the most strident positions on immigration in decades, and has called for varying levels of mass deportation throughout his campaign.
We have spoken to law enforcement regarding their policies as it relates to undocumented immigrants and they have stated they will not be making any arrests of law-abiding marchers, no matter what their status is.
The site also states that they'll have an immigration defense attorney on hand in the event of any issues, and the number they list is the same one. Which means you can be assured that it's the only number you need, as far as accessing the march's on-hand legal support. So save it in your phone, or write it down, or simply just bear it in mind ― after all, when you're joining a big political protest with a strident new administration in town, it's a good idea to keep all your resources available.