This Sean Spicer Retweet Is Ridiculous. Period.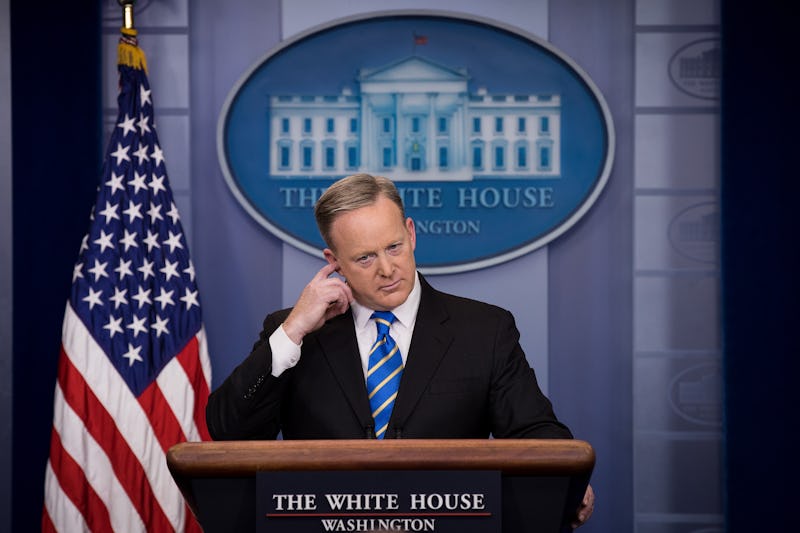 Drew Angerer/Getty Images News/Getty Images
Sean Spicer hit the ground running when he assumed the role of White House press secretary just over a week ago. So far, he's angrily reprimanded the press for their reporting accuracy and tweeted out what seemed to be online passwords — now he's shown how little he understands the media world. On Saturday night, Spicer enthusiastically retweeted the Onion video about himself this weekend — not actually realizing that it was mocking him.
The Onion is a well-known satire and, thus, a literal fake news website. On Saturday night, The Onion tweeted a video called "5 Things to Know About Sean Spicer," with the caption, ".@SeanSpicer's role in the Trump administration will be to provide the American public with robust and clearly articulated misinformation."
The press secretary's penchant for "misinformation" was the first "fact" on the list. It also said that his former job was senior correspondent on NPR's national desk, which is false, and that his speaking style is, simply put, "defensive." That one rings especially true for those who watched Spicer's first press conference, but veracity aside, it's still not something to be celebrated by him, which it kind of was.
About an hour later, Spicer retweeted the video, adding, "You nailed it. Period!" It did not take long for people to dig in to the press secretary for his apparent misunderstanding of the very obviously satirical video.
As you can see below, Twitter did not pause to poke fun at the apparent absurdity.
Could it have been Spicer giving his own sarcastic response to the video? Sure, it's possible. But for most who saw the tweet, the speculative consensus seemed to be that he didn't bother to watch the video before sharing it, and missed the part of The Onion's tweet where it applauded him for his promotion of "misinformation."
What's most ironic about the situation, however, is that Spicer and the Trump administration have an unmistakable vengeance towards what they call "fake news," a category under which CNN falls, in Trump's opinion. Yet, Spicer shared a tweet from a website that peddles only indisputably fake news as entertainment, and presumably as an endorsement of the content it produced about him.
It's clear that the term "fake news" is baseless when it is applied to established and trusted news organizations that take accuracy in reporting seriously. But to retweet legitimate fake news, while condemning real news that doesn't fit your agenda as fake, is in its own mind-bending moment of ridiculousness.