Jeff Sessions Will Face A Tough Testimony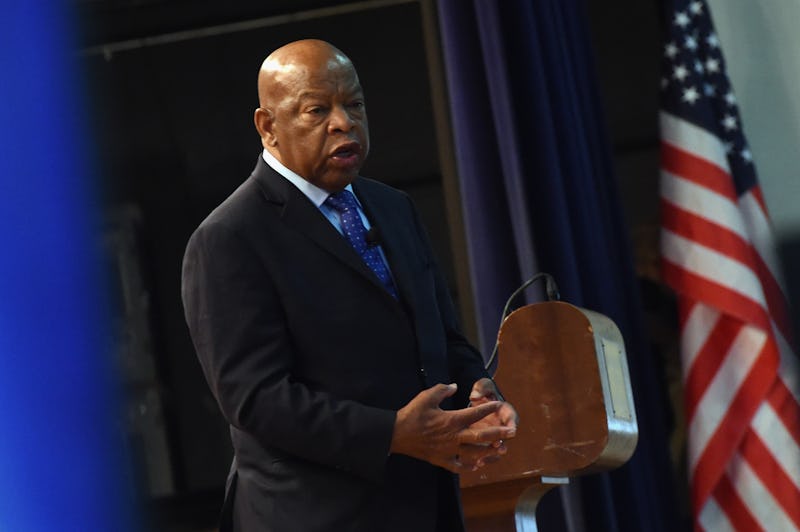 Rick Diamond/Getty Images Entertainment/Getty Images
Though the inauguration of President-elect Donald Trump looms heavily upon our national psyche, it's those he intends to bring with him that are perhaps even more troublesome. One such problematic cabinet appointment is Alabama Sen. Jeff Sessions, the attorney general nominee whose past stances on civil rights have come under fire. Luckily, news broke that three members of the Congressional Black Caucus will testify at Sessions' confirmation hearing. However, there's one troublesome catch.
Unfortunately, they will testify after a panel of nine witnesses from outside of the government testify ahead of them. The move appears to be an attempt to subvert the powerful and high-profile objections from some of the nation's most powerful Black lawmakers.
On the eve of Sessions' Senate confirmation hearing, POLITICO reported that Georgia Rep. John Lewis, the well-known congressman and civil rights activist, will testify along with New Jersey Sen. Cory Booker and CBC chairman Louisiana Rep. Cedric Richmond against the confirmation of Sessions due to his well-documented stances on civil rights issues.
The unprecedented move to push the CBC testimony until after non-lawmakers testify was derided as "deeply unfair" by Sen. Dianne Feinstein, who worked to get the CBC members on the witness list for the hearings.
The move to break with precedent and feature these notable lawmakers of the CBC after non-governmental witnesses isn't the only surprising aspect of the contentious hearing. Booker will also become the first senator to testify against a Senate colleague for that colleague's cabinet confirmation. In a statement, Booker said he doesn't take the decision lightly, but expressed that "the immense powers of the attorney general combined with the deeply troubling views of this nominee is a call to conscience."
This affront against three seasoned congresspeople is hardly surprising given that Senate Judiciary Committee Chairman Chuck Grassley, a Republican from Iowa, appears to support Sessions for AG. Although it's likely that this kind of treatment of Democrats (and especially Democrats of color) could worsen under the incoming administration, the voices of these CBC members will be powerful, no matter when they appear before the judiciary committee.
In the hoopla since Election Day, it's been easy to forget amidst the chaos of Trump's wheel-of-fortune cabinet nominations that this won't be the first time Sessions appeared before the Senate Judiciary Committee. The last time was 30 years ago, when he was denied a federal judgeship amid allegations of racism, including using the derogatory term "boy" to refer to a Black lawyer (Sessions strongly denied these allegations and denied being racist). Time can and does teach people the error in their ways, but some errors should be kept as far away from the position that governs all national hate crime investigations as possible. Some Republicans may attempt to subvert those trying to ban this man from the AG's office, but with any luck, the opposition voice will be heard.