Thousands Of Indigenous Women Are Missing — But There's Finally A Way To Track Them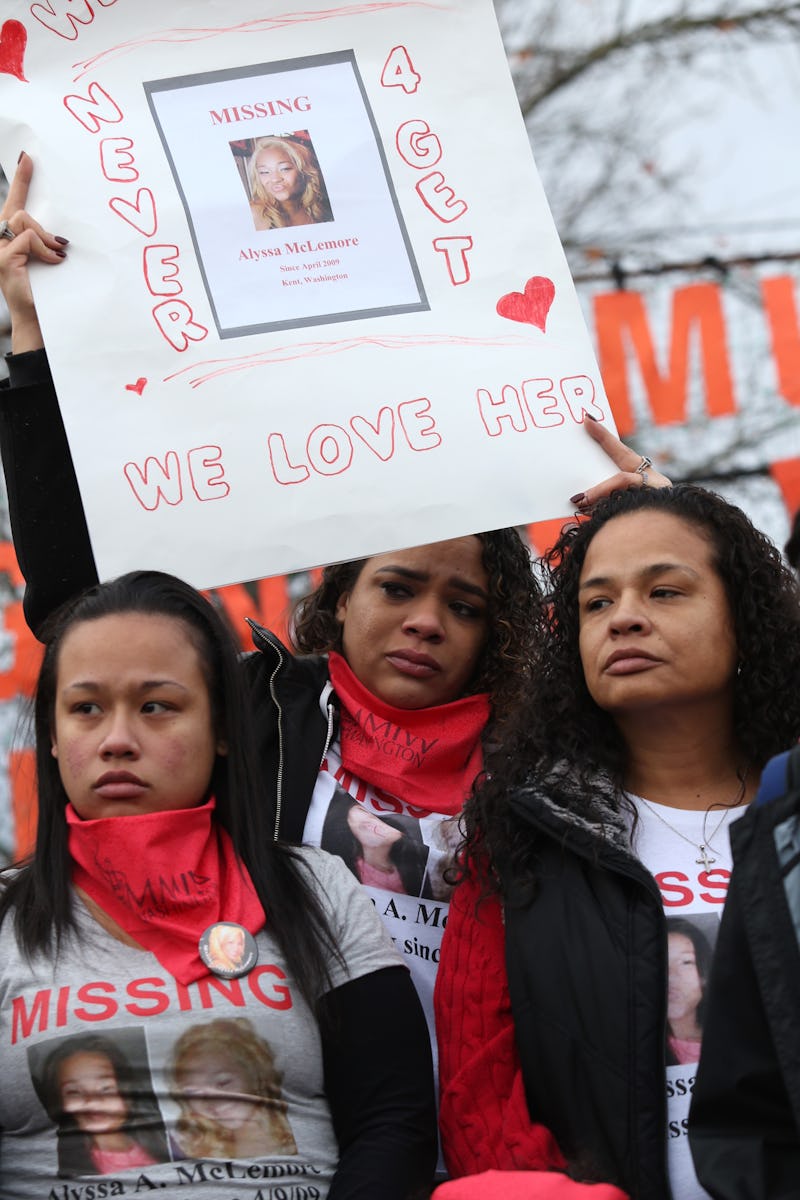 Karen Ducey/Getty Images News/Getty Images
In Canada, a determined Ph.D. student has created a database of missing Indigenous women and girls from the United States and Canada. The project aims to fill data gaps from both countries, where an estimated 300 women and girls go missing or are killed every year.
Annita Lucchesi told NPR earlier this summer that she was doing research for her master's thesis when she realized that there was no consistently updated, complete data set that tracked missing Indigenous women from the United States and Canada. So she decided to compile her own.
"It's so easy to dehumanize these women and to say, 'Well, she was a sex worker,' or, 'Well, she was using drugs,'" Lucchesi told CTV News. "Those are not only harmful stereotypes, but even when they are true, they're true in a larger context of incredible violence and lack of opportunity."
The project is a work in progress, and the database is only available by request, a decision Lucchesi told CTV News she made in the interest of protecting the victims and their families.
So far, Lucchesi has amassed approximately 2,700 names, according to the The San Diego Tribune. While government-tracked data is incomplete, and though Lucchesi's database is ever-expanding, the information available indicates that Indigenous people in the United States may go missing at a disproportionately high rate. At the end of 2017, The Tribune reported, 1.8 percent of missing persons cases in the FBI's National Crime Information center database were Native Americans and Alaska Natives, even though they represent less than 1 percent of the total U.S. population.
In particular, Native American women comprised approximately 0.7 percent of the FBI's missing cases, though they represent only about 0.4 percent of the total population. For Native women, there were 633 open missing persons cases in total, according to the AP.
Though the database itself is not publicly available, Lucchesi does maintain a website with information about the data, and directions for requesting access. According to her website, one-third of the missing women she has documented are under the age of 18. She tracks missing persons cases from 1900 to present.
North Dakota Sen. Heidi Heitkamp is among the few lawmakers working to address the issue on a national level. In October 2017, Heitkamp introduced legislation known as Savanna's Act, which aims to make federal data more accessible for Indigenous populations. It would also require the government to track missing Indigenous people, and would require the Justice Department to codify how it responds to instances of missing and murdered Indigenous individuals. However, nearly a year later, the bill has not moved forward.
"Just the fact we're making policymakers acknowledge this is an issue that requires government response, that's progress in itself," Lucchesi told The San Diego Tribune.
When a member of a tribe goes missing, it's not always clear whose job it is to investigate, The Tribune reported, describing what former North Dakota federal prosecutor Tim Purdon termed a "jurisdictional thicket." There are many factors at play, including what kind of crime may have contributed to the person going missing, as well as whether it happened on tribal land.
"If that sounds like a horribly complicated mishmash of law enforcement jurisdictions that would tremendously complicate how I would try to find help, it's because that's what it is," Purdon told the paper.
For now, Lucchesi's database offers a sliver of continuity in the midst of what is a very complex situation. Above all else, she told CTV News, she aims to help alleviate or make sense of the grief that comes when a beloved family member disappears. In the meantime, she continues to update her database several times a month.