To Actually Drain Donald Trump's Swamp, Go Local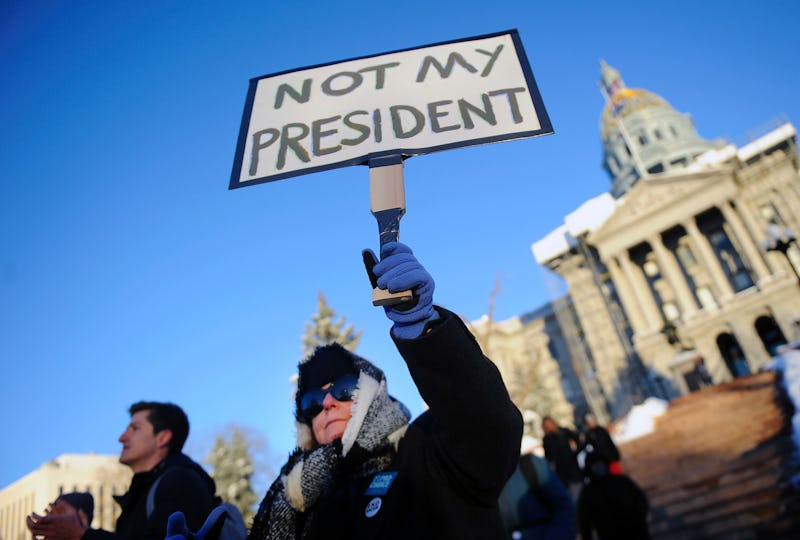 AFP/AFP/Getty Images
In the wake of Donald Trump's presidential victory, Democrats have been left without control of any branch of the federal government. But in the face of this hopelessness, grassroots Democrats and progressives have launched "Indivisible Groups" all around the country to hold Congress, Trump, and his cabinet appointments accountable. These groups are small in size, but they're creating national change, one cabinet appointment confirmation hearing at a time.
A group of former Democratic Congressional staff members who watched the rise of the Tea Party wrote a document called the "Indivisible Guide." With the goal of emulating the techniques of the Tea Party movement to pressure members of Congress through local action, the guides has been embraced by hundreds of independent groups around the country, usually with the name "Indivisible" in their title. Their hope is that local grassroots activism can create a hostile environment in the districts of those members of Congress that capitulate to Trump and make it politically dangerous to side with him.
Indivisible Austin was among the earliest groups founded and is now one of the largest, with over a hundred showing up to a recent meeting. It has helped to distribute scripts for talking to members of Congress about certain nominees.
Indivisible Oregon started as just six women gathered in a living room on New Year's Day. It now has over 800 followers on Facebook. On Jan. 9, they called their senators, urging them to postpone consideration of Trump's cabinet nominees until they had finished the ethics vetting process. Ultimately, they crashed Sen. Ron Wyden's office's voicemail. The Democratic senator addressed their efforts on Twitter, citing their work as he called on Republicans to slow down the confirmation process.
"I'm feeling the best I've felt since the election," Lisa Reynolds, a pediatrician and one of the original six women in Indivisible Oregon, tells Bustle. "It feels good right now. It's early." She and the other activists for Indivisible Oregon had prepared a sample script focusing constituent calls on specific nominees and ethics issues. She says she hopes to build on the newfound enthusiasm to act among Democrats, to "make this be the new normal."
Wyden's office tells Bustle it received over a thousand calls on this issue, coming in at a rate of two calls per minute. Wyden used the calls as evidence of how important the issue is, telling Bustle, "Oregonians understand that when you occupy this country's highest positions of power, you manage trillions of dollars, enforce more than two centuries of law, control the world's most powerful military and make decisions that are literally matters of life and death. That's why nominees need a thorough vetting process, not a rubber stamp."
Beyond just getting attention, there is some evidence that these kinds of actions from Indivisible groups are having effects on policy. The evening after Wyden's tweet, Secretary of Education nominee Betsy DeVos, had her hearing postponed by a week. The following morning, the confirmation for Mike Pompeo, who has been nominated to lead the CIA, was postponed from Wednesday to Thursday.
It was Lamar Alexander, Tennessee senator and chairman of the Senate Committee on Healthcare, Education, Labor, and Pensions, that changed the timing of DeVos' confirmation hearing — which he attributed to concerns about the Senate schedule. Alexander's office denied that the call-in campaign affected the timing of the hearing. "This hearing delay is simply to accommodate the Senate schedule," one of his aides tells Bustle.
"I don't feel as small as I did a week ago."
But the activists who lobbied his office felt emboldened nonetheless. They felt the varied responses they got from his office showed they were listening to their concerns. "It went from, 'I'm not sure let me check on that,' to, 'he does not have a statement,' and then by three or four o'clock in the afternoon we heard that, 'we're going to pass along your concerns,'" says Sarah Herron, founder of Indivisible East Tennessee.
When Indivisible East Tennessee first started reaching out to Alexander's office, they encountered a staff unsure of what was going on. But the staff started taking notice, and by the end of the day, DeVos' hearing schedule had changed. Herron and her fellow "secret Democrats," as she refers to her local Indivisible group in the deep red state of Tennessee, feel that their efforts led to political change. "I don't feel as small as I did a week ago," Herron says
The local chapters following the Indivisible movement have proven to be a strong and effective way of inspiring political change at the local level — and that's why the authors of the "Indivisible Guide" try to stay as hands-off as possible with them.
"They're getting active on their home turf," Ezra Levin, one of the document's authors, tells Bustle. "They might not like Mitch McConnell or Speaker Ryan, but they're focusing in on their own members of Congress. So, I think they're doing it exactly right, and they're doing it without us even asking."