Watch Sonia Sotomayor Give A 9-Year-Old Girl Advice On How To Become President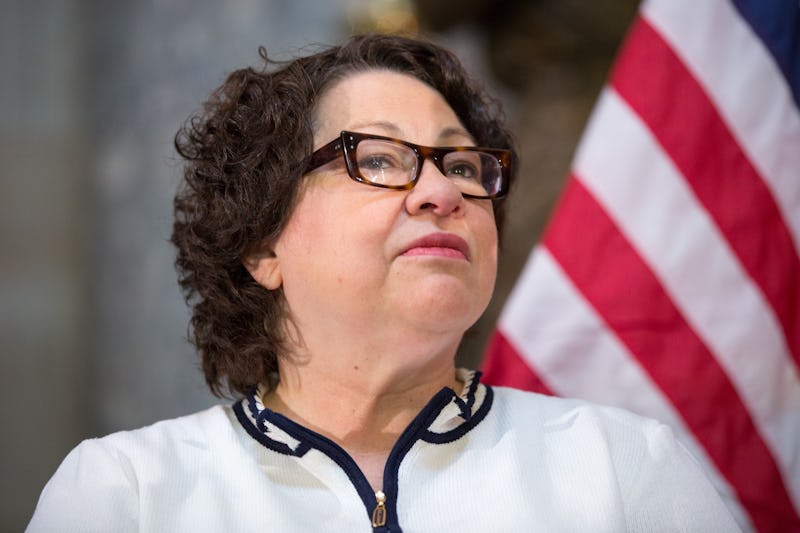 Allison Shelley/Getty Images News/Getty Images
Supreme Court Justice Sonia Sotomayor knows a thing or two about what it takes to land an influential leadership role. She is after all, a judge on the nation's highest federal court. So it's no surprise that Sotomayor shared some good advice with a young girl dreaming of becoming president while speaking Saturday at the Library of Congress National Book Festival in Washington, D.C.
"You have to read a lot about a lot of things, especially if you're president," Sotomayor told a 9-year-old girl looking for advice on how to become president during a Q&A session at the festival.
The Supreme Court justice was on hand at the festival to promote her two new books, both of which are autobiographical in nature and aimed at children. The Beloved World of Sonia Sotomayor is an abridged version of her memoir My Beloved World tailored specifically for young readers. The second book, Turning Pages: My Life Story, is a picture book detailing how books shaped and inspired her life.
According to Sotomayor, the secret to her own success was simple: books. "The key to success in my life, it's the secret that I want to share with kids and how I became successful," she told the audience at the Library of Congress National Book Festival. "I'm here as a Supreme Court justice only because of books."
But Sotomayor's advice to the young girl with presidential dreams didn't end with just reading. Along with her suggestion of being an avid reader, the Supreme Court justice also stressed the importance of studying, putting in hard work, and maintaining a thirst for learning.
"You have to start by studying because anything you want to be requires hard work and a lot of studying," Sotomayor told the young girl. "Nothing in life that you do when you're successful can you do without hard work."
But while Sotomayor encouraged the girl toward lots of reading, studying, and hard work, she also praised her for daring to dream big. "I'm so proud of you for having big dreams," she told the girl. "That is so important because, you see, if you don't dream big, you can't become something big."
Dreaming big, Sotomayor said, was key to feeling motivated enough to put in the hard work required to take on a job as big as president of the United States.
During the Q&A, Justice Sotomayor also answered a question raised by a father looking to encourage his son toward feminism. According to the Associated Press, she advised him to share RBG, a documentary about fellow Supreme Court Justice Ruth Bader Ginsburg, with his son.
When asked how she stays hopeful in what an audience member called "these challenging times," ABC News reported that Justice Sotomayor didn't waste any time beating around the bush. "We don't have a choice, do we?" she responded.
"I can't participate in politics because of my job, but you can," the Associated Press reported Sotomayor went on to say. "Get involved and do something. It's our responsibility to make a better world."