What's Ahead For 'The Deuce' Season 2, According To Star Dominique Fishback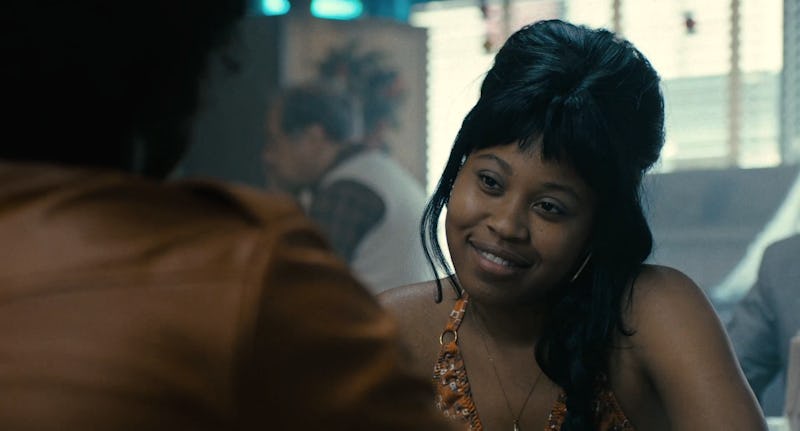 HBO
If you've seen (or even just heard of) HBO's latest series about sex workers and pornography in 1970s New York City, you probably had no doubt in your mind that the network would renew The Deuce for Season 2. And that's what Dominique Fishback, who plays Darlene on the series, thought as well. "I always felt like it was going to get picked up for Season 2," Fishback says in an interview with Bustle. "It's David Simon. It's James Franco. Maggie Gyllenhaal. It has to get picked up."
The Deuce comes from the mind of the man who is responsible for The Wire and stars A-listers Franco and Gyllenhaal. So renewing it sure seemed like a no-brainer. And though the actor notes that Simon wasn't certain of the fate of his new show, thankfully, reason prevailed since Fishback and the rest of the cast will return for Season 2 of The Deuce sometime after the Season 1 finale on Oct. 29.
After just two episodes of the eight-episode first season aired, Variety reported that HBO announced the renewal of The Deuce. No premiere date accompanied this news, but Fishback knows a little about where her character is headed in Season 2 — though she's understandably unable to be very forthcoming with any information.
However, Darlene's future should become more clear once viewers have seen the Season 1 finale. With the police moving the sex workers off the streets and into "massage" parlors, Darlene's pimp Larry has been pushing her toward porn. Darlene has been reluctant to do another movie since, as she told Larry in the sixth episode, "Movies are forever. Once they got pictures of you, 50 years on, they're still gonna be there."
As Fishback says of her character, "Right now, the idea of doing porn and being told what to do and how to move or being on film forever is something that she just can't get her mind around to." However, the actor also notes that Darlene gets bored easily and she feels trapped in the massage parlor. "She's just trying to find out where she belongs and in a job that excites her. So the streets, even though she can be doing that for a long time, there's always different people that come into your life," Fishback says.
Since Episode 6 ended with Darlene despondent at the massage parlor, the move indoors has obviously been a hard transition for her. "It's four walls. You're there all day [with] no fresh air or anything. So I think she's just getting restless."
Considering this focus on Darlene's unhappiness at the massage parlor — and that The Deuce is about the rise of the porn industry — it's very likely that she'll choose to make her pimp happy and do pornography. And Fishback implies that viewers won't have to wait until Season 2 to see what Darlene's next move will be. "I think we'll find out sooner rather than later what she decides to do," Fishback teases about the Season 1 finale.
While Darlene is hesitant to get naked on camera, Fishback acknowledges the irony of the fact that The Deuce marked her first-ever nude scene. "I think about the line where Darlene is like, 'Film is forever.' And now I'm like, 'Yeah Dominique, film is forever.'" But she also says that the nudity, which she doesn't find to be gratuitous, is an essential part of the realism in The Deuce for her. "It was really pretty empowering to do it and just have that control over myself and my body," Fishback says. "I just felt honored to tell a story and say, 'Well, I'm an artist. I'm an actress. And I got to use my instrument to tell stories that matter. And to give voices to characters that don't often have the chance.'"
She continues: "I've been messaged at least three times from women who say that they were, or are, in the life and that they see themselves in Darlene. And to thank me for giving such humanity to their job," she says. "Then I really realized why I was doing it." Fishback credits the creators and writers of the show for "trying to give you the life and the emotional state and experiences of the people who were in that life." She says, "It's about porn, but it's not about the sex of porn, per se."
Although the sex work that Darlene and her fellow characters are involved in isn't pretty, and it's sometimes violent, that's obviously far from the atmosphere on set. Fishback in particular mentions Gyllenhaal, who also serves as a producer on The Deuce. "She's just a veteran at what she does," Fishback says. "It's so profound to watch her and go and learn from her. Also, just having her presence there, she looks out — even though she's focused on her work — she still has an eye out on what's going on with [the other actors] and making sure that we're good."
Fishback claims that she heard The Deuce will only be three seasons long in total (something that Simon confirmed in an interview with Collider). But Fishback still thinks that will give Darlene the opportunity to go in any number of unexpected directions. "[The writers are] phenomenal at what they do, so I feel like [her story is] gonna be a twist that even I didn't think of," she says.
Due to the well-crafted characters on The Deuce, Fishback understood that just one season wouldn't have been satisfying for fans. "These characters are so great and you just want to know more about them and eight episodes is not enough," she says. And while viewers may think they have Darlene figured out, Season 1 has already proven that she's full of surprises and will continue to be so in Season 2. After all, as Fishback says, "Darlene has a mind of her own."