It's Pretty Much A Given That Arya Will Kill Dany On 'Game Of Thrones' At This Point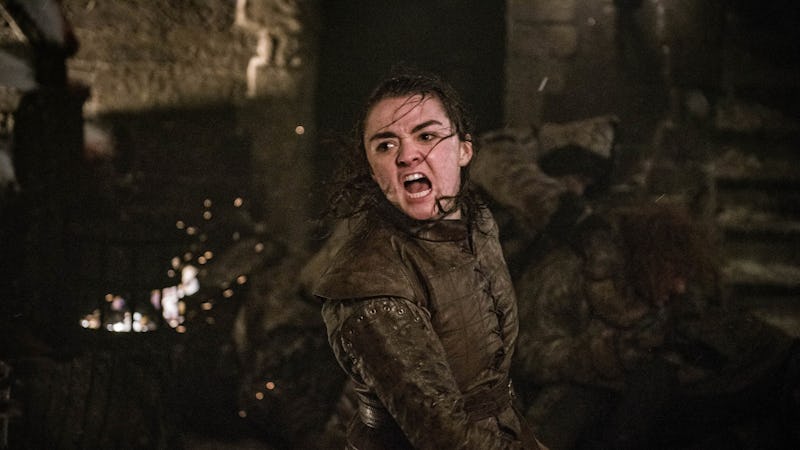 Helen Sloan/HBO
Looks like Arya's hit list might just have grown by one more name. After witnessing the death and destruction that Dany caused in King's Landing in her attempt to capture the Iron Throne, Arya seemed ready to continue to seek revenge on the evil people of Westeros. So, will Arya kill Daenerys in the Game of Thrones finale? It looks like that's her plan.
Arya (Maisie Williams) arrived in King's Landing after the Battle of Winterfell determined to kill Cersei (Lena Headey) and finally get revenge for the murder of her father and all of the pain and death that she has caused the Stark family over the years. Though Sandor Clegane (Rory McCann) convinced her to turn around and head home, warning her that her quest for revenge will only cause more trauma to her, Arya had a hard time escaping the city. In her attempts to leave King's Landing and return home, Arya got a front row seat to the horror and destruction that Dany, Drogon and her army had wrought on the innocent people caught in the battle for the Throne, and the events left her bloody and stunned.
The youngest Stark daughter managed to ride off into the sunset on the back of a horse, but as Game of Thrones fans know, Arya's quest for revenge will never truly end until she feels that she has killed everyone who has wronged her and her family. And now, seeing what Dany has done — and being unable to save more people from the bloodshed — it would make sense that Arya would decide to kill Dany in order to get revenge for the lives of the people who the Targaryen queen murdered in cold blood.
Right before Arya killed the Night King in the Battle of Winterfell, she spoke with Melisandre, who reminded her of a prediction that the Red Woman had made, years ago. "Brown eyes, green eyes, blue eyes," Melisandre said, "eyes you'll shut forever." While the "blue eyes" were a clear reference to the otherworldly Night King — and the conversation gave Arya the push she needed to take down the leader of the Army of the Dead — the rest of her prophecy has been on fans' minds over the course of the past few episodes.
According to IndieWire, the "brown eyes" in Melisandre's prediction likely refers to Walder Frey, who Arya murdered in Season 6 as revenge for the Red Wedding, which resulted in the death of Arya's mother, Catelyn, and brother, Robb. It seemed obvious, then, that the "green eyes" that Arya would shut forever was a reference to Cersei, as Lena Headey has green eyes. However, now that she appears to be dead, having been crushed to death when the Red Keep collapsed, it seems that the only other person that Melisandre could have been referring to is Dany, as Emilia Clarke also has green eyes.
Though Arya didn't seem to have any issues with Dany back at Winterfell, it became clear from the episode that she was deeply traumatized from seeing all of the innocent people who were murdered in King's Landing. That — combined with the implication that Dany is officially following in her father's footsteps and becoming a "Mad Queen — might be enough of a reason for Arya to kill her, especially since she couldn't save the people who helped her survive the destruction of King's Landing.
With just one episode left in Game of Thrones, it seems likely that the show's finale will bring plenty of death and bloodshed — as for whether or not it will also involved Arya fulfilling Melisandre's prophecy and murdering Dany, well, we'll just have to wait and see.