8 Cheesy Recipes You Can Make With Two Ingredients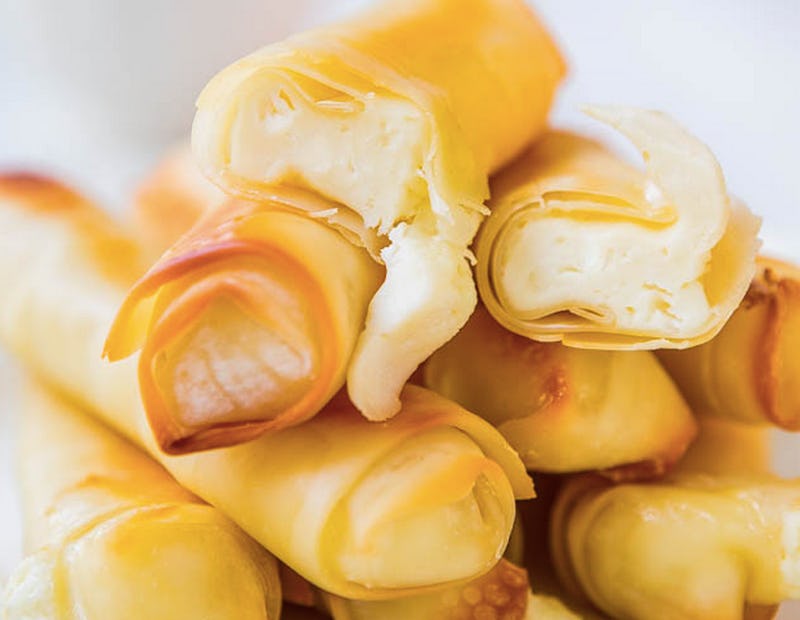 If the names brie, feta, colby, and jack don't whet your appetite, then you can probably stop reading right now. The rest of you, however, are going to want to listen up. It's no secret that Americans love cheese — in fact, an estimated 23 pounds of cheese are consumed per person, each year. Throw a couple of easy cheese recipes you can make with two-ingredients or less into that mix, and watch that number get even higher. Cheese is one of those foods that can constitute a meal in itself, and for those who are low on time and money, it can be a satisfying and filling treat. Whether you're craving a snack, a dessert, or need an appetizer or a side dish to bring to a party, you can never, ever go wrong with cheese.
Why is cheese so good? Besides the fact that it brings up nostalgia from our childhood (think: a bowl of cheesy macaroni and cheese) and feels indulgent (I haven't met a cheese plate I didn't like), cheese contains protein fragments called casomorphins, which allegedly can have a similar effect on your body as opioids. That happy feeling you get after eating pizza may have less to do with feeling full, and more to do with the euphoria produced by these proteins.
Whether you live in a dorm with a mini-fridge and a microwave, or live in your own place with a fully-stocked kitchen, cooking for yourself doesn't have to be complicated. You can make simple meals and snacks with only a few key ingredients. And when one of those key ingredients is cheese, you know it's going to be good.
1. Queso Dip
Next time you're making queso for taco night, try using cream cheese as your base, and adding the salsa of your choice. This recipe by Gimme Some Oven uses salsa verde for an unexpected kick.
2. Mozzarella Sticks
Yes, everyone's favorite bar food can be made with as little as two ingredients: mozzarella string cheese, and wonton wrappers. This mozzarella cheese stick recipe by Averie Cooks is as simple as they come.
3. Fruit Dip
Upgrade your fruit with this fruit dip recipe by Cooking Classy that uses cream cheese and marshmallow creme.
4. Jalapeño Cheese Crackers
If you like spice, you'll like these jalapeno cheese "crackers" by Health Starts in the Kitchen. These are made with slices of cheese (try pepper jack) and jalapeños.
5. Cream Cheese Pancakes
Craving pancakes, but don't want to wait for a table at brunch? Try this pancake recipe by Hurry the Food Up featuring cream cheese and eggs.
6. Onion And Pepper Relish Dip
A little sweet, a little spicy, this onion and pepper dip by Brown Eyed Baker has it all, and is the perfect complement to pretzels, crackers, crudités, or as a sandwich spread.
7. Cheese Crisps
Shredded cheese and crumbled cheese crackers are the only ingredients you will need to make this easy and delicious cheese crisp snack. Celebrations at Home has the recipe.
8. Parmesan Zucchini Rounds
When Parmesan cheese meets zucchini, you get these Parmesan zucchini rounds by Five Heart Home that are the perfect side dish to your main meal.
Looking for more great food ideas? Check out Bustle on YouTube.
Images: Ali Ebright/Gimme Some Oven; Averie Sunshine/Averie Cooks; Jaclyn Bell/Cooking Classy; Hayley Ryczek/Health Starts in the Kitchen; Howie Fox/Hurry the Food Up; Michelle Lettrich/Brown Eyed Baker; Chris Nease/Celebrations at Home; Samantha/Five Heart Home