11 Normal Foods You Can Get As Pumpkin Spice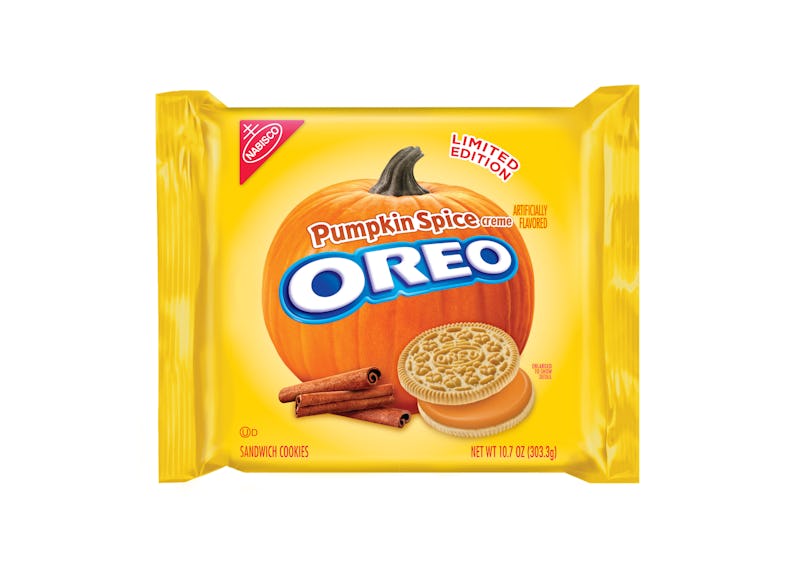 It's the most wonderful time of the year! No, I'm not talking about Christmas — it's pumpkin spice season, which to many, is just as important. We all know about the pumpkin spice frenzy that takes over fall and much of winter the second September rolls around, and this year, there are all sorts of foods hopping on the trend. Pumpkin spice ketchup? Pringles? There is a whole host of pumpkin spice-flavored foods you can get your hands on this season — even ones you wouldn't quite expect.
It is interesting to note that some of our favorite foods and drinks are getting into the pumpkin spice spirit. What brand wouldn't want to jump in on the PSL bandwagon? Pumpkin pie spices like cinnamon, clove, ginger, and nutmeg are comforting, nostalgic, and straight-up delicious in traditional holiday foods and drinks. It only makes sense that we would want them sprinkled into our daily eats as well.
But what about the more obscure items that you would never dream of being pumpkin spice-flavored? From ketchup to hummus, yogurt to chewing gum, you can find pumpkin spice all over your grocery store. Here are 11 pumpkin spice foods (some past, some present) that are taking this fan favorite flavor to the next level.
1. Ketchup
If you're still dousing everything in ketchup just as you did when you were younger, feel like a big kid with this pumpkin spice ketchup. This sweet and savory blend by Red Duck Foods is the adult-version of your inner child's favorite condiment. We recommend trying this with sweet potato tots!
2. Hummus
A little pumpkin spice hummus to go inside your falafel or pita sandwich? Sure, why not? Last fall, Cedar's Foods released its seasonal edition pumpkin spice hummus made with chickpeas, pumpkin, cinnamon, and nutmeg. Sounds like a pretty good time, if you ask me.
3. Yogurt
Chobani does it again. Not only is the yogurt brand returning with its seasonal pumpkin spice yogurt, it's also introducing the Pumpkin Harvest Crisp "Flip" Greek yogurt; a combination of pumpkin yogurt, and sides of pie crust pieces, pecans, and glazed pumpkin seeds. Yum.
4. Peeps
They're back! Your favorite Easter treat now comes in three new fall varieties: pumpkin spice, caramel apple, and candy corn. What would go better on top of a PSL than a pumpkin spice-flavored Peep dipped in white fudge? Thank me later.
5. Oreos
I'm of the impression that Oreo can do no wrong, and these pumpkin spice-flavored sandwich cookies are just kind of proving my point. These Oreos were such a hit last year, they're back in stores for another go this fall. You're gonna want to make sure you try them — trust me.
6. Tortilla Chips
Hosting a Halloween or harvest party? Set some of these pumpkin, cinnamon, and nutmeg-flavored corn tortilla chips out for party guests to devour.
7. Pudding
Sometimes, you just need a pumpkin pie fix without making an actual pumpkin pie. Enter Jell-O's pumpkin spice-flavored pudding and pie filling, perfect for trifles, no-bake pies, and eating out of a bowl with a spoon.
8. Gum
I mean, who wouldn't want their breath to smell like cinnamon, nutmeg, and vanilla? Extra had the right idea when it debuted its pumpkin spice-flavored chewing gum last fall.
9. English Muffins
Toasted with a little butter, these make the perfect fall breakfast. That being said, you don't even need to do anything to Thomas' pumpkin spice English muffins. They're perfectly delicious on their own.
10. Buttery Spread
If you grew up with spreading Country Crock's spreads on breads and baked goods, you'll enjoy its seasonal pumpkin spice-flavored spread to top on everything from bagels and toast to sweet potato casseroles.
11. Pringles
In 2012, Pringles hopped on the beginning of the pumpkin spice craze and introduced its pumpkin pie spice-flavored crisps. Unfortunately, the product is no longer sold in stores. Was it sweet, or was it salty? We may never know... or remember.
Looking for more pumpkin spice in your life? Check out Bustle on YouTube!
Images: Oreo; Red Duck Foods; Chobani; Just Born; Mike Mozart (4), Paul Roth, The Impulsive Buy, Flippin Yank/flickr