Start Fall Off Right With This Hot Toddy Recipe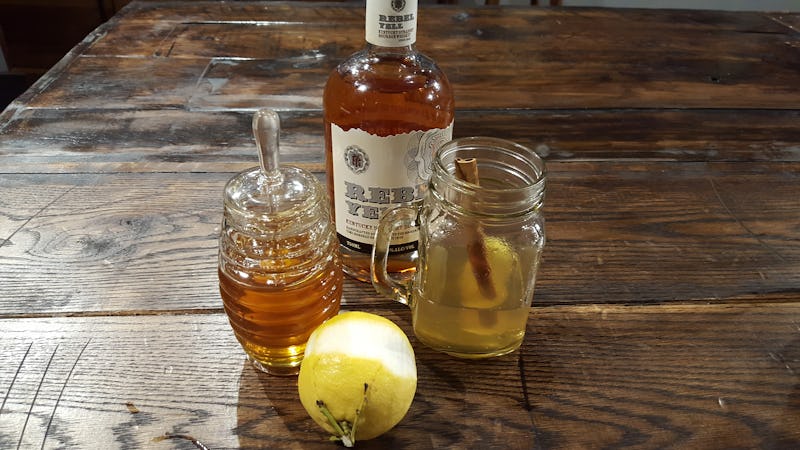 Now that summer has officially given into fall, we'll be replacing our sparkling roses, margaritas, and frozen drinks with something a little more comforting... and stiffer. A hot toddy recipe, made with a brown spirit (usually whiskey), citrus, honey, and hot water is a fine beverage choice when the temperatures start to dip. And special equipment? None needed, except for a nice warm mug.
R&B singer Usher may have introduced us to his version of a "Hot Tottie," but the drink has thought to be around since the 1700s, and presumably originated in Scotland. Early hot toddies were nothing but water, sugar, and spirit. Today, bartenders and home mixologists experiment with everything from maple syrup and turbinado sugar, to adding tea and buttered rum. Common spirits to include are dark rum, bourbon, brandy, and single malt scotch.
Hot toddies are still used today as a medicinal treatment to clear up congestion and other common cold symptoms, thanks to the alcohol, hot water, and honey. Proof of hot toddies fighting off colds has been unfounded, but one thing it's guaranteed to do, like all alcohol, is make you drowsy — a respite for those who are sick.
So warm up a mug, find a blanket, and kick back and relax with one of fall's most coziest cocktails: the hot toddy.
Ingredients:
Serves 1
1 lemon peel
1 1/2 tablespoon of honey
1 cinnamon stick
1 1/2 ounce of bourbon, dark rum, brandy, or single malt scotch
1 cup of hot water
Directions:
1. Bring a cup of water to a boil in a saucepan or microwavable cup. Set aside.
2. With a paring knife, peel off a thin layer of the lemon, being careful to only remove the yellow skin, and not the bitter white pith.
3. Combine the peel and honey in a warm mug.
4. Muddle the lemon peel with the honey using the cinnamon stick to extract oils from the peel.
5. Stir in the spirit of your choice, and pour in the hot water.
6. Stir to combine, and serve with a cinnamon stick.
Looking for more fall food ideas? Check out Bustle on YouTube.
Images: Taylor Henriquez (7)