25 Totes Trendy Flats For Fall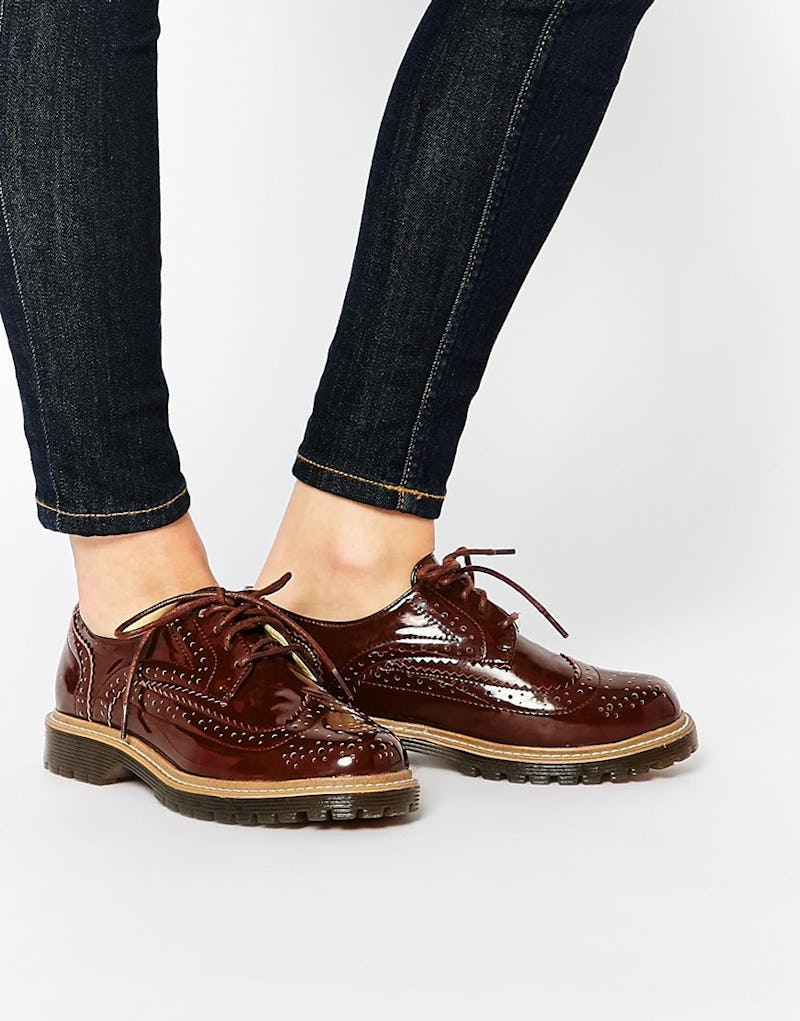 Stilettos of the world, heed this warning: Footwear of the non-heeled variety is back with a vengeance to take over the shoe game. Once again, the flat shoe trend is here for fall, with some major style twists and embellishments that make for a long must-have list. From ballets and d'Orsays to Oxfords and loafers, flats have taken over the sartorial spotlight as of late, only continuing to get more chic with each passing season. Prepare to see footwork so fancy that outfit planning will happen from the bottom up.
Menswear-inspired Oxfords have gotten over-the-top makeovers while loafers have become smart and sophisticated; ballet styles are next level with laces for days while rounded toes are now pointed, boasting sassy straps; and when it comes to shimmer and shine, shoes of all styles are mad for metallics. Fall footwear is prepped and ready to make shoes the hottest fall accessory and keep lovers of the flat chic and on trend without a heel in sight.
It's time to clear out those closets and make way for fall flats that will easily take you from day to night and help you work this season's top trends every day of the week. For a toe-tapping good time, check out these 25 flats that are trending for the season.
1. Lovely Laces For Days
Billy Ella Lace-Up Flats, $178, Anthropologie
Taking ballet flats to the next level, criss-cross laces are Instagram's latest fashion muse.
2. A New Nude
FLICK Lace Up Ghillie Shoes, $45, Topshop
Neutral flats with a fancy twist and tie are so autumn.
3. Fierce Fall Gladiators
Signmeup Gladiator Flats, $89, Nine West
Gladiators transition from summer sandals to fall flats with these burgundy suede lace-ups.
4. Upgraded Ballet Inspired Flats
Jeffery Campbell Shay Lace Up Flat, $130, Free People
Pretty in pale pink brings a ballerina feel to one of fall's most coveted silhouettes.
5. Snake Skin With A Twist
ASOS LANA Pointed Lace Up Ballet Flats, $51, ASOS
A little bit of snake skin is slaying the lace up game.
6. OTT Oxfords
Miss Albright Curricula Cutout Oxfords, $188, Anthropologie
With hints of metallic and expertly placed cut-outs for cooler temps, these Oxfords are on point.
7. London Style Brogues
New Look Brogues, $51, ASOS
Shiny oxblood Oxfords with a chunky sole bring a little London brogue style to fall footwear.
8. Color Blocking With A Print
Adderly Flats, $120, Dolce Vita
Color blocking and animal print: These are not just your grandfather's oxfords.
9. Peek-A-Boo Oxford
ASOS MELS Leather Flat Shoes, $58, ASOS
These cut-out oxfords prove that peek-a-boo placements aren't solely reserved for warm weather fashion.
10. Modern Mary Jane
Jeffrey Campbell Calvert Leather Oxfords, $168, Nastygal
Classic black with a hint of gold and a cross over strap equal the modern love shoe of the Oxford and the Mary Jane.
11. Metallic And Leather
The Lydia Flat In Metallic, $108, Madewell
Give your flats an upgrade with an unexpected mix of metallic and distressed leather.
12. Flash And Fringe
Mirror Metallic D'Orsay Loafer Flats, $158, J.crew
You can double the embellishment and super shine: d'Orsays are fancy and flashy in mirrored gold with fringe and tassels.
13. Textured Shine
Glamorous Rose Gold Brogue, $63, ASOS
The shoe of the season is an unstoppable addition to any outfit in textured rose gold.
14. Loafers With Luster
Huxley Kilty Loafer, $70, Sole Society
These loafers may have replaced the penny with fringe, but they didn't lose their luster.
15. Sneakers That Shimmer
Shiny Plimsolls, $50, Zara
Sneakers with a sheen are easily paired with anything from denim to dresses.
16. Structured Straps
Flat Shoes With Ankle Strap, $50, Zara
Structured straps with baby button details are edgy and sophisticated.
17. Criss-Cross Suede
Faux Suede Strappy Flats, $25, Forever 21
Criss-cross suede and tiny gold buckles make for fancy footwork.
18. Non-Basic Neutral
Candela Mayfield Flats, $210, Anthropologie
This is a neutral nude shoe that is anything but basic.
19. Strappy Animal Print
ASOS LUNAR ECLIPSE Ballet Flats, $40, ASOS
Minimal straps and maximum animal print make for a special combination.
20. Studs And Straps
Studded Ballerina Flats, $60, Zara
Studs and straps are a sartorial shoe dream come true.
21. A-List Loafers
Fringed Penny Loafers, $100, Zara
Loafers with epic fringe game are upping the standard for basic black shoes.
22. Classic Black And White
Blink Monochrome Flat Loafer Shoes, $81, ASOS
Classic black and white color block with a stylish silhouette twist means perfection.
23. Patent, Pointed, And Platform
Pointed Faux Patent Flatform Loafers, $30, Forever 21
Patent, pointy-toed, and tasseled with a platform sole: The definition of an on trend loafer.
24. Soft Suede
River Island Suede Loafer, $81, ASOS
Blush colored suede with gold accents brings soft color into your loafer rotation.
25. Pop Color Penny Loafer
ASOS MANOR Suede Loafer, $58, ASOS
A simple silhouette in a pop color pays homage to the penny loafer while bringing contrast and texture to any outfit.
Just picture it: You, decked out in your comfiest of flats, ready to traipse through the autumnal woodlands. All is well in the world.
Images: Courtesy Brands