How To Dress Like Zombie Hillary for Halloween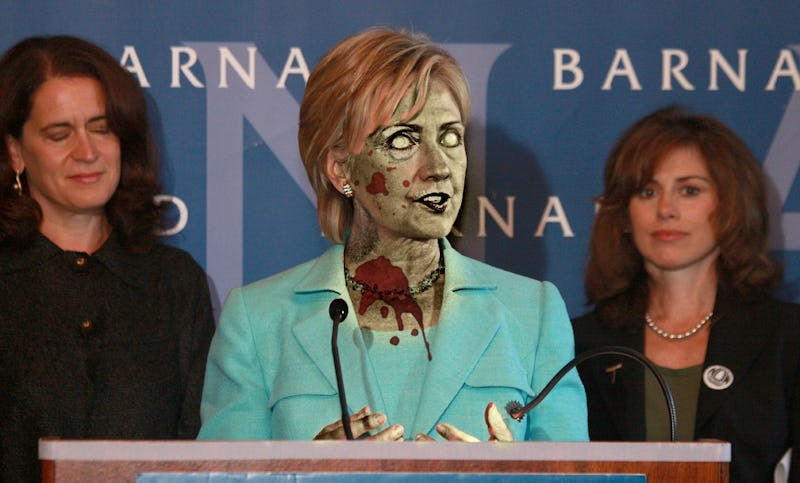 With election season well underway, there are plenty of costumes you can assemble that adequately reflect your feelings on each on the candidates. From Ted "Cruise," the GOP star of the fake film Risky Congressional Business, to "WWJD" (that's "What would Jeb do?", FYI), the possibilities are endless. Still, if you'd rather err on the safe side and stick to creepy tradition, there's at least one option that's sure to be a hit with friends both Republican and Democrat: Zombie Hillary Clinton, which is also a super easy DIY Halloween costume.
Of course, there are plenty of reasons to zombify Clinton. Not only does it put a spin on the traditional pantsuit that's been hanging at the back of your closet since 2007, it also allows you to beat your anti-Hillary critics to the punch. If they're going to call you a "zombie" for endorsing, following, or simply drudging up the name Clinton in passing conversation, then you may as well own it.
Or maybe you just want to embody that awkward moment in May last year when Republican strategist and former George W. Bush staffer Karl Rove implied that Clinton's injuries resulting from a fall were actually much worse than she had let on, prompting him to tell an audience at a conference in Los Angeles that Clinton could possibly have "brain damage" and that the American people deserved to know. In a comment to audience members at a fiscal summit in Washington a few days later, Clinton's husband Bill wondered exasperatedly, whether the comment was meant to poke at Clinton's age. He then added jokingly, "First they said she faked her concussion and now [they'll] say she's auditioning for a part on The Walking Dead."
Whatever your reasoning, planning out your zombie Hillary costume shouldn't be too difficult:
The Pantsuit
Step 1: To really evoke the classic Clinton look, you're going to need a pantsuit. Dig in the back of your closet to find your most grown-up looking option or stop by the local second-hand or resale shop to find cheap versions if you don't have one of your own.
If you've got the cash, you can purchase this totally legit looking suit at Macy's instead for $60.
Step 2: Spatter with fake blood if you so desire, or you can save it for the real world.
Did you know that they sell fake zombie blood by the quart? Did you also know it's only $4?!
Scrunchies
Looking to go a little old-school? Scrunchies are your best friend — and they used to be Clinton's bestie too. According to Clinton, while working as Secretary of State, it was simply easier to have long hair. Short hair required a personal stylist that would have to be vetted each time she flew to a new country, and Clinton was obviously reluctant to put anymore undue burden on her staff or use taxpayer dollars on blow-outs. Instead, she claimed in her book Hard Choices, using a scrunchie to pull her long hair back into a ponytail was simpler.
Step 1: Buy a pack of scrunchies! If anyone pokes fun at your cool accessory on Halloween, you can just tell them you're being fiscally responsible. These scrunchies will only put you back $7.
Step 2: Pull your hair back in a low pony, Clinton's favorite scrunchie-clad 'do.
Zombie makeup
This one should be self explanatory, because without zombie makeup, you're just regular Hillary Clinton and that's totally not going to win any prizes.
Step 1: Find a cheap kit at your local costume shop or party store for under $10, or if you're lazy, hop onto Amazon and buy a creepy zombie Hillary mask for a pricier $20.
Step 2: Go crazy! Pale face, black eyes, random red streaks, whatever. Zombie makeup isn't as hard as cat eyes, trust us.
Accessories
Want to wear a busy statement necklace? Go for it. Button earrings? Sure! Flag pin? Great — just make sure if doesn't get totally covered in fake blood so people can still see it.
These will be big enough to see, but yet they're not too flashy to be out of character for Clinton. You can snag these button earrings for $12.
If you're really looking to top everyone else's costume, you can always carry a stack of fake, redacted emails, because Republicans have been beating that dead horse enough that it'll probably come back as a zombie too.
Get Into Character
Don't forget: the most important part of any great costume is being able to accurately portray whichever character you're impersonating. Take a few tips from AMC's The Walking Dead zombie prank above, and then make sure to study up on foreign policy in case any one tries to debate you on the real issues. If all else fails, groan and shuffle away to avoid confrontation.
Images: Mira John/Flickr (modified); United Nations Development Programme/Flickr; Macy's; Scunci