Some Of The Scariest Deaths On Halloween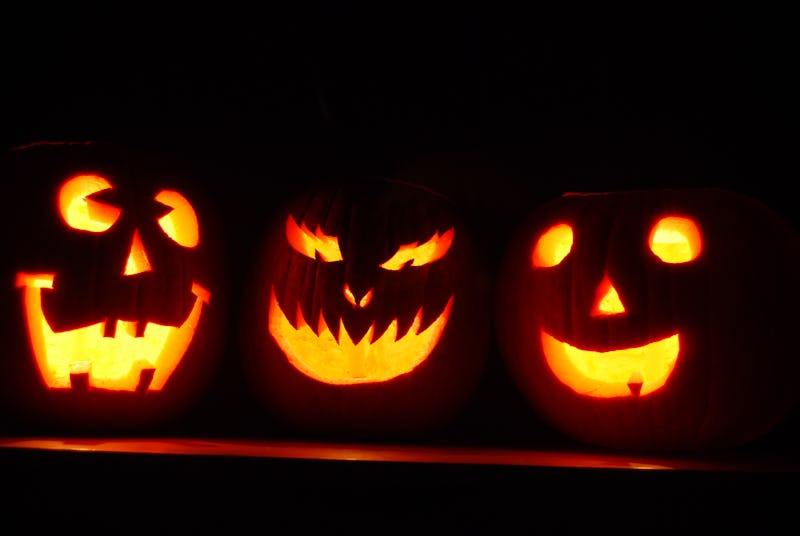 Whenever October rolls around, everyone loves watching a good horror movie and jumping in fear at the grisly, fictional murders. But in reality, some of the scariest deaths that happen in real life occur on Halloween. In a gruesome way, it makes sense that the holiday might attract the worst kind of attention. Fake blood and guts are everywhere, people are out after dark, and the whole holiday is steeped in the macabre.
On Halloween, most people are scared of the slasher who's hiding in the dark or the murderer with the Scream mask. Parents everywhere are terrified of abductions or poisoned candy. Some of the things that have happened in real life on Halloween are enough to make walking through a haunted house seem like a walk in the park.
This Halloween, in between scaring yourself with a horror movie marathon and telling ghost stories around candlelight, don't forget some of these terrifying real-life deaths that happened around Halloween. They might make your Halloween marathon a little less satisfying — and might make you feel like staying in on October 31 instead of heading out for some trick-or-treating. Just saying.
Rebekah Gay
In 2012, 24-year-old Rebekah Gay was strangled to death by her mother's fiancée on Halloween. The fiancé, John White, was the pastor of a small church in Michigan and had two prior convictions for violent assault against women. White was close with Gay and her three-year-old son, who was home during the murder. After hitting her on the head and strangling her with a zip tie, White stripped her body and dumped it in the woods. He then went home, dressed Gay's son for Halloween, and dropped him off with his dad. He later told police he was motivated to kill Gay because he wanted to have sex with a corpse. White never indicated whether he actually did.
Orange Socks
In 1979, a woman was found dead off of an interstate highway in Texas on the morning after Halloween. She was naked except for orange socks — and as authorities struggled to identify her, she became known as Orange Socks. Her identity still hasn't been determined, but her killer may have come to justice. Serial killer Henry Lee Lucas confessed to picking up Orange Socks while she was hitchhiking and strangling her. Lucas later received the death penalty. But there is some doubt as to whether he actually did this particular crime. He later recanted his confession, and authorities point out that he confessed to more than 600 murders total — almost all of which he didn't commit.
Leslie Mazzara And Adriane Insogna
After handing out candy on Halloween night of 2004, Leslie Mazzara, Lauren Meanza, and Adriane Insogna of California went to bed. Several hours later, Meanza heard someone enter the house, and then heard her roommates screaming. Terrified, she tried to call 911, only to realize the line was dead. After hearing the attacker run by her door, she went upstairs to find Mazzara and Insogna brutally stabbed and bleeding. It was over a year before evidence was found to indict their friend Eric Copple, who allegedly sought to kill Insogna because she was too good of friends with his fiancé.
Maria Ciallella
Maria Ciallella, 17, was walking home on Halloween night in 1981. A police officer drove by, saw her walking on the side of the road, and planned to offer her a ride home when he passed back by. But when he returned 10 minutes later, she was gone. Ciallella's disappearance would go unsolved until her body, along with those of three others, was found two years later. A serial killer named Richard Biegenwald had abducted Ciallella and several other girls, cut their bodies into pieces, and buried them in his mother's backyard in Staten Island.
Nima Louise Carter
Nima Louise Carter was 19 months old when her parents put her to bed in her crib on Halloween night in 1977. The next morning, the Oklahoma infant was gone. Because all the doors and windows in the house were locked, the family believed the kidnapper had already been waiting in the closet. Carter's body was found by local boys almost a month later, stuffed into a refrigerator in an abandoned house. She had died of suffocation, but there was no evidence to link anyone to her death. However, several years later, her babysitter, Jacquelin Roubideaux, would be found guilty in the death of another local girl. The girl, Mary Carpitcher, had been abducted with her twin sister Tina Carpitcher and placed inside a fridge in a nearby abandoned home. Tina survived, but Mary didn't. Although no one was charged in Carter's death, many believe it was Roubideaux.
Taylor Van Diest
In 2011, 18-year-old Taylor Van Diest was on her way to a Halloween party dressed as a zombie when she texted her friend to say that she was "being creeped" on. She never came home. She was later found alive but badly beaten near the train tracks, and later died from her injuries before she was able to identify her attacker. Her killer was identified as Matthew Foerster, who had followed Van Diest in an attempt to sexually assault her. But when she fought back, Foerster panicked, attacked her, and then left her for dead.
The Woman In The Tree
in 2005, the town of Frederica, Delaware, was shocked when they discovered that what many people thought was a Halloween decoration was actually a corpse. Leading up to Halloween, a woman hung herself in a tree, approximately 15 feet off the ground. Thinking it was a decoration or Halloween prank, the body was ignored for several hours before police were called and they realized it had been a suicide.
Images: Wikimedia Commons, Murderpedia, Steven Leonti, Matthew Rutledge, boujiandnouna, Holly Lay, James Wilcox / Flickr