Something Huge Just Happened To Women's Work Lives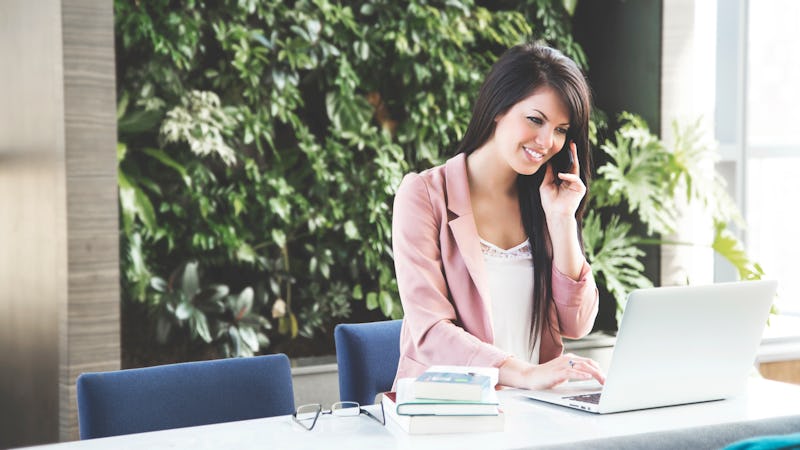 If you're switching jobs and thinking about having a kid in the not-so-distant future, you'll likely need more than just some basic info about salary and insurance benefits. Your would-be employer's maternity leave policies (or lack thereof) could make or break things for you, which is why it's so important to know all of your options in advance. Enter Fairygodboss, a maternity leave resource center that's making parental leave policies at Fortune 500 companies way more transparent. And it's about time — according to a press release obtained by Bustle, a recent survey from Fairygodboss found that nearly three-quarters of women are "very or extremely uncomfortable" asking about maternity leave policies during the interview process, which only makes matters worse in the long run.
"For reasons that escape us, there is a veil of secrecy and confusion that surrounds maternity leave policy," Fairygodboss co-founder Georgene Huang said in the press release. Huang and her co-founder Romy Newman say that their mission with the resource center is "to bring transparency to the dialogue between [female] employees and employers so that we can support positive changes to the workplace and unleash the potential of working women everywhere." Considering the way things stand right now in the U.S., this couldn't come soon enough. According to the Fairygodboss survey, 80 percent of women don't know their new company's maternity leave policies when they begin work — and one-third of them are disappointed when they learn the details. Those are some pretty sad stats.
The resource center highlights Fortune 500 companies with the most generous maternity leave policies, like The Bill and Melinda Gates Foundation and Netflix, which both made headlines recently for offering a full year of paid maternity leave. It also draws attention to other Fortune 500 companies on the other end of the spectrum, like the American Airlines Group, which offers just six weeks of unpaid leave. (Somehow, that's even less than the 12 weeks of unpaid maternity leave the Family Medical Leave Act was designed to ensure for all eligible U.S. employees enrolled in a full-time position.)
Beyond the number of paid or unpaid weeks offered by each employer, the resource center also allows current workers to provide tips about whether there is on-site childcare, flex time available, or other options. All details are based on anonymous reviews from more than 3,500 women currently working at the various companies. Fairygodboss also offers suggestions for working women — including those employed outside of the Fortune 500 — about how to advance your career while taking maternity leave.
The website isn't just for working moms, either. There's also some great information about what we can do to reduce income inequality between men and women and how to avoid horrible bosses. So basically, Fairygodboss is chock-full of the kind of advice that any woman could use — even those who might not be thinking about having kids yet. Which makes for one pretty invaluable resource.
Images: Robert Servais/Unsplash